AÂ  toddler, Morenikeji Bilikisu Sadiq has been stolen by a lady who gave her name as Amarachi.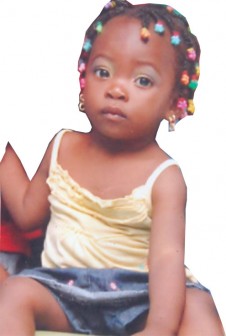 Amarachi, who claimed to hail from Edo State, stole the toddler in connivance with a middle aged man who is presently cooling his heels at the Lagos State Police Command, Ikeja.
She was stolen at her mother's beer parlour on Obalende road, Lagos, last Sunday at about 6 p.m.
P.M.NEWS reliably gathered that Amarachi had earlier on the fateful day at about 10 a.m. approached Morenikeji's mother, Mrs. Amina Sadiq for a shop assistant job. Because Amina was in haste, she could not attend to Amarachi but asked her to come back later.
Later that day at about 6 p.m., Amarachi came back to Mrs. Amina's shop to meet her but she was still not around. Amarachi met the woman's aged mother and children and pretended to be waiting for her to return.
While she was waiting for her arrival, it was alleged that a middle aged man came into the beer parlour to drink and eat pepper soup in order to keep the old woman busy while they carried out their dastardly act.
As the old woman was attending to the man who came to take pepper soup, Amarachi excused herself on the pretext that she wanted to go and buy recharge card.
It was alleged that the man later tricked the stolen girl's  8-year old brother who was playing with her to go and buy biscuit from a mallam.
He later took the child from his brother and gave her to Amarachi who in turn absconded with the baby.
Luck, however, ran out on Amarachi's accomplice as the old woman on realising that her grandchild was missing,  raised an alarm which attracted passersby.
The man was later arrested and handed over to the police at the Lagos State Police Command, Ikeja, while investigation is ongoing on the matter.
—Yisa Jamiu
Load more