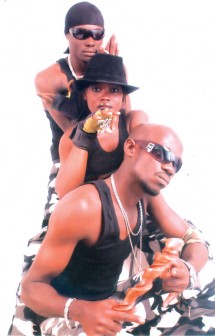 The trio of De-Black Martinet (Ramcy MC, Rosy B and Kool Flow), has released its debut
album entitled Pokolongo.
According to them, the 10-track album is a tip of the ice berg comprising songs like Baba  God, Rock It, Body, Let's Dance, Pokolongo and Street Hip Hop, among others.
P.M. Entertainment gathered that the band, currently looking for a promoter, has performed at various shows within the Lagos metropolis.
BMC Records, an indigenous entertainment marketing outfit, is handling distribution  and marketing of the album, which is already enjoying good air play and rating from music fans.
Meanwhile, the trio has expressed condolence to the family of Olaitan Oladapo famously known as DaGrin, who died recently in an auto crash when his career started to soar.
Load more