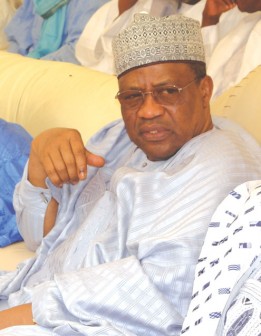 Former military Head of State, Gen. Ibrahim Badamasi Babangida this morning in Abuja upped his bid to actualise his ambition to become a civilian president come 2011.
The former dictator attempted to boost the bid by launching a book which is crafted to correct the impressions held by the public about the numerous errors of his regime.
Written by the Director of the Centre for Democratic Development, Research and Training, Dr. Abubakar Saddique Mohammed, the book titled Impressions And Facts About IBB's Govt: 1985-1993, captures the regime of IBB between 1985 and 1993 and attempts to correct the impression by presenting the 'concrete facts'.
According to the author, some of the impressions of the IBB regime are mere fantasies and the purpose of the book, therefore is not just to go beyond the myth of 'Maradona'; evil genius and institutionalization corruption which IBB is credited with, but to unambiguously state the facts as they are.
Saddique maintained that the book is not a biography or autobiography but a study and research on the government he headed, adding that the book is purely without any input from IBB and that he has presented issues as they are, explicitly stating both the rights and wrongs of the regime.
While defending the allusion that the idea behind the book was to kick start the process of cleansing the perceived "dirty image" of the retired General, Saddique stated that the book is the first in the series that will also in the future carry out studies on the regimes of other leaders before and after the IBB's. This notwithstanding, there are however, arguments as to why the author started the supposed series with the regime of IBB as against those before him. The conclusion, to observers is that the book was deliberately released to coincide with the presidential bid of the General.
The book, which was reviewed by Dr. Chidi Amuta, was launched by Tony Eze while MD Yusuf chaired the occasion. The Vice President, Namadi Sambo, who was listed in the programme as a guest of honour shunned the occasion.
The Centre for Democratic Development, Research and Training has its aims as an independent, scholarly trust established to promote and advance scientific research and training for the purpose of providing immediate and long term solutions to the problems of Nigeria.
—Desmond Utomwen/Abuja
Load more