At 81, Olaseni Tejuosho has just  released his first album on Jazzhole Records. Now based in Abeokuta, Ogun State, he spoke about the album, his days in J.O. Araba's band, the controversy over the song Easy Motion Tourist and other issues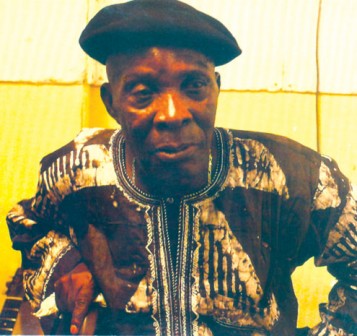 Q: Olaseni Tejuosho, is the Tejuosho the same with that of Osile Oke Ona, Oba Adedapo Tejuosho's?
A: Yes, Tejuoshos are one.
Q: At 81, you have just released an album, how come?
A: I was approached by one of my younger brothers, Kunle Tejuosho, at a party in Ibadan, Oyo State, who asked whether I owned the right to the song Easy Motion Tourist and I answered in the affirmative. He and his friends then asked me to come on stage where there was a live band and I sang the song. At another party in Lagos, the late Biodun Tejuosho asked me to do the same thing which I did.
Q: Are you really the owner of the song?
A: Yes, I am.
Q: How did you come about the song?
A: Well, when I was in J.O. Araba's band, we went to a party in Ede and I decided to go home and change the clothes I wore and one of my old man's wives shut the door against me. At that time, many people believed that music was for the drop outs and because my father was a lawyer. He wanted me to study law too, but I stuck to my gun.
Q: How many wives did your father have?
A: About seven.
Q: What number was your mother?
A: Second.
Q: Why did your dad's wife shut the door against you?
A: It was simply because my dad loved her so much and she took the opportunity that my dad did not want me to play music to lock me out. And that day was the day we were supposed to go to NBC with J.O. Araba, to record an album. It was there and then inside the vehicle conveying us to the studio that I introduced the song, which was part of the recording. I can boast that I am the originator of the song.
Q: What role did you play in J.O. Araba's band?
A: I was one of the vocalists while Araba was the band leader.
Q: What year was that?
A: In the early 1950s.
Q: When did you leave the band?
A: I left around 1958.
Q: What have you been doing since then?
A: I formed a band with Fatai Rolling Dollar.
Q: Who was the leader of the band?
A: I was the band leader, in fact, invited him (Rolling Dollar).
Q: Which of the prominent artistes did you also invite apart from Rolling Dollar?
A: I invited Ebenezer Obey, Tunji Williams and others.
Q: What was the name of the band?
A: It was called Tejuosho and his Rhythm Brothers.
Q: How many years were you together?
A: I cannot say specifically, but I dropped out of the band because my parents were on my neck. So I left it for Rolling Dollar and Ebenezer Obey.
Q: After that, what other things did you do?
A: I worked with the local government council in Ebute Metta, Lagos.
Q: What did you study before going into music?
A: I dropped out of school in form four.
Q: What is the name of the school?
A: Abeokuta Grammar School, under the late Rev. Ransome Kuti. Then, I was trained by Fela's mother in 1937.
Q: What influence did she have on you?
A: She did a lot for me as my dad did not care for me because I wanted to go into music.
Q: Were you a rascal?
A: Yes, because I wanted to sing and the wives did not allow my dad to take care of me, so I took my destiny into my own hands. It was when I dropped out of school that I met J.O. Araba.
Q: When you met him what happened?
A: Araba was working with the Nigerian Railway Corporation then and was also playing music, so I stayed in his house and it was when we were practising one day that the late Steve Rhodes saw us.
Q: Steve Rhodes?
A: The same Steve Rhodes. He advised us to go to NBC for a recording and apart from that, he advised us to form a band because we did not have one then.
Q: How did Rolling Dollar come in?
A: In the process of forming the band, we met him when we were looking for a good Agidigbo player.  He is still good on the instrument. We met him at Idi Oro.
Q: So Rolling Dollar is very good on Agidigbo and what album did you record then?
A: We recorded a short album.
Q: Did Steve Rhodes record with you then?
A: No, but he introduced us to NBC and we recorded under the name J.O. Araba and His Afro People Band.
Q: Why didn't you lunch your name then?
A: No, Araba was the band leader and he played the guitar.
Q: When did you record your debut album?
A: I recorded it about three years ago.
Q: When you saw the album, how did you feel?
A: I felt so happy.
Q: So you never recorded an album before now?
A: No, but with the release of this one, even when I join my ancestors, it will be there forever.
Q: Can you still play live on stage?
A: Yes, if I can lay my hands on good instruments.
Q: Releasing an album at 81, what do you intend to achieve?
A: It is a legacy for my children and the entire Nigerians, as the first musician to release an album at 81.
Q: Apart from music, where else did you work?
A: I once worked with Commerce Bank.
Q: Are you looking forward to the launch of the album?
A: Oh yes, at 81, releasing an album is not an easy task.
Q: Did you make money from music?
A: No.
Load more