Contrary to the story published in many daily newspapers in Nigeria today and rest of the world that Nigeria's richest man, Aliko Dangote, is interested in investing in Arsenal Football Club, the billionaire has denied the reports.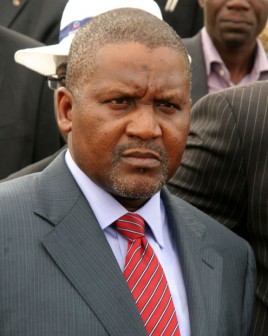 The report, which emanated from the media in England and America yesterday and widely publicised in Nigeria had it that Dangote was considering buying a 16 percent stake in the English Premier League Club, Arsenal.
Britain's Sunday Times newspaper and other media organisations reported that the business tycoon had registered his interest in buying a stake being sold by Nina Bracewell-Smith, the club's fourth biggest investor, who put her £160 million worth of shares on the market earlier this year through a broker.
But Dangote denied all the reports in a statement, saying: "I am a longstanding supporter of Arsenal Football Club and have been involved in conversations around investment in the past."
The business mogul declared categorically that he has no intention of investing in the club and will not be acquiring a stake.
"I wish Arsenal Football Club the best for the future and will continue to follow the team as a fan," Dangote said on a website today.
Before Dangote's reaction to the story, a top director in his office had earlier confirmed to P.M.Sports that the billionaire has no intention of buying any stake in Arsenal at the moment, saying that the company is not interested investing in football.
"Football is not our kind of business," said the director, adding that the Dangote Conglomerate has no plan to fritter away such money.
Joseph Okonma, a spokesamn for the Nigerian billionaire had in an interview with Bloomberg.com, an American website, said early today that Dangote is interested in investing in Arsenal.
It was further gathered that Bracewell-Smith has appointed U.S. private equity firm Blackstone Group (BX.N) to find a buyer.
A person familiar with the matter told Reuters earlier this month that 8-12 parties were taking a detailed look at the club.
Load more