Former Governor Bola Tinubu of Lagos State on Sunday in Lagos said the state was bankrupt when he took over the administration in 1999.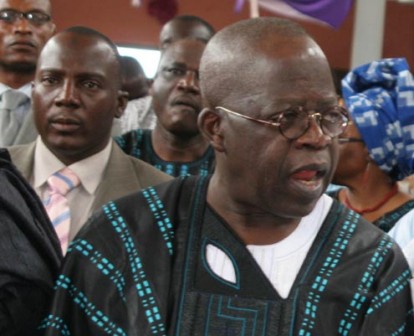 Tinubu made the statement in a goodwill message he delivered at the unveiling and handing over of the renovated and reconstructed Oba of Lagos palace, Iga-Iduganran, Lagos Island, by the state government.
The former governor said it took extra efforts and perseverance of the then economic and executive team in steering the state's ship from near collapse.
He said in spite of his taking over under such difficult  situation, coupled with other financial constraints, such as the seizure of the state's statutory allocations by the Federal Government, the administration recorded major achievements.
"In spite of the not too impressive financial status of the state, some major achievements, including the proposed renovation and reconstruction of the Iga-Iduganran Palace, was mooted and achieved," he said.
He, however, thanked Gov. Babatunde Fashola for actualising the dream of completing the project.
In an address, Fashola said the renovation and reconstruction of the palace were borne out of the top priority the government attached to the traditional institution.
He said such effort by the state government were on-going as similar renovation and reconstruction projects were nearing completion in other palaces.
Fashola described the reconstruction of the Iga-Iduganran palace, handled by Julius Berger Nigeria plc  as befitting the mega status of Lagos State.
Load more