After spending five years in an Afghan prison for drug trafficking, a Nigerian drug convict again swallowed 88 wraps of heroin as he was being deported to Nigeria, the National Drug Law Enforcement Agency (NDLEA), said last night.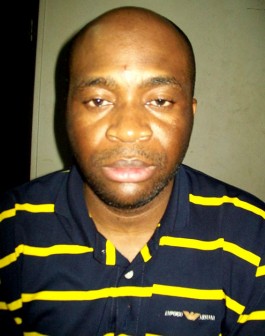 The 34-year old drug convict, Patrick Ene, was arrested by NDLEA officials at the Murtala Muhammed International Airport (MMIA), Ikeja, Lagos, Nigeria, with 1.27 kilogrammes of heroin concealed in his stomach.
Ene was deported to Lagos with an emergency travel document in an Emirates flight last Tuesday.
The drug convict told NDLEA investigators that he left Nigeria in 2005 and was lured into drug trafficking by a Nigerian in Afghanistan who promised him a football career in a country with the world's biggest drug plantations. His mentor, Ene said, later died in jail. The Abia State indigene is said to be unmarried without children.
The agency's Head of Public Affairs, Mitchell Ofoyeju, told our correspondent on telephone last night that the agency was in shock after what he described as "a strange arrest".
"In fact, we are all in shock. It is a very strange arrest. We are still trying to unravel how he was able to swallow drug while he was being deported to Nigeria," Ofoyeju said.
NDLEA Chairman, Ahmadu Giade was also in shock and promised to be more vigilant.
He said: "Ordinarily who will expect a drug deportee who has served a jail term for drugs to be deported with drugs in his stomach? We shall therefore remain vigilant to stop the next move of drug barons."
Meanwhile, eight other drug suspects have also been arrested by NDLEA operatives at MMIA with 10.185 kilogrammes of cocaine.
The NDLEA Commander at the airport, Hamza Umar, gave the names of the eight suspects as Popoola Yvone Adete, 50, who ingested and inserted in her anus cocaine weighing 840grammes, Mustapha Latifu Bolanle, 63, who ingested 1.420kg cocaine.
Onyeze Emmanuel Chukwudi, 47, ingested 1.185kg cocaine while Ndigwe Innocent Chukwuma, 47, swallowed 1.405kg cocaine and Nmah Michael Chukwu, 47, ingested 1.130kg cocaine. Others are Smith Romeo, 32, who ingested 1.360kg cocaine, Nwafor Ndubuisi Stephen, 35, who swallowed 1.555kg cocaine and Alekusho Iyabode Ekundayo, 56, who ingested 1.290kg cocaine. The agency said, all the suspects will soon be charged to court.

—Simon Ateba
Load more