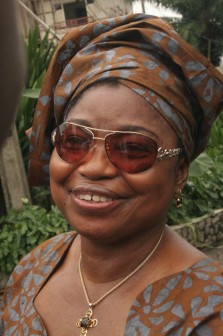 Lagos State Chief Judge, Justice Inumidun Akande met with representatives of striking magistrates in Lagos, Nigeria, yesterday in a bid to resolve the lingering crisis which led to the magistrates embarking on strike since last week.
The magistrates embarked on total strike last Tuesday to protest the suspension of the Magistracy Reform Law 2009 and a reversion to the repealed magistrate law of 2003 which does not favour the magistrates.
The magistrates had vowed not to go back to work until the chief judge and the Judicial Service Commission met their condition to allow the 2009 Magistrate Court Law to be so that better atmosphere would be provided for the judges to work.
At the peace meeting held at the Ikeja High Court with representatives of the Magistrates Association of Nigeria headed by Mrs. Adesola Ikpatt, the chief judge appealed to the magistrates to have a change of heart and call off the ongoing strike in the interest of peace and dispensation of justice.
Akande said she was totally committed to the welfare of magistrates in the state and would stop at nothing to ensure they are comfortable in the state judiciary.
According to her, most of the demands of the magistrates had been met, while others would follow as soon as possible.
On her part, Ikpatt, assured the chief Judge that the ongoing strike would be called off after proper consultations with members of the association.
She thanked the chief judge and the judiciary for their patience, understanding and sacrifice within the past few weeks while she urged Akande to keep to her promises as expressed to them.
The Magistracy Court Law 2009 was meant to bring about the needed reforms in magistrate's courts across the state in order to arrest the rot in the system.
Some members of the High Court were said to have challenged the 2009 Magistracy Court Law by instigating a court action which led to the suspension of the law.
A High Court judge had ordered the suspension of the 2009 Magistracy Court Law and a reversal to the 2003 law which had already been repealed by the Lagos State House of Assembly.
The magistrates had challenged the suspension of the 2009 Magistrate Court Law 2009 and the resurrection of a dead law already repealed by the Assembly, saying that whatever work they do at the magistrate's courts in the state would not be recognised with the suspension of the law.
—Kazeem Ugbodaga
Load more