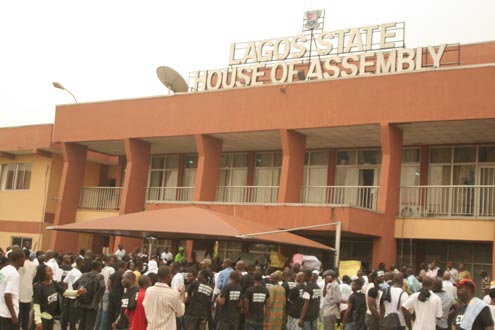 Lawmakers in Lagos State, Nigeria, on Monday, in a rowdy session, disagreed over a bill seeking the registration of residents for the  purpose of having a data bank.
The disagreement was during the second reading of the executive bill entitled "Lagos State Residents' Registration Agency Bill".
The bill also seeks the establishment of an agency for the registration of the residents.
The lawmakers were divided over the provisions of the bill with some of them arguing that it was not comprehensive and should be returned to the executive arm for more information.
This group argued that such a registration was already being done by some federal agencies.
They claimed that the registration of residents of 18 years and above, as proposed by the bill, would not reflect the state's actual population.
However, legislators, who were in support of the bill, said that it should be allowed to proceed to the next stage because of its importance.
They argued that it was timely because such a registration would enable the state government to plan better.
The group added that the inadequacies of the bill could be addressed by a committee and during the public hearings.
The Majority Leader, Mr Kolawole Taiwo, who presided over the plenary session, had to put the issue to vote.
The group in support of the bill won with nine votes against eight.
A member of the House abstained.
The House consequently committed the bill to its committee on Science and Technology to work on and report back within four weeks.
Meanwhile, a bill seeking consolidation of all laws relating to registration of titles to land in the state scaled through the second reading.
The bill entitled "Lagos State Lands Registration" is hoped to address all problems relating to land matters, if passed into law, the News Agency of Nigeria (NAN) reports.
Load more