Osaze Odemwingie says Nigeria became too predictable under former coach Shuaibu Amodu and Lars Lagerback has already created a buzz around the squad.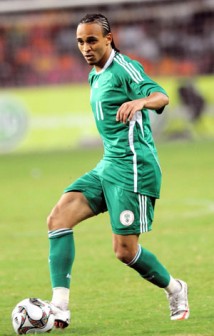 Osaze, 29, was one of the more outspoken critics of Amodu's regime but he told KickOffNigeria.com that he did so without malice.
"For the past two years, with Amodu, we've been easy to predict. We have to have more variety in our tactics and our attack.
"There's not much negative or bad about his coaching. It's just that its not enough if we are aspiring to go up there. It's the difference between good, and better."
After four training sessions with Lagerback, Odemwingie says things are already looking up, with the Swede instilling a fear no foe confidence in his new team.
"He doesn't look like someone who doubts his own quality and I think he can bring a result that Nigerians expect. I see him relaxed, as someone with a plan, who took this job after watching our games and knowing that he can do better than where we were.
"From the first training, he is looking at attacking football. He is looking at a passing game. He is looking at the penetrating pass, a pass that creates danger, less square passes and more forward passes. He keeps reminding us that we have to play beautiful football and that results are also very important.
"At the same time, you can see that he doesn't want to play a game where Nigeria is scared of the opponent, any opponent."
Odemwingie says already the atmosphere in camp is different.
"You could feel it. You cannot deny it. Like our people say, oyibo na oyibo. There is a touch they add to Africans when they bring their ideas, their calculations, their tactics, their organisation, their way of being more effective on the field. That is going to be added for sure.
"The training so far has been good, the build-up and the movement. I think Lagerback is the best choice Nigeria made."
More importantly, the forward says Nigeria have to return to their attacking traditions.
"We need to be more ourselves. I think that is what we were denied these past few years. We were not playing like Nigeria. We were more defensive minded. That is why we didnt score so much goals lately, and that is also why we have been struggling even with the average African teams.
"But we could also understand that choice of tactics because it looks like there was a little bit of lack of confidence in our defence line.
"A few times we conceded silly goals, but at the same time, we needed the result and changes had to be done.
"We hope now that things will be better."
On his first day at work with his squad, Lagerback showed the players individual videos and Osaze said it came as a bit of a surprise.
"I was surprised because we never had that before in our coaching.
"That's another little thing. Those little things make a difference. Europe has gone far. I am not here to criticise our situation. Its just that right now we have to admit that we are still a little bit behind. In our clubs we see that those things are important. Here, he showed us a few highlights, pointed out some things and everybody is commending it."
He is under no illusions though, as to how much work remains to be done, but says there is a positive feeling about.
"We have a lot of work to do. The whole team have been commending the training sessions, and we hope to continue for the remaining days.
"We are getting a positive feeling now about ourselves, because it is in the hands of the coach how he motivates his team."
Ultimately though, he says it will be up to the players to do the business on the pitch.
"We have to believe in ourselves, and in what we can do and go out there on the pitch and show it for the love our country. There are a lot of people who just want a chance to play and that means that if you are lucky enough to be selected, you have to give your best at all times."
Meanwhile, Chelsea midfielder John Mikel Obi will be fully fit when he joins up with the Super Eagles squad on Friday, according to team Media Officer Idah Peterside.
Mikel has been out since undergoing surgery to repair a damaged knee meniscus while playing for the Blues, and there are increasing doubts back home in Nigeria about his participation at the World Cup, especially after he stayed back at Chelsea to continue treatment rather than join up with his team mates on international duty.
On Monday, Nigeria sent medical officials to the London club to assess the extent of his progress and Peterside says the player will be returned fit to Nigeria.
"He will join us on Friday. The doctor will officially release him to the team, fit, on that day," he told KickOffNigeria.com.
Mikel missed Nigeria's World Cup build up match against Saudi Arabia yesterday, but is expected to be available for the next two games against Colombia and North Korea.
Goalkeepr Dele Ayenugba is the only other player yet to report to camp, following visa trouble. But Peterside says team officials are abreast of his situation and he is expected to meet up with the squad in Austria.
Load more