Nigeria has a poor human rights record made worse by the nation's police force. This is the conclusion that can be inferred from the latest report on Nigeria by Amnesty International.
The organisation in the report outlined several cases of disrespect for human rights by the authorities and law enforcement agents.
One way AI insisted human rights have been breached in Nigeria is the unlawful killings and enforced disappearances of citizens.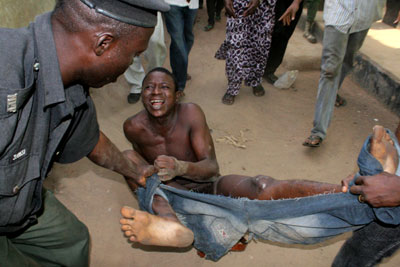 "Hundreds of people died at the hands of the police. Many were unlawfully killed before or during arrest in the streets or at roadblocks, or subsequently in police detention. Others were tortured to death in police detention.
A large proportion of these unlawful killings may have constituted extrajudicial executions.
"Many other people disappeared after arrest. The families of such victims rarely receive redress and are often left with no answers. Most perpetrators remain unpunished. Although the police have mechanisms to receive complaints from the public, these complaints are often unprocessed," said the report.
The report berated the police for using torture as a means of interrogating suspects. It said: "The police frequently used torture and other ill-treatment when
interrogating suspects and there was no standardised mechanism to prevent such practices. Confessions extracted under torture continued to be used as evidence in court.
"On 19 November, three okada riders were accused by community members of theft and handed over to the police. The men said their motorbikes had been stolen by the community.
"They were held for seven days by the Special Anti-robbery Squad (SARS) in Boroki, Port Harcourt, and beaten every night with the butt of a gun and iron belt. They also said they were given water mixed with chemicals to drink, which caused internal wounds. The same water was poured over their bodies, causing pains and a rash. After an NGO lodged a complaint, the men were released on bail."
AI in the report further expressed its disenchantment over the way death penalties are handled in Nigeria.
"At least 58 people were sentenced to death. At the end of the year, around 860 men and 11 women were on death row. Hundreds of them had not received a fair trial. No steps were taken to implement the recommendations made in 2004 by the National Study Group on the Death Penalty and in 2007 by the Presidential Commission on Reform of the Administration of Justice to adopt a moratorium on executions."
Nigeria, according to AI, did not also perform well in the area of proper treatment of women. It said violence against women was rampant. It stated that there were cases of rape and other forms of sexual violence which were being perpetrated by state officials and private individuals.
It said that "the authorities consistently failed to exercise due diligence in preventing and addressing sexual violence by both state and non-state actors, leading to an entrenched culture of impunity". Amnesty International said that abuse of human rights of suspected gays prevailed in Nigeria. It condemned the abuse of denial of citizens of their freedom of expression. It cited cases where journalists were killed and also maltreated.
Other areas of concern by the AI included the poor human rights situation in the Niger-Delta and forced evictions of communities from their homelands.
Load more