As Osun State Governorship Election Petition Tribunal delivers its judgment tomorrow on petition filed by Action Congress (AC) candidate, Engineer Rauf Aregbesola challenging the victory of Governor Olagunsoye Oyinlola of Peoples Democratic Party (PDP) in the 14 April, 2007 gubernatorial election, the Osun State Police Command has disclosed that 5,560 policemen have been deployed to the state capital to maintain law and order.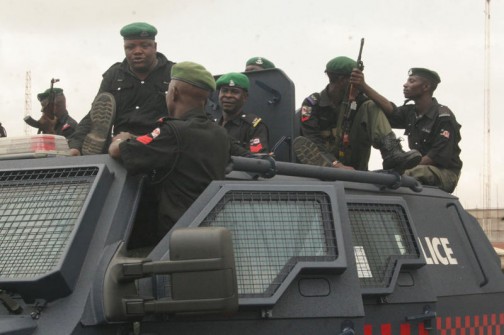 Speaking with P.M.NNEWS today in Osogbo, the Osun State Police Public Relations Officer, ASP Clement Agboola added that additional policemen were deployed to the state from Mopol 7 and 33. He said that necessary security arrangement have been put in place to prevent any act of violence.
At the time of filing this report, mobile policemen were seen singing songs and telling trouble makers to stay away if they don't want to end up in jail. Agboola disclosed that in order not to overcrowd the court room and as part of crowd management, the police would only allow 20 representatives from PDP and AC and five from other political parties.
According to him, passes will be issued to all politicians and party supporters that have been accredited to enter the courtroom, saying that names would be written on the passes given out as each political party had earlier submitted the names of their representatives.
He said: "We have produced 80 passes because we don't expect more than 80 political parties' representatives. All of them must display their pass. They must hang it in their necks. And they must also come at the sametime so we can check them in together. Anybody without pass will be turned back". He implored the people to cooperate with the police as they will carry
out stop and check to ensure that hoodlums did not enter the city or come closer to the arena of the court.
Agboola stated further that journalists would not be accredited as their identity card is enough to admit them into the court room, urging them to get to the court as early as possible so as to avoid any embarrassment.
He advised journalists to have taken their seats as early as 8a.m. Early this morning, the state police commissioner held a closed door meeting with the chieftains of PDP and AC where he admonished them not to foment trouble as well as caution their supporters from fomenting trouble. The commissioner said that anyone caught contravening the law irrespective of his or her status will be dealt with.
However, many civil servants did not turn up at thier duty posts today as the state secretariat was deserted at the time PMNEWS visited. Meanwhile, Osun State governor's Chief Press Secretary, Lasisi Olagunju, said that tomorrow's judgment is in the hand of God while AC's spokesperson in OsunStatewas sure of victory, saying that the judgment will definitely favour them.
However, Osogbo was calm as everyone was going about their duty without any intimidation from anyone including security operatives. Most of them are not even aware of tomorrow's judgement. The tribunal would first give judgment of the petition of Lasun Yussuf of AC against the declaration of the PDP candidate, Leo Awoyemi representing Osognbo Federal Constituency of Osun State in the House of Representatives before that of the governorship election.
Load more