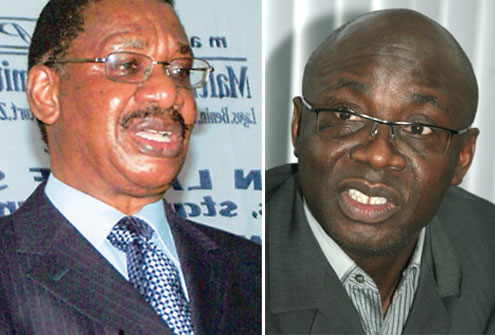 Several human rights activists, lawyers and others in Nigeria have slammed former Military President, Ibrahim Badamasi Babangida, IBB, for calling for the immortalisation of the late Moshood Abiola after annulling the election he won 17 years ago.
They were pained not because it is not a good thing to immortalise Abiola, the acclaimed winner of the freest election ever conducted in the history of Nigeria, the 12 June, 1993 election, but that such a statement is coming from the architect of the annulment of the election.
Abiola was believed to have won by landslide the 12 June, 1993 election which was annulled by IBB, which eventually led to the demise of the late business mogul during the struggle for the actualisation of his mandate.
IBB is eying the presidency of Nigeria next year and has been scoring cheap political points through his public comments, the latest being his call for the immortalisation of Abiola, his bosom friend, whom he allegedly betrayed by annulling the election he won.
According to constitutional lawyer, Prof. Itse Sagay, IBB's statement was cheap political propaganda, saying that he was responsible for Abiola's downfall and his death.
"If he had not annulled the election, Abiola would not have died and would have become president.   Abiola was a martyr.   IBB is the remote cause of his death.  Calling for Abiola's immortalisation sounds very ill to have come from the mouth of the person responsible for his death," he said.
Pastor Tunde Bakare, founder, Latter Rain Assembly and convener of the Save Nigeria Group, was disgusted by IBB's statement and simply said "It is medicine after death."
Festus Keyamo, a Lagos based lawyer said: "Nigerians at this point should demand for the trial of IBB because what he is saying now is a confessional statement.   He is saying in the real sense that Abiola won the election and that he annulled it, which is a criminal offence.
"Nigerians should call for his trial.   The most insincere and deceitful statement I have ever heard since I was born is coming from the mouth of a conman.   This call should be dismissed and Nigerians should call for his trial at this point in time."
"What IBB said is like urinating on Abiola's grave; it is a mockery of MKO in his grave and he is playing politics with Abiola's name.   The blood of MKO will haunt him till the end. "Shortly after the annulment, MKO had said that IBB bit him.   I pray that MKO's ghost will continue to haunt him until he made a true confession," added Mr. Yinka Odumakin, National Publicity Secretary, Afenifere Renewal Group.
Comrade Debo Adeniran, Chairman, Coalition Against Corrupt Leader, CACOL, said IBB did not deserve to be forgiven for deliberately annulling the 12 June, 1993 presidential election won by Abiola.
"He should have confessed his sins earlier and asked for forgiveness.   He has destroyed the democratic structure.   It is not for him to tell us what to do, but it is left for the government to immortalise him; he should go back to Minna and die there," said Adeniran.
Comrade Tony Iyare expressed bitterness over IBB's statement because it was a political one and not out of love for Abiola and called on the former military president to stop all the deceit.
"Abiola ought to have been immortalised before now.   12 June ought to have been democracy day and not 29 May.   Without Abiola, there would not have been democracy by now.
"IBB said what he said to achieve his selfish aim.   We are ready to tackle IBB.   He should go back to Minna to continue to mourn Mariam.   He spent eight years in power and entrenched corruption.   There is no way for the likes of IBB to call for the immortalisation of Abiola," he stated.
Immediate past Convener, United Action for Democracy (UAD), Comrade Biodun Aremu said "all these things are diversionary tactics by IBB.   These are just criminally minded people that Nigerians should disregard.
"IBB should not be relevant anymore.   We should disregard his statement and find ways to address our problems.  People like IBB should be stoned," he said.
—Kazeem Ugbodaga
Load more