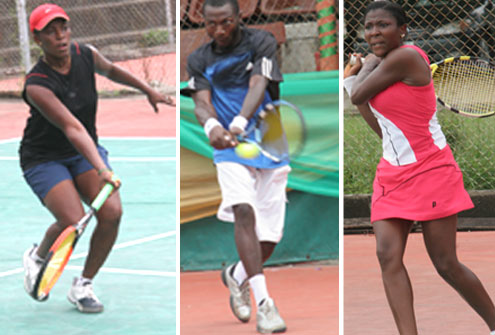 The 32nd edition of the Central Bank of Nigeria, CBN Tennis Open Championship gets underway at the tennis courts of the National Stadium, Surulere, Lagos, Nigeria with 32 players sweating it out in the Main Draw of the tourney.
The competition, which is seen as the only national championship that brings the country's players under one umbrella in a year served off yesterday.
There is no doubt that the tourney this year will be tough judging from the calibre of players jostling for the N6m prize money of the tourney.
They include the defending champions Abdulmumini Babalola and Fatimoh Abinu, who are the winners in the Men and Women' Singles respectively. Others are foreign-based Sunday Emmanuel, Shehu Lawal, Candy Idoko, Christy Agugbom, who won Women's Singles trophy in 2008, Chidima Abam and Blessing Samuel.
The venue of the championship is a beehive of activities since weekend when the qualifying matches were decided to pave way for the action-packed Main Draw, which enters Day 2 today. Players, coaches and officials who spoke with Tennis Special all had bright hopes that the tourney this year will be memorable.
Coach Godwin Michael said it won't be easy for the defending champions to have a smooth ride to the final, which comes up on Saturday, 6 June, 2010. He added that tennis fans should expect surprises in the competition.
Tournament Referee, Seidu Musa said that apart from rain which may disrupt some matches, he expects a successful competition at the end of the week.
"Everything is okay since we started the qualifying matches at the weekend. I'm looking forward to a great tournament especially with the commitment shown by the Nigeria Tennis Federation, NTF and the sponsor, CBN.
The Main Draw fixtures for the men and women events in both the singles and the doubles are not different.
Emmanuel is the number one seed in the men's categories, while Babalola is number two. Abinu is number one in the women's categories," he said.
Load more