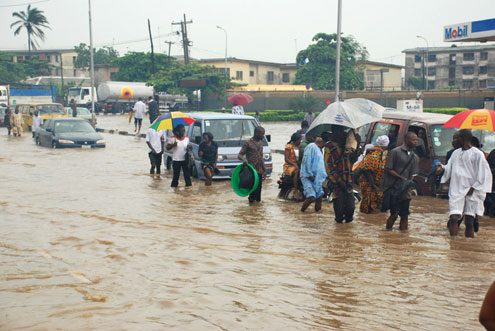 Thousands of residents of Bada, Balogun and Ishefun areas of Ayobo-Ipaja Local Council Development Area (LCDA), Lagos, Nigeria, were this morning trapped by flood which resulted from last night's heavy rainfall.
P.M.NEWS visit to the area today revealed that the flood had sub-merged over 500 houses in all the communities, forcing the residents to stay indoors as they could not drive or pass through the flood.
It was gathered that those whose bungalows were totally 'swallowed up' by the flood sought refuge at their neighbours' houses that are storey buildings. Vehicles were not also spared, as they floated in the flood. P.M.NEWS also learnt that most of the residents who are workers  had to call  their various offices that they cannot not come to work today because of the flood.
School children were also affected, as school buses were seen parking at various junctions without any pupil on sight to board them.
A resident, who simply identified himself as Alhaji Taju, said he could not get to his house after the rainfall. He was also trapped and had to sleep in a friend's house in Megida.
He  lamented that flooding in the area has persisted for over 10 years and the state government has turned deaf ears to their cries.
Contacted over the situation this morning, the Chairman of Ayobo-Ipaja LCDA, Prince Bisi Yusuf, said the council had tried its best to assist the people of the affected area in the past, but it was not enough.
He said it is only the state government that could help them out, as the situation had got out of hand.
Meanwhile, hundreds of commuters were stranded yesterday at Casso area of the Lagos /Abeokuta Expressway as the area was flooded after the heavy rainfall.
P.M.NEWS learnt that the traffic gridlock stretched from Casso bus stop to Agege, Lagos, Nigeria, and Iyana Ipaja axis as commuters were stranded for about eight hours.
It was gathered that some commercial motorcyclists were also arrested for working beyond the 10.00 p.m. closing time imposed on them by the Lagos State government.
Some commuters, who spoke on the arrests, condemned the police. One of them said the police should have overlooked what the motorcyclists did and spared the stranded commuters from the ordeal as the traffic was at a complete standstill.
When our reporter got to Casso bus stop at about 11.30 p.m yesterday, it was observed that motorists were held up in the traffic, prompting some drivers to sleep on the road.
Residents, therefore, called on the Federal Government to find a lasting solution to the problem of flooding in the area.
One of the residents, Lara Ogundipe, a pregnant woman, who was also stranded and resorted to walking from Abule Egba,  appealed to the government  to come to  their aid.
—Jide Osokoya & Olatunji Obasa
Load more