Nigeria's Super Eagles received a rousing welcome from Nigerians in South Africa when they finally arrived for the 2010 FIFA World Cup yesterday.
The team and their coaches arrived at the Old King Chaka International Airport, Durban, South Africa a day later than planned after the chartered flight they were due to board developed a technical fault in London.
A large number of Nigerians living in South Africa were at the airport to receive the Eagles waving the country's flag to demonstrate their support for the team. The Eagles were cheered with songs before they headed to their World Cup base, Richards Bay on the KwaZulu-Natal South Coast.
At the airport to welcome the Nigerian ambassadors in the 2010 World Cup were the High Commissioner to South Africa, General Mohammed Buba Marwa (retd.), other senior staff of Nigerian High Commission in South Africa and senior management staff of Nigeria Football Federation, NFF.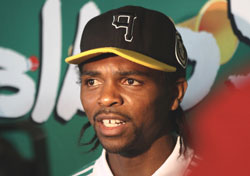 Meanwhile, captain Nwankwo Kanu has declared that the Eagles are battle ready for the World Cup, adding that the team are ready to take on any opposition. The Portsmouth of England player said even the highly rated Argentina with their star players won't intimidate the Eagles when both sides clash on 12 June in their group's first match. Kanu expressed no trepidation on the ability of the Eagles to scale the hurdles of the first round of the World Cup, adding that when the chips are down, the team will rise up to the occasion and do Nigeria proud.
Load more