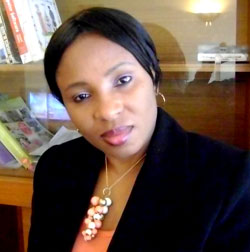 From cradle to grave, we all desire to love and be loved. To be sincere, love is necessary for survival for without it, life turns very miserable and boring, while our physical and even mental vitality lessens, resistance lowers and incredible emotional disproportion may occur.
There was a time I heard of a friend's domestic staff who seemed to be very rude and unfriendly. She did all within her power to make the staff cheerful but all efforts hit the rocks.
One fateful day, she decided to talk things over and surprisingly, she opened up: "To be sincere with you Ma, I see nothing good about life any longer. Sam met me as office assistant in an insurance company where I worked for 15 years. He came in as a youth cops member to serve for the mandatory one-year post-graduation requirement. Sam's salary was barely enough for transport and mine too was unbelievably meagre, but I never lacked because of my diligence and politeness to staff members.
"Before long, Sam got attracted to my warmth and we both became fond of each other, while guards were laid off and a relationship was started. Things went on pretty well. Although gossip of office romance initially upset me, I took consolation in the fact that I had found true love. After Sam's NYSC, the management asked him to find another place for permanent employment and so he left.
"He could not secure a job soon, so I encouraged him to get back to school and take up a Master's degree in Business Administration. Things were not exactly easy with Sam, but I tried my best, even to the point of borrowing money, to support his course. Immediately Sam finished with the programme, God blessed him with a good job and guess what? A car and house was attached to it.
"In a bid to appreciate my sacrifice, Sam offered to put me through distant learning education so I could, at least, see the walls of the university. He picked the form for me and I secured admission on one attempt. We were both very busy, while weekends were the only time left for mutual fellowship.
It actually became so exciting that we both looked forward to it. During one of my visits to Sam, I met his mother, who he said, had left his father since they were young and married another man. Immediately Sam introduced me as his wife-to-be, she turned her face to the wall and murmured some things in their local language that made Sam react in some defensive manner.
"I did not want to further aggravate his anger by asking him to go over what mama said to him as it was glaring all was not well. I certainly had to shorten my stay just to avoid the frigid atmosphere mama brought. After two days, I had a seemingly pleasant surprise as mama sent for me to come and take her to where I stayed. I jumped at the offer and prepared my house in an exceptional manner to suit the occasion.
"She sounded and acted so nice that I could not believe she was the same person I first encountered. Naturally, I attributed this new development to Sam, who I knew could go to any length to make me happy. But unfortunately, Sam had no hand in it—mama has always been known to be mischievous and full of clever strategies.
"Not long after she left my house, she reappeared with two guys, who she claimed were Sam's cousins and asked me to pack my things as she was ready to take me to her son's house so we could have a quick court marriage the next day before she goes back to her house. Foolish me, I did not even know that court marriage does not take place without booking, but sincerely, this was the best surprise life could offer me as I hurriedly moved my things to the car in anticipation of becoming a bride the next day.
"Once I entered the car, a canned drink was served and I opened mine without caution or suspicion and gulped the whole content. The next thing was that I found I was in a strange house which had no semblance with Sam's. As I turned to the table on my right, I saw a note addressed to me. I got anxious and opened it right away. Here was mama's plot, she had rented an apartment for me in Lagos and moved me there in my unconscious state and seriously warned me never to go near her son in my life time. It was not now that GSM has made life easy and the world a global village. Sam had no personal phone and was always the one calling my office on land phone since I was not entitled to a private line. People used to just tell me I had a call to answer and, of course, the number never appeared, so I had no means of communication with Sam.
"Before I could recover from the shock and thought of going back to Jos where I stayed and met Sam to look for him, it was already too late as she lied to him that I would have been kidnapped by evil doers and when he got no trace of the truth, he decided to leave for an unknown destination.
"Right from that day, life was bad for me and I had to beg people for help, while I got back to the rented apartment in Lagos since that was where I now had all my belongings."
As she ended her story, her madam smiled and asked if she saw Sam she would still recognise him. She said yes and she sent the gateman to call the man in the next house and this was no other person than Sam, who she has been counselling for a long time after he told her the story of how he lost his dear lover. He refused to get married to another woman but once he saw Faith, life returned and they are now happily married.
Load more