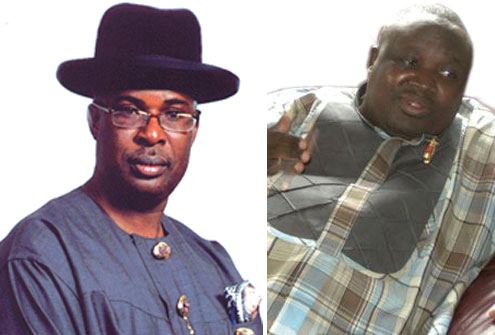 Tension is mounting in Yenagoa as the political battle between Governor Timipre Sylva of Bayelsa State and his deputy, Peremobowei Ebebi, reached the peak with service of an impeachment notice on the embattled deputy governor on Tuesday and two separate explosions that rocked the state capital last night.
The tensed political atmosphere worsened on Tuesday with the arrest by the Bayelsa State Police Command of over 30 members of the Save Nigeria Group (SNG), who stormed the streets of Yenagoa, the state capital with anti-Sylva slogans.
The following day, two separate explosions rocked the city at about 8.45p.m. causing serious panic among residents.
One of the explosions, according P.M.NEWS contacts in Yenagoa was detonated around the Baybridge Road leading to the private residence of the state deputy governor, Ebebi.
The second one exploded close to the fence of White Eagle Hotel in the Etegwe suburb owned by Chief Nathan Ile, alleged to be the father of Comrade Tony Ile, the state coordinator of Save Nigeria Group.
Although the reason for the blast remains unclear, it is however linked to the battle of supremacy between Sylva and Ebebi over who controls the political fortunes of the state as the nation looks forward to the 2011 elections.
The state Police Public Relations Officer, Mr. Solomon Omoemin said he heard of the incident but did not give further details as to what the police are doing about the incidents.
Sylva had earlier cried out that his life was in danger. An explosive device planted in a Mazda saloon car was detonated along the road leading to Ebebi's hotel in Yenagoa last month. Ebebi accused the governor of being the mastermind sponsoring. The governor in a counter statement alleged that his life was in danger.
Meanwhile, a group known as Bayelsa State True Democrats Forum has accused Sylva  of highhandedness, maladministration and other sundry offences against the state.
The group condemned the latest move allegedly being sponsored by the governor to use the House to remove his deputy.
Some prominent Ijwa sons have reacted to the dangerous situation in Bayelsa State. Mr. Opunabo Inko-Tariah, a public affairs analyst and publisher of HardTruth, a Port Harcourt-based tabloid, lambasted Sylva and the state House of Assembly for the collapse of governance in the state.
Opunabo said: "What is happening in Bayelsa is a shame to the Ijaw race, a disgrace to Bayelsans and a bad copy of what good governance should be."
He blamed the lawmakers for allowing themselves to be used by the governor and refused to probe him of all the allegations instead went for his deputy.
Opunabo said although he was not from Bayelsa, as someone from the Ijaw stock, the truth has to be said that Sylva should have been impeached long ago to give the state a new lease of life.
—Okafor Ofiebor/Port Harcourt
Load more