Former Nigerian National Welterweight Boxing Champion, Felix Akpan has called on the Chairman, Lagos Chapter of National Union of Road Transport Worker, NURTW, Alhaji Akanni Olohunwa to give his support to boxing as he is doing to football in Lagos State, Nigeria.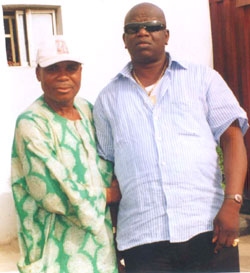 Akpan, a former West African Welterweight Champion told Boxing in Focus that the game is dying in Nigeria and needs spirited individuals like Alhaji Olohunwa who has passion for sports to be revived.
According to Akpan, who is the President and Chief Coach of Ejigbo Boxing Game Centre at Alafia Street in Ejigbo, Lagos, "I have sent a letter to Alhaji Olohunwa urging him to support boxing in Lagos and indeed Nigeria. I'm imploring him to extend his sponsorship of sporting activities to boxing as he is currently doing for football with the U-15 Olohunwa Soccer Championship, which is going on at the Campus Square Sports Centre, Lagos Island.
"I'm particularly glad with the way Alhaji Olohunwa is using sports to promote  goodwill for the NURTW in Lagos. I know that this will definitely help change the perception of members of the public on the activities of the union."
Akpan also called on President Goodluck Jonathan to give more attention to sports, especially boxing, saying the country can use the game to launder her image aross the world.
Load more