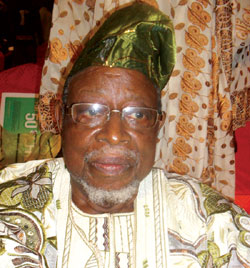 Veteran comedian, Moses Olaiya Adejumo a.k.a. Baba Sala, has bounced back, P.M. Entertainment can reveal.
Baba Sala, who went into oblivion after his film, Orun Mooru, was pirated, returned to the limelight on Sunday, 30 May, 2010 at Oriental Hotel, Lagos.
The event was a special programme    organised in his honour by Laffmataz magazine published by the popular stand-up comedian, Gbenga Adeyinka the first.
The ceremony, which was attended by the likes of Ali Baba, Julius Agwu, Kenny 'Keke' Ogungbe, Olu and Joke Jacobs, Sola Fosudo and others, saw prominent  and upcoming stars paying homage to the Awada veteran side by side performing.
One of the high points of the event was when Adeyinka came on stage to ask his friends and colleagues to support Baba Sala financially and at the end of the fund raising, the 74-year old comedian went home with N1.050 million and a promise by the organisers and those present to support him with a monthly stipend of N100,000.
Apart from the cash donation, a birthday cake was presented to him.
Some of the donors were Bisoye Fagade, Kingsley James, Kenny Ogungbe, Patience, Ali Baba's wife, who played a very prominent role in the fund raising, Sola Fajobi, Executive Producer, Next Movie Stars, Tea, Teju Baby Face, Femi Davies and others.
An elated Baba Sala thanked Gbenga Adeyinka, the Laffmataz crew and those present for the honour and donation.
Jayone, Baba Sala Jnr. and others performed at the event.
Load more