Nigeria's Super Eagles will on Sunday play their last tune up match for the 2010 FIFA World Cup against North Korea to perfect strategies ahead of their first group game against Argentina on 12 June.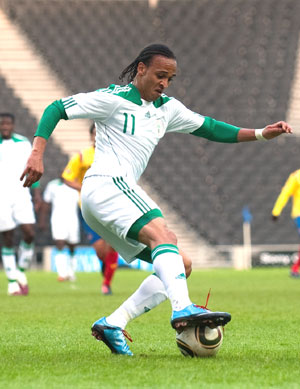 The team had played two friendly ties against Saudi Arabia (0-0) and Colombia (1-1) and are looking forward to playing the North Korean team to know the pattern of their group opponents, South Korea, who are from Asia and neighbours to the North Koreans.
The Eagles plan to use Sunday's game against the fast North Koreans to prepare for a potentially decisive World Cup Group B tie against South Korea at the Moses Mabhida Stadium in Durban on 22 June.
The friendly encounter will be played at the Makhulong Stadium, Tembisa, on the outskirts of Johannesburg on Sunday at 3p.m. Nigerian time with at least 5,000 fans in the stadium.
Team spokesman Peterside Idah said: "Besides the invited guests for the game, we will only accommodate the first 5,000 fans into the stadium."
There is a strong Nigerian presence in South Africa and will be further boosted as the World Cup kick-off nears.
Nigeria also pegged attendance for last weekend's friendly against Colombia at the Milton Keynes Stadium in London as they only admitted a select few and the media.
Reports suggested that the Nigeria Football Federation, NFF, opted for this  to save  cost of providing security at the match.
Load more