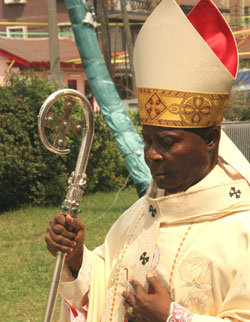 He thus urged the country's citizens to stop waiting on God and fight the government to a standstill until their rights are restored.
Cardinal Okogie gave this advice at an event organised to mark the 50th anniversary of Saint Vincent de Paul, a society of the church, which chief mission is to assuage the sufferings of the poor in the society.
Cardinal Okogie lamented that Nigerians easily forget that politicians never fulfil their promises to the people until forced to do so.
"The 2011 elections are fast approaching again and they would soon come out and start telling you all the fanciful things they would do if elected into office.
"Unfortunately, we Nigerians seem not to learn from history. This is not the first time we will hear them speak like that.
"I remember in 2000, they told us that there would be electricity and water for all; the only thing they did not say is that there would be heaven for all and we are now in 2010 and nothing has been done.
Once our politicians are elected into office, they forget about their constituency. The very first thing they do is to start looking for money to the detriment of those who elected them and they don't even care," he said.
He also lamented that miscreants who were raided from the streets in Lagos to be rehabilitated somewhere in the state years back have been forgotten by the government, adding that they are being cared for by the society.
He praised the St. Vincent de Paul society for assisting the poor, a task that the government ought to focus on.
When reminded about the poverty alleviation programme of the government, the Cardinal said that the programme was a deceptive tool by the government.
He asked how many Nigerians have benefited from the programme. "How many poor people have they redeemed? Who is deceiving who?" he asked.
He accused them of using the programme to favour only the rich against its original objective, adding that, "if it was in other nations, the poor people would rise, but in Nigeria we sit and wait on God. You must learn to fight for your right."
The Archbishop also expressed fears over the sand filling of some areas covered by water in Lagos State.
While stressing that the forces of nature cannot be cheated, he further emphasised that with the constant pushing of the sea away from its shores, the consequence may be deadly especially with the current climate change.
—Eromosele Ebhomele
Load more