Afro Juju music creator, Sir Shina Peters, turned 52 years on 30 May. Here, he spoke  about his life, music and other things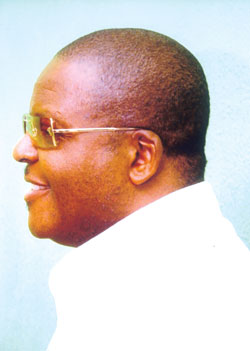 Q: Congratulations, you are now 52 years old.
A: Yes, thank you.
Q: At 52, what have you gained and lost?
A: I have gained a lot. In terms of wisdom, I am closer to my God, while I am more reserved. Remember I said in one of my songs, Ile nsu, ile n mo, olojo n ka'jo (time waits for no one).
Q: Why don't you celebrate with your family and friends by throwing a party?
A: When it comes to party throwing, I am not that type, may be because of my job which has taken all my time. More so, I was conferred with the Ambassador of Music, and my friend, Dele Momodu was marking his, so I had to sacrifice mine for him.
Q: A lot of people have been complaining that you are not very visible lately, what have you been doing?
A: I have been very busy because I travel a lot. I hardly stay in Nigeria. I travel virtually every month. Recently, when I returned from London, I travelled to Dubai with Otunba Gani Adams for his birthday. From there, I went to South Africa and now, I am planning to go to Spain. In fact, I cut a trip to London short to honour Otunba Mike Adenuga during his daughter's wedding because at this age, we should go all out to expose our culture to the world.
Q: From here, what next?
A: I will be travelling again.
Q: By creating Afro Juju music, your critics are of the opinion that you have done more harm to the music genre than good. They believe that you allow those who cannot play any musical instrument to play juju music.What is your comment on this?
A: Well, you cannot satisfy the world. I have delivered the message God gave to me to the world by creating Afro Juju music because I have created joy, happiness and job for many people. In fact, through my music, I have been able to elevate some of my colleagues. As a journalist, don't you know that you are saving souls through your medium? So the most important thing is to do something that will save souls which I have done by creating Afro Juju music.
Q: At 52, what other plans do you have?
A: I can assure you that my God has so many plans for me.
Q: Are you working on an album for now?
A: Yes, but it is not an album per se, it is a project because it will involve a lot of artistes from a genre of music, including foreign artistes.
Q: How many of them have you contacted?
A: I don't want to let the cat of the bag yet.
Q: How soon are you embarking on this project?
A: Very soon.
Q: Some people are of the opinion that Juju music is on the decline, how true is this?
A: Who told you that?
Q: I am asking you a question. Is it true or not?
A: Juju is still very much around. King Sunny Ade is still on stage, likewise Admiral Dele Abiodun, myself and even Commander Ebenezer Obey, who returned to the stage lately. Tell me, what do Fuji artistes play? Juju, of course. If not, why are they using guitar, keyboard and other western musical equipment in their music?
Q: What was on your mind when you created Afro Juju music?
A: For all I know, Afro Juju is not my making because God perfected it and I am just like a tool in His hand. Afro Juju is more than what you think of it.
Q: How did you create it?
A: I don't know.
Q: Is it spiritual?
A: Yes, very, very spiritual
Q: When and how did it happen?
A: It happened, so don't let me take the credit from God, who only used SSP to deliver it. It is not by my power or my making.
Q: Did you consult a prophet or jujuman before creating the music?
A: No, I am not into anything of such. mi o soogun, bee ni mi o sin 'gbere (I am not into rituals or have any stuff like that).
Q: Ebenezer Obey recently returned to the scene after going into gospel music, so how do you feel?
A: He has been singing gospel from day one, so coming back is no big deal.
Q: Are you also going into gospel music soon?
A: I have always been singing gospel songs because I started my career in the Cherubim and Seraphim church.
Q: You left home at age 10 to play music and now, Sir Shina Peters, if you have to come back to the world, would you live the same life all over?
A: That is a million-dollar question. I didn't determine my life, it's God that determines what I do.
Q: Any regrets so far?
A: Who am I to regret the work of God? I have no regrets. So far, so good.
Q: Now you are renovating your house in Iju, why did you change the colour from the usual white and red?
A: The world is dynamic and the whole world needs change. I am an artiste, artistes don't rest, we change everyday.
Q: You are not growing any younger, how do you see SSP in the next ten years?
A: God spares my life, I won't die young and I will continue to play good music.
Q: You started as Sir Shina Adewale, that is, you and Segun Adewale. Can you still team up with someone to form a band?
A: No, the lesson I have learnt is what is yours is yours. I will like to say this thing is mine.
Q: What was your experience with Segun Adewale?
A: Nice one.
Q: What happened to the album you released then on Mut-Mukson Records label?
A: I still see it on the streets, but I am too busy to go and fight for my right now.
Q: What about those on Sonny Music label?
A: They are still with them. Now, they are Master Sound, but I have asked my lawyers to write the company for negotiation because the albums are still selling.
Q: Did you make money from the sale of those albums?
A: Yes, I am very lucky when it comes to that. I am very, very lucky.
Load more