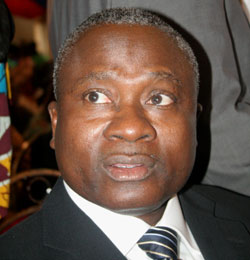 Commissioner for Health, Dr. Jide Idris disclosed this at a news conference to commemorate the World No Tobacco Day in Lagos, Nigeria, saying that government was considering sponsoring a bill against tobacco smoking.
He emphasised that government would pursue a bill to ban smoking in the nearest future, saying that now, it would concentrate on public enlightenment of the people against smoking which would certainly hamper their health.
The commissioner stated that after the enlightenment campaign might have been carried out, government might be forced to ban smoking in designated public areas and facilities in order to protect non-smokers.
The theme of this year's celebration is Gender and Tobacco with Emphasis on Marketing to Women. Through the theme, the World Health Organisation, WHO, is encouraging governments to pay attention to protecting women from tobacco companies' attempt to lure them into lifetimes of nicotine dependence.
According to Idris, "it is observed that as women are adopting more dominant roles in the society and have increased spending power, tobacco companies are becoming more aggressive in targeting women in their Marketing efforts."
Statistically, tobacco is one of the preventable causes of disability and death. More than five million people worldwide die from the effects of tobacco every year, according to the WHO.
The WHO said tobacco companies spent millions of naira every year turning new users into nicotine dependent addicts and keeping current users from quiting. Through advertising and promotional campaigns, including the use of carefully crafted packaged designs, the tobacco industry continues to divert attention from the deadly effects of the products.
"More worrisome is the fact that women are being extensively targeted in tobacco marketing and tobacco companies have produced brands specifically for women. Women comprise about 20 percent of the world's more than one billion smokers.
"Consequently, tobacco use among women causes a variety of cancers, including cancer of the lung, mouth and oesophagus. It puts users at the risk of heat attack, stroke, emphysema and other life threatening diseases. Women smokers are at risk of developing cervical cancer, osteoporosis and other conditions of the reproductive system, including infertility and early menopause," said Idris.
As a result of the deadly nature of tobacco smoking, the commissioner said the state government  would conduct a state wide campaign on smoking to discourage the adolescents and young adults from taking up smoking, while encouraging smokers to quit.
According to him, areas of intervention included creating awareness about tobacco and its effect among the populace; discouraging the use of tobacco among adolescents and early adults; disseminating the effects of tobacco on pregnancy and the health of mothers; protecting  non-smokers by designating public areas and facilities as no smoking areas and advocating for an enabling environment conducive to change.
Idris stated that smoking is the second greatest cause of death globally and is currently responsible for killing one in 10 adults worldwide, adding that the statistics were alarming and should encourage all smokers to quit to prevent future heartache and premature death.
—Kazeem Ugbodaga
Load more