A 30-year-old housewife and caterer, Mrs. Arinola Azeez, is currently receiving treatment after being beaten up by her landlord's son.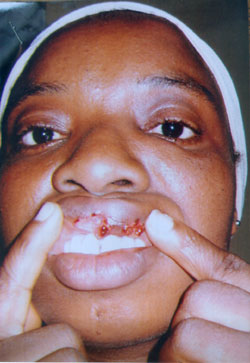 The suspect Bolaji Kusimo, 32, a mechanic at Salolo, inherited a room in his late father's house at 3, Aduraleye Close, off Fabunmi Street, Meiran, Lagos. Crime Watch checks revealed that a minor argument had ensued between the suspect's wife and the victim.
According to Mrs. Azeez: "There was a heavy rain penultimate week at 4.30 p.m, which led to our compound being flooded. I later swept everywhere and thereafter the landlord's son wife (Funke) poured dirt on the place I had cleaned up. When I told her that I had just swept the place, she flared up and called her husband who came out and started beating me, and later dragged me into his room."
"His wife also joined in beating me before my husband who was sleeping woke up when he heard my cries and he came to rescue me.
According to the victim's husband, Mr. Olalekan Azeez, "the police are afraid of this landlord's son. Can you imagine; after beating my wife with injuries in her mouth, he quickly dashed to Meiran Police Station and reported that his wife had lost a two-month-old pregnancy. When I was not satisfied with the way the police at Meiran and Area 'G' Command, Ogba, are handling the case, I wrote to the Commissioner of Police and the case is now being handled by the O/C Provost. When the police gave us a note to go to Orile-Agege Hospital to ascertain whether his wife lost her pregnancy, she (Funke) refused to be examined.
At the hospital, the medical officer, Dr. Osinowo R.O, examined my wife and issued a medical report, dated 25 May, 2010, stating that: "On examination, she was found to be conscious, her dress was soaked with blood. She had a swollen forehead with laceration of the upper lip, she was attended to and treatment promptly."
Load more