Operatives of the Kick Against Indiscipline, KAI, brigade have arrested a member of a syndicate who specialises in drugging unsuspecting members of the public with sachet water at Ikeja,  Lagos State, Nigeria.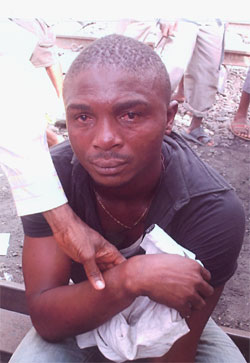 The suspect, Mr. Okachukwu Obuduikiri, a native of Abia State, who claims to deal in sales and repairs of electronics at Shop B 650, Alaba International Market, Lagos, was apprehended recently.
He gave his address as 27, Obariola Street, Sabo, Ajangbadi, Lagos.
Acting on a tip-off, Mr. Oke Adesola, 2nd Commander, KAI, Railway Line, Ikeja, who arresed the culprit, stated that they traced the group to the Computer Village, Ikeja.
"Having properly been briefed on the unwholesome activities of the group, we swung into action and  traced them to the Computer Village," Adesola told Crime Watch.
Okachukwu and his accomplice, Joseph Izu spotted a victim, Mr. Soyombo Samson of 8, Ladobo Street, Oke-Olowo, Ibadan, who came to buy phone accessories, and perfected plans to rob him.
The victim, having bought a carton-full of phone accessories was followed by the syndicate from Computer Village to Ikeja bus stop. At Ikeja, Okachukwu collected a sachet of pure water from Joseph Izu, his accomplice, and gave him N10. His accomplice, who pretended to be a pure water seller, claimed he had no N5 for his change and as such, Okachukwu asked their victim to collect a sachet of  water with the N5 balance.
He did,  not know that the water satchet had been drugged. Thereafter, Samson boarded a bus to Ibadan. Okachukwu also boarded the same bus while his accomplice, Joseph, left.
The KAI official, realising that Okachukwu had followed his target, also boarded the bus and ordered the driver to stop some distance away from the bus stop.
When interrogated by the KAI officials on his mission to Ibadan, Okachukwu claimed he was taking a supply to his customer. But when his well-packaged carton was searched, there was nothing in it, except an empty pack of Nokia phone. No money was found on him for his transport fare.
As interrogation was going on, his victim, Samson, had become weak and sleepy as the drug took effect.
People made efforts to revive him while his relatives were contacted. At that point, slaps and kicks started landing freely on Okachukwu from all directions. With blood gushing out of his ears and people calling for used tyres, Okachukwu pleaded for mercy, even as he stated that it was his first time.
The suspect who was almost lynched by the mob, claimed that his friend, Joseph Izu, introduced him into the illegal business, called Confused Business. He was later handed over to the police at Area "F" Ikeja, Lagos.
—Ufforth Shallom
Load more