The Ogunshakins who reside at 20, Ogunnaike Street, Palmgrove, Shomolu, Lagos, Nigeria, will not forget in a hurry their ordeal when at least 12 armed men, suspected to be armed robbers, stormed their residence at about 2.30 a.m. and threw down  Mrs. Tayo Ogunshakin, from the second floor of the two-storey building.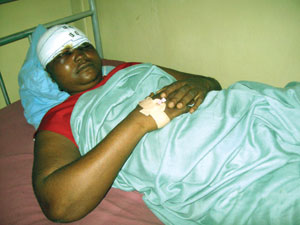 Narrating her ordeal to P.M.NEWS from her sick bed in a private hospital, where she is currently receiving treatment, Mrs. Ogunshakin, who sustained serious injury on her head said: "We just heard a big bang on our door at about 2 a.m., and we all woke up. We tried to prevent the intruders from entering our flat but they broke the door and swooped on us. They threw me down from our apartment, which is on the second floor of the building, and that was all I knew. I woke up and found myself in the hospital."
Her husband, Mr. Femi Ogunshakin, a police sergeant, could not talk to P.M.NEWS because he was being treated at the intensive care unit of the hospital as a result of the shock he suffered during the attack.
His younger brother, Mr. Lateef Aliu, a taxi driver, who took the injured person to the hospital, told P.M.NEWS that his brother called him around 3 a.m. and narrated what happened.
"My brother called me to come to his house quickly," adding that his family was being attacked by some armed men suspected to be armed robbers.
"He told me that the robbers left when they saw his wife lying dead on the ground," he stated.
P.M.NEWS also gathered that the owner of the building, who is also the Baale of Ijebutedo area of Palmgrove, High Chief A. T. Ogunnaike, was kidnapped by the armed men but released the following day.
The armed men were said to have told their victims that they were operatives of the National Drug Law Enforcement Agency (NDLEA).
Investigations at the Ogunshakins' apartment revealed that the entrance door to their two bedroom flat was damaged, while furniture and electronic gadgets were scattered all over the apartment.
A police officer at the Pedro Police Division, Shomolu, Lagos, confirmed the incident, adding that investigation was going on to fish out the criminals.
Load more