President Goodluck Jonathan has nominated Prof. Attahiru Jega as the new Chairman of the Independent National Electoral Commission, INEC.
The president nominated Jega this afternoon at the end of the National Council of State meeting in Aso Rock, Abuja, capital of Nigeria.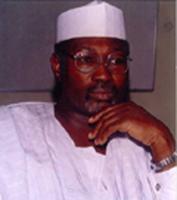 The Council of State, which comprises former presidents and heads of state, ratified the nomination.
His name and those of other national commissioners would be sent to the National Assembly for confirmation.
Jega's appointment comes on the heels of the sack of the former Chairman, Prof. Maurice Iwu, who was accused of organising the 2007 general elections considered the worst in the history of this country.
Jega, who is currently the Vice Chancellor of Bayero University, Kano, BUK, is from Kebbi State.
The vocal and ubiquitous president of the Academic Staff Union of Universities, ASUU, in the early 90s, led the academic union during the period of former military president, General Ibrahim Babangida.
He was head of Political Science, Bayero University, Kano before his appointment five years ago as the Vice Chancellor of the university. His term as VC was to expire in October this year.
Under his ASUU presidency, Jega successfully negotiated welfare for lecturers which led to increase in salary and better funding of the universities. During his tenure the education tax fund was also established with companies making contributions to the funding of education in tertiary institutions.
Prof. Maurice Iwu was Jega's deputy when he was ASUU president.
Jega also served under the Uwais' Electoral Reforms Committee as a member.
As BUK VC, Jega was at the receiving end from his colleagues but was able to manage the situation allowing peace to reign on campus and bringing about developmental changes in the institution.
Oluokun Ayorinde/Abuja
Load more