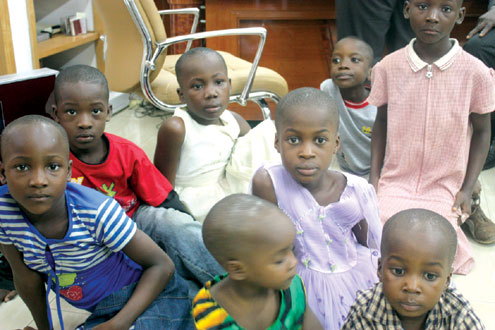 Officials of Lagos State Government, Nigeira, have shut another illegal orphanage and rescued 10 children from the home located at Alakuko, Agbado area of Lagos State, Nigeria.
Officials of the Social Department, Ministry of Youth, Sports and Social Development stormed the orphanage, Jesus Cares Orphanage yesterday, shut the place and arrested the owner.
Mrs. Jane Edet, the 30-year old graduate of the University of Calabar and wife of a pastor, was arrested at her three-bedroom flat, 23, Alaba Taiwo Street, Alagbado, which she used as an illegal orphanage.
Another young man, Prince Eteng was also arrested with her as he was the man the owner sent to beg for money from the public, which she claimed she used in running the orphanage which was not registered with the state government.
Eteng told P.M.NEWS that he was being paid N1,000 per day to beg for money to run the orphanage, saying that he normally preached in commuter after which he would distribute envelopes for people to help the 'work of God.'
"I attend the same church with the woman and I am a chorister there. I was a security officer before I lost my job. I was jobless so I decided to work at the orphanage home. I just came there to seek for employment," Eteng explained.
He disclosed that about 60 envelopes were distributed daily to passengers in the buses, which he confessed were handed over to his employer without knowing what the daily proceed was.
Another young woman arrested, Mrs Nana Massaquoi, a 28-year old Ghanaian, said she lost her husband recently and had to come to Nigeria due to dehumanising traditional rites she had to perform.
"When I came to Nigeria, a friend of mine introduced me to her and she had been taking care of me. I came here three weeks ago and I can see that the woman really has the intention to help children," she said.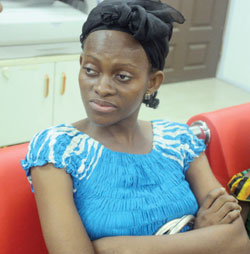 However, Edet admitted that her orphanage home, which she started in February, 2010 had not been registered, saying she had begun the process of the registration before she was arrested and begged for forgiveness.
"I have plans to give the children hope. Nobody is above mistake; I have seen that I have made a mistake," she said, admitting that she normally gives Eteng envelopes to beg for money.
According to Edet, some of the children were brought to her by their relatives after their parents had died, while the other ones were handed over to her by their parents after signing an agreement.
The woman's travails started when her recruit, Eteng, was arrested by officials of the Social Department of the sports ministry. He later led the officials to the illegal orphanage home where her boss was arrested..
A resident, Mr. Stanley Francis, said that a friend of his who lived in the same compound recently drew his attention to the cry of the children.
Special Adviser to the Governor on Youth and Social Development, Dr. Dolapo Badru was shocked over the development, saying that it was a criminal offence to operate an orphanage that was not registered with the state government.
"We have many illegal orphanages being run all over the state and we are doing all we can to sanitise the system; they are causing a lot of problem for adopters and for the society. An illegal home is by all means a place where illegal activities take place. We will not relent, we will continue to hunt them down in the proper process," he vowed.
Badru said the children would be taken to government homes where they would be well taken care of while the suspect would be handed over to the police for further investigation.
As at the time of filing this report, the 10 children had been taken to government home while Edet and others had been transferred to the State Criminal Investigation Department, SCID, Panti for invterrogation as the case was is said to be criminal.
—Kazeem Ugbodaga
Load more