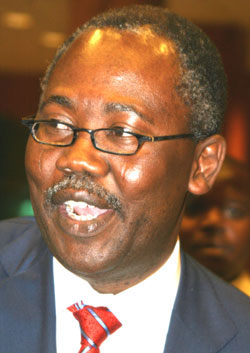 The AGF,  while expressing government support to the anti-graft agency ,  stated that government was not oblivious of the resolve of the criminally-minded  to scuttle the anti-corruption fight but promised that their efforts would be met with stiff opposition. "We are not unaware of the challenges militating against the fight , especially of those trying to frustrate it. We shall make sure they do not succeed". Adoke promised. He also stressed that his presence at the occasion was to underscore government's commitment to the fight against corruption. "I am here to show support and solidarity to the author and the EFCC. This is because the fight against corruption is one of the most cardinal thrust of this government."
Speaking earlier, Chairman of the EFCC, Mrs. Farida Waziri commended the author for his efforts which she said was aimed at re-branding education , business, politics and public administration in the country.  She said that because many corrupt practices fall within the ambit of economic crimes, EFCC has come under serious and sometimes mis-guided public scrutiny. "Because of  the volume of jobs we do, a lot of attention has been attracted to us and when there are no dramatic results, the impression is created that there is a lull or that the fight has been dampened or is compromised." She also used  the occasion to highlight some of the commission's achievements which, according to her, included prosecution of high profile personalities and increased enlightenment of Nigerians on the evils of corruption. Waziri however lamented  slow pace of  trials of the cases being presently prosecuted in courts across the country by the Commission. She said this could only be curtailed by the creation of special courts that she has been advocating for. Waziri  called on the National Assembly to support the call for the creation of the special court with the enactment of the appropriate legislation.
In his brief remark at the occasion, chairman of the occasion, Dr. Tahir Mamman, Director General of the Nigeria Law School , declared that the starting point in the fight against corruption should be a change of mindset from every Nigerian. He urged all anti- corruption agencies to be self -regulating if they wished the fight to be successful,  stressing that youths should equally shun successes measured only from the perspective of money.
Speaking also, Prof. E.A. Afolabi , representing the Special  Guest of  Honour and Minister of Education, Ruqayyattu Rufa'i ,said the occasion has come at an auspicious time when government was battling with how to restore the lost hope in the dwindling fortunes of education in the country. He identified the neglect of the education sector by previous governments as one reason corruption has taken a front burner,  stating that adequate remuneration and respect for teachers at all levels would stem the tide of corrupt practices.
The reviewer of the book ,Prof. E. Alemika, while giving a critical analysis of the phenomenon called corruption and some successive governments' efforts at tackling it, identified the judiciary as the weakest link in the anti-corruption fight. He lauded the author's efforts saying the book was a bold attempt. The author of the book, Tabi Hamman Joda, expressed his gratitude to Waziri and the EFCC  in identifying with what he termed a landmark in the quest to sustain the anti- corruption fight. He challenged the youths to shun corruption and live up to the billings of Nigeria 's founding fathers. Many other speakers at the occasion included the Commandant General of the Nigeria Security and Civil Defence Corps, Dr. Ade Abolarin, Minister of Police Affairs, Alhaji Adamu Waziri,  Dr. Abubakar Tsav and many others, including representatives of the civil society, National Association of Nigerian Students, NANS, etc,   all agreed that corruption was the bane of development in Nigeria and that EFCC being an agent of change must be supported. Highlight of the event was the unveiling of the book by the chairman of the occasion supported by other dignitaries .
By Oluokun Ayorinde, Abuja
Load more