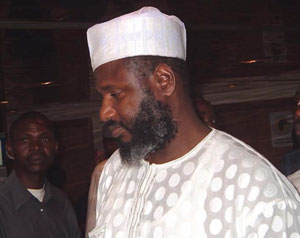 The group contended that Yerima's marriage was strictly a private affair and that he should be left alone and warned the Senate to disband the panel it set up to probe the former governor over the issue.
Director of the group, Alhaji Is-haq Akintola, who spoke in Lagos, Nigeria, yesterday, told newsmen that Yerima's marriage was conducted in total conformity with the teachings of Islam.
"The current stand of these groups is regarded by Nigerian muslims not as an attack on Yerima per se but as a vicious campaign against Islam and Nigerian Muslims.
"We reject the Child Rights Act as it breaches the teachings of Islam and deprives Muslims of their Allah-given and fundamental rights. We demand the dissolution of the panels set up by both the Senate and the House of Representatives to probe Yerima's marriage as this constitutes an attempt to probe the scripture of Islam," he stated.
Akintola absolved the senator of any blame in the marriage, adding that the group had also concluded plans to stage a peaceful protest in the premises of the National Assembly.
According to him, "the National Assembly's action stands in contra-distinction of article 18 of the United Nations Charter signed into law on December 10, 1948 which also affirms this indubitable freedom to practice one's religion. It is also contravenes Article 9 and 14 of the European Treaty of Human Right as well Article 18 and 19 of the treaty of civil and political Rights.
"What is most clear in this marriage hullabaloo is that none of the critics have made any attempt to find out the position of Islam regarding marriage .It is highly regrettable that the National Assembly has also failed in this direction. We are alarmed that the men and women who occupy our parliament have little or no respect for the religion of Islam and its teachings. They now occupy themselves with investigating the Shariah and probing Islam.
"MURIC wishes to assert clearly, unambiguously and unequivocally that the National Assembly has no locus standi to investigate an Islamic marriage which conforms in its totality with teachings of Islam."
He added that "if some people with evil intention can march to the National Assembly demanding the prosecution of Yerima for conducting an Islamic marriage, Muslims also have the right to respond in like manner and in defence of their hero and liberator, the Yerima of Bakura.
"The continued persecution of Yerima constitutes a potent threat to peace in this country. Yerima is undeniably, a hero among Muslims having used the instrumentality of the Shariah to liberate Nigerian Muslims and this is why he is being persecuted.
"We stand by Yerima in this trying period; Nigerian Muslims should remain vigilant but resist all provocations and maintain the peace, law and order. We remain committed to dialogue and non-violence and the detractors should leave Yerima alone."
—Kazeem Ugbodaga
Load more