The fragile peace in the Niger Delta region, South-South Nigeria, has been threatened as the miltant group fighting for resource control in Niger Delta, the Movement for the Emancipation of the Niger Delta, claims in an online e-mail signed by its spokesman Jomo Gbomo to P.M.News in Port Harcourt that its fighters clashed with JTF at Ogulagha in Delta in the early hours of today.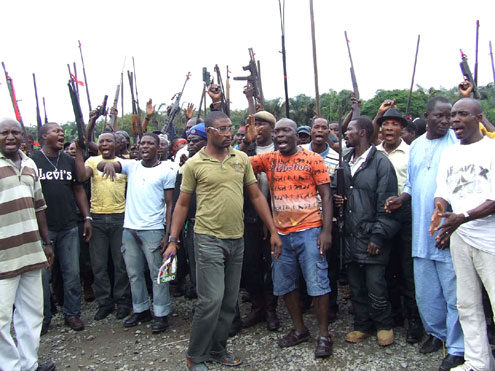 According to Jomo Gbomo, MEND can confirm that there was a bloody confrontation at about 0030 Hrs today, June 10, 2010 between our fighters and men of the military Joint Task Force (JTF) after one of our patrols ran into two gunboats of the JTF at Ogulagha in Delta State. A firefight ensued which lasted about 30 minutes," he said.
"None of our fighters was injured but reports reaching us indicate that the JTF lost four soldiers with an unspecified number injured.
When P.M.News called the spokesman for JTF in Delta State, Lt.Col Timothy Antiga, he said he was in Abuja and was yet to get briefing from JTF headquarters in Warri. He promised to get back to PM News.
When probed further, he said: "it is on the same issue I am trying to confirm before issuing a statement. I have been getting calls all over the world on the same issue.Call me back please later."
—Okafor Ofiebor/Port-Harcourt
Load more