Star actor Emeka Ike who was alleged to be having an illicit affair with singer Gift Nyame aka Mumma Gee has said that the relationship between him and the singer is simply platonic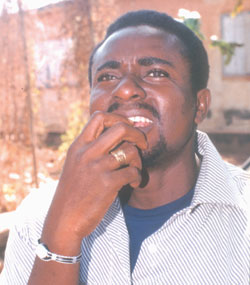 Speaking with PMENTERTAINMENT in a chat that will be published soon, Ike said: "we had an affair but it did not get to the extent of what was being speculated.''
He said that he and Muma Gee planned to act like true lovers and each time it was being discussed we laughed it over. In fact my wife and Mumma's boyfriend were aware of the scrip we played at the GUS jungle. We never had any thing like sex."
The star actor who is currently working on an ECOMOG related film told P.M.ENTERTAINMENT that he plans to invest the money he won at the GUS Celebrity Showdown in his Magodo, Lagos-based St Nicholas school and on an hotel he is currently establishing at Ayobo-Ipaja area of Lagos.
He said that his reason for venturing into the hotel business is to invest in the hospitality business in Nigeria. On the crisis rocking the AGN, he said the case is in court because Segun Arinze was imposed by some elders.
"As far as I am concerned, I am the bonafide AGN president,'' he said.
Load more