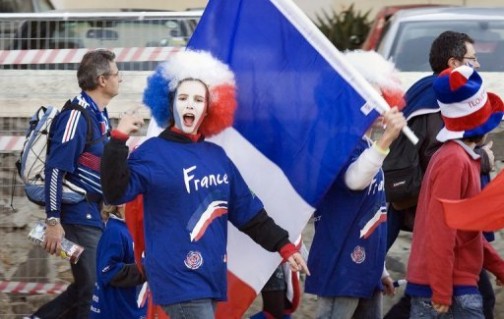 CAPE TOWN (AFP) – So the second game of World Cup 2010 in South Africa ends in a second draw in Cape Town – and a rather drab goalless one compared with the high-octane 1-1 stalemate between South Africa and Mexico that got the tournament going earlier this afternoon.
Uruguay must be by far the happier with the 0-0 scoreline, hanging on for a valuable point after going down to ten men with 10 minutes to go after Nicolas Lodeiro became the first player of the 19th World Cup finals to be sent off..
France will know they've missed a chance to steal a march on their Group A rivals and will be especially disappointed that famed striker Thierry Henry failed to tip the balance their way late on.
2026 GMT: "It's a great result for Uruguay but very disappointing from France," former England striker and now BBC pundit Alan Shearer says. "There was no spark from any of them, not even Thierry Henry when he came off the bench."
Uruguay must be by far the happier with that result, hanging on for a valuable point after going down to ten men with 10 minutes to go.
France will know they've missed a chance to steal a march on their Group A rivals.
90+5 mins – FULL-TIME – Uruguay 0 France 0
90+4 mins – Thierry Henry's effort strikes Sebastian Abreu's head in the wall and is cleared. Surely that's it.
Uruguay's Diego Lugano was booked for protesting the spot from which the free-kick was taken.
90+2 mins: Uruguay hanging on manfully here – but gives France get a free-kick on the edge of the box!
88 mins: Uruguay are hanging on here – Sebastian Eguren is sent on for Diego Perez.
85 mins: Last throw of the dice for France as Raymond Domenech sends on Andre-Pierre Gignac for Sidney Govou.
83 mins: Franck Ribery ghosts past his man on the left but totally overhits his cross. Time is running out for France to squeeze a winner here in Cape Town
81 mins: RED CARD! Second yellow for Nicolas Lodeiro, the substitute who's only been on for 18 minutes – and he's lucky not to get a straight red for that mistimed lunge on Bakary Sagna.
79 mins: Florent Malouda flashes a powerful shot wide form 30 yards out – not a bad effort, the jabulani ball wobbling through the air and past the far post.
74 mins: Changes galore now as Sebastian Abreu replaces Luis Suarez for Uruguay while Chelsea's Florent Malouda comes on for Yoann Gorcouff on the French side.
Raymond Domenech has clearly swallowed his pride with that swap.
73 mins: Chance for Uruguay – but Diego Forlan shoots wide from a knock down on the edge of the box. Best chance of the half.
71 mins: So here we go. Thierry Henry comes on for Nicolas Anelka.
65 mins: YELLOW CARD! Confetti springs to mind. Tempers flare as Jeremy Toulalan is now booked for a foul and Diego Lugano squares up to the Frenchman.
64 mins: YELLOW CARD! And substitute Nicolas Lodeiro is immediately booked.
63 mins: Uruguay make a change bringing on playmaker Nicolas Lodeiro for Ignacio Gonzalez.
Diego Forlan hits a powerful free-kick at goal from 30 yards out slightlly to the left of centre but Hugo Lloris smothers it.
61 mins: Nicolas Anelka is looking an increasingly forlorn figure up front for France – time for Raymond Domenech to bring on another striker? Or is Florent Malouda still in his bad books?
58 mins: YELLOW CARD! Mauricio Victorino goes in the book for Uruguay as Patrice Evra beats him to a loose ball down the left and he brings the full-back down.
56 mins: Good low shot from Jeremy Toulalan from 30 yards out but it's saved by Fernando Muslera inside his righthand post.
54 mins: Great run by Patrice Evra in from the left flank – the ball falls to Yoann Gourcuff on the edge of the box but his fierce shot is blocked by Diego Lugano.
51 mins: Another chance for Diego Forlan there as he breaks into the penalty are down the left channel but blasts over under pressure from Arsenal defender William Gallas.
48 mins: Defender Diego Godin is sticking to France's dangerman Nicolas Anelka like glue at the start of the second half – Uruguay know he provides the main goal threat for Les Bleus.
And both teams are out for the second-half – no changes to either line-up.
Sidney Govou had the best chance of the half early on from Franck Ribery's cross which he seemed to almost casually poke wide.
But with sharpshooter Diego Forlan athreatening at the other end, Raymond Domenech's men can't afford to be complacent after the break – who's going to take this game by the scruff of the neck?
45+1 mins: HALF-TIME – France 0 Uruguay 0
40 mins: The game's been a little quiet for the last ten minutes, with both sides patiently feeling for weaknesses in their opponents' gameplan.
36 mins: My colleague Ana Ines Cibils Macedo in Montevideo is watching the game with hundreds of Uruguayan and French students at the French School there. She tells me their faces are painted with their country's colours and they're all brandishing 'papel picado' (banners made of perforated tissue paper) as they scream for their respective teams. The Uruguayans shriek with fear at any sign of a dangerous attack from France!
27 mins: Uruguay are playing a front three but are very narrow and as a result the France full-backs Patrice Evra and Bacary Sagna are getting free reign down the flanks.
Nicolas Anelka almost gets a chance when Sidney Govou crosses from the right but the Chelsea striker can't control the ball.
23 mins: Great defending from Uruguay's Diego Godin there as he gets a foot in to block the marauding Nicolas Anelka on the edge of the box. All France at the moment.
19 mins: YELLOW CARD! This shirt-tugging business is catching – Franck Ribery gets cautioned this time for pulling back that man Diego Perez again.
17 mins: And Diego Forlan almost gave underdogs Uruguay the lead there. The in-form Atletico Madrid striker cuts in from the left and unleashes a curling effort but France 'keeper Hugo Lloris parries it away.
12 mins: YELLOW CARD! France's Patrice Evra pulls back Diego Perez and is booked.
11 mins: Uruguay forward Luis Suarez is played in over the top but is caught offside.
8 mins: Great chance for France – Franck Ribery whips the ball in low from the left but Sidney Govou can only side foot it wide of the far post.
6 mins: There is a rumour doing the rounds that Florent Malouda was dropped after a training ground disagreement with coach Raymond Domenech. That's the last thing they need.
3 mins: Strong header out of the box from Uruguay's captain and defender Diego Lugano.
1830 GMT: AND WE'RE OFF – Japanese referee Yuichi Nishimura blows his whistle and the second game of the World Cup is under way in Cape Town.
1828 GMT: And the stirring notes of the Marseillaise float into the cool evening air.
1826 GMT: The two teams have lined up and the national anthem of Uruguay is being played at the Cape Town stadium.
1818 GMT: Full starting line-ups:
France: Hugo Lloris, Bakary Sagna, Patrice Evra (capt), Eric Abidal, William Gallas, Yoann Gourcuff, Sidney Govou, Jeremy Toulalan, Abou Diaby, Nicolas Anelka, Franck Ribery
Coach: Raymond Domenech (FRA)
Uruguay: Fernando Muslera, Diego Lugano (capt), Diego Godin, Mauricio Victorino, Diego Perez, Alvaro Pereira, Egidio Arevalo Rios, Ignacio Gonzalez, Maximiliano Pereira, Diego Forlan, Luis Suarez.
Coach: Oscar Tabarez (URU)
Referee: Yuichi Nishimura (JPN)
1812 GMT: The teams are out on the pitch warming up, and what a fantastic stadium this is. With the team sheets just handed out the news here is that Thierry Henry and Florent Malouda have been left on the bench by France coach Raymond Domenech. It's a mild evening and hardly feels like winter. Perfect conditions, my AFP colleague Martin Parry tells me from pitchside.
1800 GMT: SO HERE WE GO – the second game of World Cup 2010 in South Africa is fast approaching with former world champions France taking on Uruguay in a Group A clash in Cape Town.
The sides have a lot to live up to after the tournament got off to an adrenaline-fuelled start in Johannesburg earlier this afternoon, where hosts South Africa played out a thrilling 1-1 draw with Mexico in the same group.
Siphiwe Tshabalala put the Bafana Bafana ahead with a spectacular left-footed strike soon after half-time before Mexico got their just desserts with an equaliser from Barcelona's Rafael Marques 12 minutes from the end.
Their draw leaves the Group A wide open for either Les Bleus of Raymond Domenech or Oscar Tabarez's Charrúas to take control of it – and potentially a large step towards qualification for the last 16 – with a victory.
Kick-off is at 1830 GMT so stay with us for all the action.
Load more