Hafiz Oyetoro a.k.a. Saka, a comedian and theatre arts practitioner, is currently pursuing a PhD programme at the University of Ibadan. Here, he speaks about his life, the entertainment industry and other issues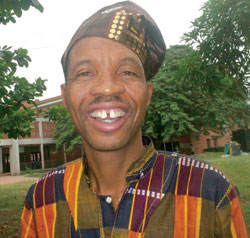 Q: Is Hafiz Oyetoro a clown in reality?
A: Hafiz Oyetoro is a normal human being born in Adegbola town in Iseyin Local Government Area of Oyo State. I am number five out of a family of eight children. I attended Obafemi Awolowo University, Ile-Ife and the University of Ibadan, where I studied Theatre Arts and also have a Master's degree in Theatre Arts specialising in African Dance. I am presently undergoing PhD programme in U.I. I lecture at Adeniran Ogunsanya Federal College of Education, Ijanikin, Lagos. I am married and blessed with three children.
Q: Why did you specialise in dancing and how good are you in dancing?
A: I cannot dance. African dance encompasses traditional values. It is a medium to document, preserve and transmit from one generation to the other. I specialise in dance so as to have enough knowledge of our values. I feel bad that our values are fading away to the extent that if care is not taken, we will lose it completely. I want our values revived.
Q: What do you mean by saying that our values are going down?
A: Africa is really losing its values. Our communal life is gone and our sanctity is going. We have lost our dressing code to the extent that we now wear clothes that expose our body. In those days, a lady is a disgrace to his family if she loses her virginity before getting married, but today, it means nothing as they are even proud of losing it, thereby lacking the only best gift they can give their husbands on their wedding night or during honeymoon. Ladies have lost their morals, while the principle of trust, honesty and responsibility is no more there.
Q: Why is it that you only play the role of a clown?
A: There is no specific reason apart from the fact that I enjoy acting it. People run away from such roles because they believe that they are too big for it. Every role is important. Acting a gateman doesn't make me a gateman, besides, an average gateman is an intelligent person. There is no role I can't act but I must confess, sometimes, I have rejected a clown's role.
Q: Why?
A: I don't want to be a stereotype actor. Sometime ago, I was invited to Ghana to act a role. When I discovered that they wanted to use me as a cook, I turned it down. But I am a happy acting the role which has to do with the life of neglected common people in the society. They work and get least paid. They are dedicated and loyal to Nigeria but not recognised. I once belonged there.
Q: How do you advocate for common people in your acting?
A: Presently, there is a television programme called Balejayan, the script of which I co-wrote and acted as a driver to a lawyer. Whenever the lawyer is reading newspapers, I comment. Drivers, gatemen and common people are always being used by playwrights to comment and condemn the ills of the society like corruption and fuel scarcity. They are the recipients of the effects of these ills.
Q: Dance is part of theatre arts and most artistes are not good in it, is that what informed your specialisation in African Dance?
A: Every profession has specialisation. Dance is an area of theatre arts. My interest is not the dancing aspect, but I want to have a knowledge of it. As an artiste, ability to dance very well is a plus but not a minus if you don't know how to dance.
Q: What is your aspiration in life?
A: To be the greatest artiste in the world who has touched the lives of people that come across him positively.
Q: What informed your career?
A: God and desire to have freedom. I was brought up by a strict uncle who was a perfectionist and did not believe that you must make mistakes. He beat me every time and he didn't allow me to express myself. He made me a loner and if not that I am into theatre arts, I would have ended up as a terrible loner. Not that he was doing it for negative reasons, but that was how he trained a child to be responsible in life. I decided to go into theatre arts so that I can break away from my lonely life and whenever I am acting, I feel free. There is nothing like freedom. Initially, when I was younger, I wanted to be a pilot so I could fly away from my strict uncle.
Q: Does that mean that you applied to study Theatre Arts in the university?
A: Yes. It was Theatre Arts I filled in my JAMB form and that is what the university gave me.
Q: What is your best food?
A: Initially, it was Amala and Abula, but when I left Iseyin and got to Lagos, where I grew up to become a chronic bachelor, I started eating bread and beans and since then, bread and beans have become my best food.
Q: Have you produced any film?
A: No, but I have co-produced many programmes on television.
Q: In how many films have you acted in?
A: Over 2,000.
Q: Your happiest and saddest moments?
A: My saddest moment was when my immediate elder brother who was working in Flour Mills died. The day he died, he was on night shift and when he finished around 4 a.m., he went to his personal office to have a nap. But when the driver went to wake him up so he could take him home, he was found dead. It was sad because if he were to be alive, we would have been two graduates in the family. My happiest moment is when I am performing.
Q: Why is it that it is only two of you that went to the university out of eight children of your parents?
A: At that time, education was not appreciated in the rural areas. When we finished our secondary school education, my brother gained admission into the University of Ibadan, while I gained admission into Ife, but my father's friends advised him not to send us to the university so that he could finish the house he was building, but he didn't heed the advice. Because he sent us to the university, he couldn't finish his house, but unfortunately, as the two of us were planning to finish the house after we graduated, our father died. My other siblings could not go to the university because of finance.
Q: How was your upbringing like?
A: I was brought up in a polygamous setting. My mother was the second wife, but she and the first wife were so close and I didn't know my real mother until later in life. I am the only child my mother had for my father while the first and third wives had four and three children respectively. The fourth wife inherited from his brother after his demise didn't have any children for my father.
Q: Do you enjoy being a lecturer?
A: Yes, but a time will come that I have to cross to the universities to seek for better opportunities, especially after I may have reached the peak in the Federal College of Education.
Q: Is there anything you don't like in the entertainment industry?
A: I don't like the way every Dick and Harry comes into it. I don't like its neglect by government and corporate bodies. In fact, it is sad that government doesn't see it as a high revenue generation avenue like oil. I don't like the way producers deny artistes their wages and mess up ladies at locations. I don't like it that most of our women are not married. The industry affected me and that was why I was 40 years before I got married.
Q: Is it because you could not get a lady to marry?
A: Women like attention and I don't have time to give them that.
Q: Did that action cost you any relationship?
A: Yes, I tried to marry many ladies but it did not work because of my condition. No lady will want to marry a pauper, a man without prospect. There was no money in theatre then, while the ladies want to marry lawyers, journalists, doctors, engineers and not artistes. At that time, if you meet a girl and you tell her that you are a theatre arts practitioner, she will laugh at you and just walk away.
Q: How are you coping with the two professions in which you find yourself?
A: Part of my field experience which is expected of me is to go to locations, conferences, seminars and workshops for one to get more experience and come back to impart it to students in the classroom. It is easy because I teach Theatre Arts and practise it.
Q: How old are you in the academic field?
A: I started 15 years ago as part-time lecturer at Olabisi Onabanjo University. I was one of those that started lecturing at Performing Arts department at the diploma level in the school before it was upgraded to a degree programme. Now, I have got a permanent job at FCE, Ijanikin and don't want to go back to OOU.
Q: Are you saying that money determines love?
A: No, but prospect and image determine it. During our time, Theatre artistes didn't have anything. The future was uncertain, while actors were associated with poverty. There was a lady who disqualified me because I didn't have a car, but thank God, I eventually got a wife who genuinely loves me and who I genuinely love too. I was poor when I proposed to her and she accepted me and even ate gaari and epa with me in my poorly furnished room and parlour. I got married to her in 2003 and don't have any regret marrying her.
Q: Do you come from a rich home?
A: I come from a poor background. Poverty was my friend and family for long. As you sit with me here side by side, that was how I was sitting with poverty in the past. A friend I stayed with changed a popular saying from 'a friend in need is a friend indeed' to 'a friend in need is a bloody nuisance.' I was a bloody nuisance to my friend.
Q: Do you have time for your family with your busy schedule?
A: Yes. I appreciate my lecturer, Mr. Chuk Mike, who spent his money on me when I was in school. He broke my loneliness, sent me to a speech expert in U.I. and trained me to be what I am today. Because God is good and life is beautiful, we must be consistent, hard working and make the best of our time if we must succeed.
—Gbenro Adesina
Load more