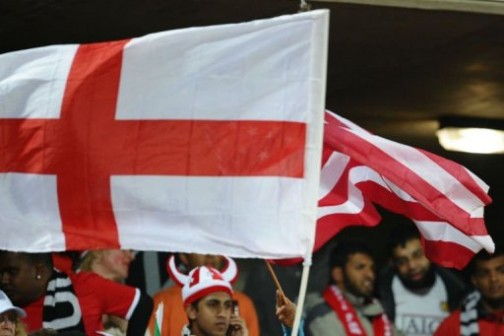 RUSTENBERG, South Africa (AFP) – 2102 GMT: ENGLAND WILL BE DISAPPOINTED they didn't make a winning start and the game will be remembered for the dreadful blunder by Robert Green.
England coach will be happy that Heskey justified his selection in the starting line-up, but Capello will be vilified in the press for his decision to pick Green over David James.
If England want to stay top of Group C — to avoid playing Germany in the last 16 — they will have to be more ruthless in front of goal when they play Slovenia and Algeria.
If you're just coming in, you can read on to see how the match unfolded.
2040 GMT: The England coach tries to put a positive spin on the result and the goalkeeping blunder.
"Sometimes one player in front of the keeper misses a goal. Sometimes keepers make mistakes, that's football," he tells ITV.
"Everything is positive – only the result is not positive," added Capello.
2038 GMT: US coach Bob Bradley struggles to contain his joy after watching his side claim a crucial point.
"It was a great team effort to come back and equalise," he says. "At half-time we said we had a chance to win and at the end we took a point."
2034 GMT: "It was a difficult game and the most important thing was to try and win it, but we've given a poor goal away," A dejected Gerrard says in a post-match interview with British broadcaster ITV.
"It's one of those freak things that happens – plenty of people have been talking about the ball this week. It shocked us a bit, but we'll get behind Robert," adds the England captain.
2030 GMT: What did we learn from the match? It is likely that the two teams will reach the knock-out stages of the tournament, and the US will fancy their chances of topping the group.
2027 GMT: "A dispiriting start for England, who could easily have lost this match," my AFP colleague Angus MacKinnon tells me.
"Definitely shades of 2006 with Rooney, Lampard and — despite a well-taken goal — Gerrard all under-performing," he adds.
90 mins: The assistant referee signals a minimum of four minutes of injury time.
90 mins: Heart in mouth time for nervous England fans as the US earn a corner after a quick counter attack
86 mins: The US coach is circling the wagons as he replaces a striker (Altidore) with a defender. It looks like Bradley wants his side to hold on for a well deserved point!
84 mins: The US are happy for England to keep possession, but that could prove dangerous as Rooney is starting to have more of an influence on the game.
79 mins: Final throw of the dice by Capello who replaces Heskey with Peter Crouch.
77 mins: US coach Bob Bradley brings on Edson Buddle for Findley.
77 mins: Rooney nearly pokes the ball past Howard but the Everton goalie smothers the ball
75 mins: The US defenders are on the backfoot now and Rooney wriggles free to set up Wright-Phillips, but the Man City winger wastes a glorious opportunity by shooting straight at Howard.
70 mins: Rooney slips away from his marker and heads over the bar after failing to control Gerrard's long pass. Rooney is having a very quiet game and he should have done better with that opportunity!
67 mins: That save will have boosted his confidence, but I'm not sure there are many supporters who would want Green to start England's next World Cup match.
64 mins: Redemption for Green as the keeper comes to England's rescue with a fantastic point-blank save from Altidore.
61 mins: Donovan whips in the free kick and Bocanegra heads wide from 10 yards. The US defender should have hit the target!
61 mins: YELLOW CARD!
US earn a free-kick on the edge of the penalty area after Gerrard is booked for studs-up tackle on Dempsey
59 mins: YELLOW CARD!
Carragher becomes the third player to be booked after he finds himself out of position and hacks down Findley.
54 mins: England are starting to play with more attacking abandon.
52 mins: Huge opportunity wasted by England! Lennon sends Heskey scurrying in on goal, but the burly striker can only drive the ball straight at Tim Howard.
48 mins: YELLOW CARD!
The Brazilian referee books US defender DeMerit for an unecessary handball.
46 mins: Capello makes a substitution at the start of the half, with Liverpool's Jamie Carragher replacing Tottenham' Ledley King at the heart of England's defence.
1930 GMT: England's reserve goalkeeper is warming up during the half-time interval, so it looks like Green — who looked distraught as he walked off the pitch — might have played his first and last World Cup match for England under Capello
1922 GMT: Capello's decision to start Green is sure to be questioned now.
England had started so brightly, and it looked like Capello had got his tactics spot on with his decision to start Heskey.
The US gradually managed to claw their way back into the match, but they only posed only a minimal goal threat before the disastrous goalkeeping error.
"The error was painful to watch. Like Norman and Faldo at Augusta…" says my colleague Jim Slater.
45 + 3 mins: HALF-TIME – England 1 USA 1
The referee blows for half-time and the players trudge off the pitch, with Green looking very embarrassed. Maybe he knows what is waiting for him in the dressing room!
44 mins: The fourth official signals there will be three added minutes.
41 mins: The TV replays show England manager Fabio Capello's disgust at the goalkeeping error. Who thinks Green will start England's next match?
40 mins: GOAL! 1-1 to the USA
What a howler by Green! The West Ham stopper seemed to have Dempsey's weak shot covered, but the ball slips through his gloves and rolls over the line.
39 mins: YELLOW CARD!
Cherundolo is booked for a crude challenge on Wright-Phillips.
39 mins: Dempsey feeds Donovan who takes off on a diagonal run before unleashing a long-range effort that brings a huge sigh of relief from the England supporters.
32 mins: A slight air of desperation is beginning to creep into the USA play even though they are dominating possession.
Altidore takes aim with a daisy-cutter from 30 yards, but Green comfortably gathers the ball.
30 mins: England make a shock substitution, as Capello brings on Shawn Wright-Phillips for Milner, who was struggling to assert himself in the game.
29 mins: Fantastic move by England! Johnson whips a cross towards the six-yard box and a galloping Heskey lunges for the ball but can only catches Howard in the chest. That looked painful!
26 mins: YELLOW CARD!
US defender Cherundolu is pulled back by Aston Villa's James Milner. The referee struts over reaches into his pocket and … pulls out a yellow card
25 mins: England seem content to let the US have the majority of the possession.
19 mins: Its end-to-end stuff! Gasps from the US fans as Hull striker Altidore rises above Terry to head a long range header just wide of the post.
Lennon creates havoc in the heart of the US defence by cutting inside and seeing his shot cleared by the backpedalling defenders.
15 mins: The USA finally string some passes together but Gerrard dispossesses Donovan to break up a US attack.
13 mins: Danger for England as Donovan whips in a corner and Onyewu forces the keeper to punch it out for another corner.
11 mins: England goalkeeper Robert Green is called into action as he dives to his left to smother a weak header from Fulham midfielder Clint Dempsey
9 mins: Heskey wins a free kick for England. The Aston Villa striker has really justified Capello's decision to put him in the starting line-up.
4 mins: GOAL! 1-0 to England
Great start by England! The much criticised Heskey collects a throw in and rolls the ball towards Gerrard who sprint into the area and sidefoots the ball past the incoming Howard.
1 min: England are in their traditional white kit while their opponents are wearing a blue strip with a grey sash, that harks back to their famous 1950 victory over England.
1830 GMT: AND WE'RE OFF – Brazilian referee Carlos Eugenio Simon blows his whistle and game is under way!
1827 GMT: The vastly outnumbered American supporters belt out the "Star Spangled Banner" .
1826 GMT: The England fans try to rouse their team with a passionate rendition of "God Save The Queen".
1825 GMT: The two teams enter to great fanfare from the crowd.
1823 GMT: There is a buzz in the area near the Royal Bafokeng Stadium, and it isn't from the vuvuselas!
My colleague Jim Slater tells me that at a bar across the street from the stadium, England flags outnumber USA banners by 10-1.
"Fans are dancing on the street outside the stadium for tv cameras, locals cheer U-S-A or England as required," he says.
1817 GMT: "Fabio Capello is playing it safe with his midfield," my colleague Angus Mackinnon tells me from pitchside.
"James Milner in for Gareth Barry and Joe Cole on the bench. Like most English fans, the Italian is not convinced that Gerrard and Lampard can play together in the centre. Milner has spent the season in an attacking role for Aston Villa but he does know how to tackle. He will have to," he adds.
1816 GMT: Full starting line-ups:
England: Robert Green; Glen Johnson, Ledley King, John Terry, Ashley Cole; Aaron Lennon, James Milner, Frank Lampard, Steven Gerrard (capt); Wayne Rooney, Emile Heskey.
Coach: Fabio Capello
United States: Tim Howard; Steve Cherundolo, Jay DeMerit, Oguchi Onyewu, Carlos Bocanegra (capt); Landon Donovan, Ricardo Clark, Michael Bradley, Clint Dempsey; Robbie Findley, Jozy Altidore
Coach: Bob Bradley
Referee: Carlos Eugenio Simon (Brazil)
1812 GMT: It's level of World Cup obsession may be well behind the rest of the globe's, but the United States saw its football fanatics take to the streets of the capital to watch the England-USA match.
"More than 2,000 raucous fans clad in red, white and blue, blaring horns or doffing Uncle Sam top hats, as well as several Britons wearing England jerseys, clogged downtown Dupont Circle to watch the game live on huge video screens," my colleague Kerry Sheridan tells me.
1811 GMT: WELCOME TO THE ROYAL BAFOKENG STADIUM here in Rustenberg for the first match of Group C between England and the United States.
England are looking to justify their credentials as one of the favourites for this World Cup when they take on the United States in their opening Group C match.
Well-organised and resilient, the USA represent England's toughest opponents in a group that also includes Slovenia and Algeria.
The Americans have gradually progressed into a legitimate footballing side having qualified for the last six World Cup finals, something England haven't managed to achieve.
England have a 7-2 overall record against the United States, but famously lost their first ever World Cup meeting between the sides in 1950 at Belo Horizonte in Brazil.
England's hopes will rely on the potent Wayne Rooney , but the Manchester United forward does have a short fuse and can cost his team with reckless tackles and retaliatory penalties, such as the red card against Portugal during the 2006 World Cup quarter-final in Germany.
How Rooney fares against rugged US defender Jay DeMerit will go a long way towards determining the outcome of the match.
Load more