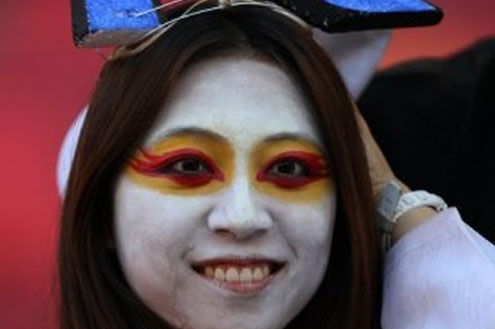 PORT ELIZABETH, South Africa (AFP) – 1535 GMT: SOUTH KOREA TAKE CONTROL OF GROUP B with the first win at the 2010 World Cup, boosting their hopes of reaching the knock-out stages of the competition.
Greece had no answer to the Korean counter-attacks and never looked likely to score.
The Greek coach will come in for some criticism for refusing to change his tactics.
Join us in 15 minutes for the start of the second Group B when Argentina take on Nigeria at Ellis Park in Johannesburg.
If you're just coming in, you can read on to see how the match unfolded.
90 + 2 mins: FULL-TIME – South Korea 2 Greece 0
89 mins: The fourth official signals there will be two minutes of injury time. The Greek players look to have lost their self-belief and are probably counting down the seconds after a toothless display.
88 mins: Quick substitutions by Korea as Lee Seung-ryul replaces Park Chu-young.
85 mins: Simple but brilliant play from Korea! A neat interchange of passes leaves Park Chu-young unmarked on the edge of the area. The Monaco striker rolls the ball into the path of a galloping Lee Chung-Yong but his weak shot is pushed out for a corner by Tzorvas.
81mins: Greek striker Gekas is unlucky not to score as he spins away from the Korean defence and blasts a stinging shot that is palmed over the bar by Jung Sung-Ryong.
76 mins: There has been added urgency to Greece over the past few minutes but the Korean keeper has had little to do throughout the match.
74 mins: South Korea look to close the shutters and protect their 2-0 goal lead. The coach sends towering defender Kim Nam Il on as a replacement for midfielder Ki Sung Yueng.
71 mins: Best chance of the match for Greece, as Salpingidis sees his shot blocked.
63 mins: Greece are lucky not to concede a third goal, as Park Chu-young ghosts between two Greek defenders to meet a dangerous cross from Lee Chung-Yong, but the Monaco striker heads over the bar from five yards. He will kick himself when he sees the TV replay.
62 mins: Greece make their third substituition and replace Charisteas with Pantelis Kapetanos. Is it too late for Greece?
61 mins: Rehhagel hits the panic button and replaces the ineffective Celtic winger Giorgos Samaras with Dimitris Salpingidis — who scored the winning goal in the World Cup play-off against Ukraine..
56 mins: YELLOW CARD! Torosides clatters into Park Ji-Sung to earn the first booking of the match. It was a clumsy challenge and it looks like the Greeks are getting very frustrated with their opponents.
52 mins: GOAL! 2-0 to South Korea
47 mins: One notable half-time substitution was the removal of Greek captain Karagounis in favour of fellow midfielder Sokratis Papastathopoulos.
47 mins: One notable half-time substitution was the removal of Greek captain Karagounis in favour of fellow midfielder Sokratis Papastathopoulos.
46 mins: The half-time scoreline has not pleased Port Elizabeth's 1,000-strong Greek expat community.
"We've got work to do," the stadium manager Archie Charalabous — who hails from Cyprus — tells my AFP colleague.
"The (Greek) coach is more colourful than his players," former Jamaica international Robbie Earle tells British broadcaster ITV.
"They need more width and need extra men in midfield as they are being overrun," says former Dutch midfielder Edgar Davids and fellow ITV pundit.
1222 GMT: It could have been a real tragedy for Greece in a first half which was one-way traffic for the Koreans.
Hands-up if anyone thinks that after such a disappointing first-half that Greece are going to score their first goal at the World Cup finals?
45 mins: The referee blows for the end of the first-half, and the players trudge off the pitch.
44 mins: Just when everyone thought Greece needed to regroup in the dressing room, they knock a long ball up to Gekas who nearly dispossess the Korean keeper for an undeserving equaliser.
35 mins: A ripple of excitement sweeps through the colourfully dressed Korean fans as their side launch another assault on the Greek goalmouth, but Seitaridis kicks the ball into row Z to snuff out the danger.
28 mins: Another breakaway by South Korea and Tzorvas is forced to save with his legs after Park Chu-young shows the Greek defence a clean pair of heels as he runs on to delicious through-ball from Park Ji-Sung.
That would have been a sensational goal, and with a bit more luck, Korea could have been three up after less than 30 minutes!
23 mins: The Greek lack a cutting edge and are struggling to contain swift Korean counter-attacks. A better first tough from Park Chu Young in the heart of the Greek penalty area and Korea might have doubled their lead!
18 mins: Greece earn their first corner, which is comfortably dealt with by the Korean defence.
15 mins: Lee Chung-Yong's is upended in the penalty area by Torosidis as he bears down on goal, but the bald-headed referee waves away Korean appeals for a penalty.
13 mins: Greece are going to have to rethink their tactics if they want to gain a foothold in this game. They started the match with three central defenders , and Rehhagel might need to sacrifice one before half-time.
11 mins: A cluster of Koreans in colourful national costume win the best drsssed supporters award hands down, says my colleague Nick Reeves.
8 mins: GOAL! 1-0 to South Korea
5 mins: First real chance of the match falls to the Greek defender Torosidis who runs rushes through the defence to wallop the ball past the Korean goal.
1130 GMT: AND WERE OFF! After a slight delay, the Kiwi referee blows his whistle and the third game of the World Cup gets under way.
1123 GMT: Those familiar with the English Premier League will not be surprised that bustling Manchester United midfielder Park Ji-sung is named in South Korea's line-up.
Rehhagel springs a a surprise by not naming Liverpool defender Sotirios Kyrgiakos in his line-up.
1119 GMT: Full starting line-ups:
South Korea : Jung Sung-Ryong, Cha Du-Ri, Lee Jung-Soo, Cho Yong-Hyung, Lee Young-Pyo, Lee Chung-Yong, Ki Sung-Yueng, Kim Jung-Woo, Park Ji-Sung (capt), Park Chu-Young, Yeom Ki-Hun.
Coach: Huh Jung-moo
Greece : Alexandros Tzorvas, Giorgos Seitaridis, Avraam Papadopoulos, Lukas Vyntra, Vasilis Torosidis, Alexandros Tziolis, Giorgos Karagounis (capt), Costas Katsouranis, Giorgos Samaras, Angelos Charisteas, Theofanis Gekas
Coach: Otto Rehhagel.
Referee: Michael Hester (New Zealand)
1115 GMT: With quarter of an hour to go the 42,000-seater Nelson Mandela Bay stadium, is around half full, with a score draw between the Greek and Korean fans in terms of numbers, my AFP colleague Nick Reeves tells me from pitchside.
1107 GMT: WELCOME TO THE NELSON MANDELA BAY stadium for the first match of Group B where South Korea face Greece in the first of today's three games.
The game offers an intriguing clash of styles between Korea's speed and movement and Greece, who will be relying on their height advantage and set-piece superiority.
Greece are making only their second appearance at a World Cup and their coach Otto Rehhagel's cautious philosophy is based on a rugged defence.
The Greeks — who surprised everyone by winning Euro 2004 — failed to score in 1994 and if they hope to progress to the next round they will have to break through the Korean rearguard.
The Koreans are making their eighth World Cup appearance and despite being semi-finalists in 2002, have yet to progress past the group stages on foreign soil.
Kick-off is at 1130 GMT so stay with us for all the action.
Load more