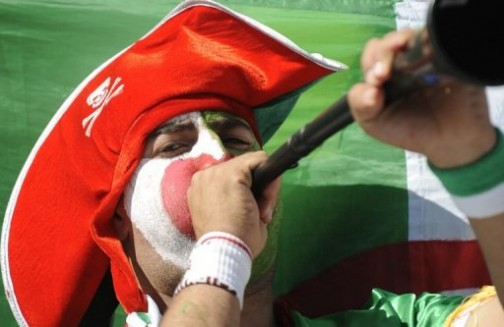 POLOKWANE, South Africa – WHAT A RESULT FOR SLOVENIA as that 1-0 win over Algeria sees them top Group C above England and the USA.
In truth neither side deserved to win what was a game lacking in quality from start to finish, but Matjaz Kek's side won't be worrying about that at the moment.
For the second game in a row the headlines have been grabbed by a goalkeeper after Robert Green's howler for England last night – and for all the wrong reasons.
Quite what Algeria's stopper Faouzi Chaouchi was thinking as made a half-hearted attempt to stop Robert Koren's tame shot after 79 minutes we will never know. A blooper of stratospheric proportions.
Algeria's first chance to make amends for this result comes against England in Cape Town on Friday but Fabio Capello and his men won't have seen much to worry them in Algeria's underwhelming performance.
Relative minnows Slovenia will now think they have a great chance of making it into the last 16 now if they can frustrate the USA in their next match in Johannesburg – also this Friday – before trying to keep out England in Port Elizabeth on June 23.
If you're just joining us, read on to get a blow-by-blow account of how the game in Polokwane unfolded.
1330 GMT: Total silence in the streets of Algiers, my AFP colleague there Pierre-Yves Julien tells me after Algeria's defeat.
A local TV commentator says Algeria "weren't disgraced" but "their gameplan didn't work. The team will have a few regrets about that result."
1326 GMT: "The ball never moved at all – you can't defend that," says BBC Sport pundit Alan Shearer of 'keeper Faouzi Chaouchi's blunder which gifted Slovenia victory with ten minutes to go.
90+5 mins: FULL-TIME – Algeria 0 Slovenia 1
90+3 mins: YELLOW CARD! Sub Andrej Komac booked for scything down Nadir Belhadj on the left.
90+1 mins: Scramble in the Slovenia penalty area as Samir Handanovic punches away a looping header from his own defender. Algeria's Madjid Bougghera gets a foot to it but sends it over the bar.
89 mins: Algeria are trying to get some passes going in midfield but are struggling to create a chance. Time is running out for the Desert Foxes here.
There will be a minimum of four minutes added time.
86 mins: And Slovenia try to run down the clock with another replacement, Andrej Komac coming on for the battle-scarred Aleksander Radosavljevic.
82 mins: Nejc Pecnik replaces Valter Birsa as Slovenia try to hang on to their lead.
Algeria don't have long to save this now – Nadir Belhadj is a threat down the left but can he carve out a good chance fror one of Algeria's strikers in the closing ten minutes?
79 mins: GOAL! 1-0 to Slovenia.
Robert Koren gives Slovenia the lead after a terrible howler from Algeria's 'keeper Faouzi Chaouchi, who inexplicable dives over a fairly tame strike from Slovenia's captain and allows the ball in at the far post.
76 mins: Karim Ziani catches Marko Suler napping at the back, picks his pocket but Slovenia 'keeper Samir Handanovic saves the day, by rushing out to save.
72 mins: RED CARD! Abdelkader Ghezzal sent off after second yellow card. Algeria down to ten men.
I was impressed with his instant impact after coming on a substitue – managing to get booked within thirty seconds – but that really takes the biscuit!
The ball is floated into the box and Ghezzal just can't resist sticking his hand out to bring it down and is rightly booked – for the second time in just 14 minutes since coming on. Daft.
70 mins: Nadir Belhadj swings it in from the left but Abdelkader Ghezzal mistimes his header and sends it looping over the crossbar. Half a chance there for Algeria.
69 mins: Aleksander Radosavljevic goes down in a heap after Karim Matmour's elbow collides with his head. Ouch.
66 mins: Slovenia are coming back into this a bit after Algeria began the half marginally the stronger. A scramble in the Algerian box but Valter Birsa can't get a shot in.
63 mins: Slovenia captain Robert Koren fires in a shot from 25 yards out but it flies miles over the crossbar.
58 mins: YELLOW CARD! Abdelkader Ghezzal has come on for Rafik Djebbour up front for Algeria. But he is immediately booked for tugging Marko Suler's shirt within thirty seconds of coming on – what a World Cup bow that is!
54 mins: Great delivery into the box from Algeria's Nadir Belhadj on the right and Karim Matmour almost gets his head on it.
51 mins: Zlatan Ljubijankic replaces Zlatko Dedic up front for Slovenia.
1232 GMT: And we're away in the second half. Can either of these sides leave their mark on the World Cup in this second half?
1229 GMT: Footballing legend Zinedine Zidane, who of course played for France despite his Algerian parentage, is sitting in the stands here and is being surrounded by Algerian fans snapping away with their cameras. Maybe he can inspire the Desert Foxes to victory in the second half?
1225 GMT: "When England play Algeria or Slovenia, they will have to be careful. These are the type of sides you can have a hard time against if you don't score early because they defend so much," adds AC Milan midfielder and BBC Sport pundit Clarence Seedorf.
1222 GMT: "That was awful. I shouldn't be subjected to this sort of pain on my birthday," says former Liverpool defender and BBC Sport pundit Alan Hansen.
45+1 mins: HALF-TIME – Algeria 0 Slovenia 0
45 mins: Just one minute of added time to play here in Polokwane.
42 mins: Robert Koren unleashes a great strike at the other end that is tipped over athletically by Faouzi Chaouchi in Algeria's goal.
That was dipping just under the bar so an important save from the 'keeper.
39 mins: Algeria really upping the pace here – midfielder Karim Matmour cuts inside from the right but sends his shot over the angle of post and crossbar.
34 mins: First real chance of the half for Algeria – corner swung in from the left and Rafik Halliche meets it with a powerful downward header which bounces past the far post.
Slovenia's 'keeper Samir Handanovic came for that cross and was stuck in no man's land.
33 mins: YELLOW CARD! Aleksander Radosavljevic cynically brings down Nadir Belhadj on the left and rightly goes into the book.
31 mins: Algeria are starting to press a bit now – but a cross from the right loops beyond Karim Ziani in the centre.
28 mins: A Mexican wave has broken out in the stands – never a great sign at a football match and a reflection of the dearth of entertainment offered up on the pitch so far I feel.
25 mins: Both teams are playing at a fairly pedestrian pace here – it's scrappy stuff with neither side yet managing to make any meaningful inroads through their opponents' defence.
20 mins: Hassan Yebda, who spent last season on loan at Portsmouth from Benfica, is busy in midield for the Desert Foxes of Algeria. No clear-cut chances for either side yet though.
16 mins: Robert Koren is trying to get Slovenia ticking in midfield – much will be expected of the experienced captain, who has 46 caps for his country.
10 mins: Algeria are starting to get their passing game going.
Clear blue skies for the game here in the city of Polokwane, the capital of Limpopo province in the northeast part of South Africa. The city stands 1230 metres above sea level so the Jabulani World Cup ball should fly through the air here.
3 mins: Free-kick 25 yards out from Portsmouth's Nadir Belhadj which is well tipped over by Slovenia 'keeper Samir Handanovic.
2 mins: Algeria are in their traditional white strip with Slovenia in dark green.
1130 GMT: THE WHISTLE IS BLOWN and the game kicks off in Polokwane. Who can take control of Group C?
1128 GMT: That's the uplifting Algerian national anthem played and now for Slovenia's.
1125 GMT: There's a bit of interest for fans of British club football in this Group C match. Rangers' Majid Bougherra along with Portsmouth's Nadir Belhadj and Hassan Yebda all feature for Algeria.
Robert Koren, who was was released by West Bromwich Albion at the end of this past season, starts in midfield for Slovenia while team-mate Bostjan Cesar spent a season-long loan at the West Midlands club in 2007/8.
1122 GMT: The full starting line-ups are out:
Algeria: Faouzi Chaouchi – Anther Yahia (capt), Rafik Halliche, Madjid Bougherra – Foued Kadir, Mehdi Lacen, Karim Ziani, Hassan Yebda, Nadir Belhadj – Karim Matmour, Rafik Djebbour
Coach: Rabah Saadane
Slovenia: Samir Handanovic – Miso Brecko, Bostjan Cesar, Marko Suler, Bojan Jokic – Valter Birsa, Robert Koren (capt), Aleksander Radosavljevic, Andraz Kirm – Zlatko Dedic, Miklivoje Novakovic
Coach: Matjaz Kek
Referee: Carlos Alberto Batres (GUA)
1117 GMT: My AFP colleague in Algiers, Pierre-Yves Julien, has met some Algeria fans in a local restaurant. "Algeria aren't afraid of anybody," says Dalila, a young fan sitting with his family. The streets of Algeria's capital are nearly deserted, he tells me as the game approaches.
Commentators on Algerian public radio are saying "Algeria have nothing to lose, they have to enjoy it," after the team's 24 year absence from the finals of the World Cup, Pierre-Yves adds.
WELCOME TO OUR SIXTH LIVE report from World Cup 2010 in South Africa, with Algeria facing Slovenia in a Group C clash at the Peter Mokaba Stadium in Polkowane.
England and the USA, the other two teams in the group, played out an entertaining 1-1 draw in Rustenberg last night but the result gives both of these sides the chance to take control of the group with a victory.
Algeria, playing in their first finals since 1986 and their third overall, will fancy their chances of getting off to a good start after battling their way through a nerve-shredding play-off against North African rivals Egypt in Sudan to secure their spot at the finals.
Kick-off is in under half an hour at 1130 GMT so stay with us. (AFP)
Load more