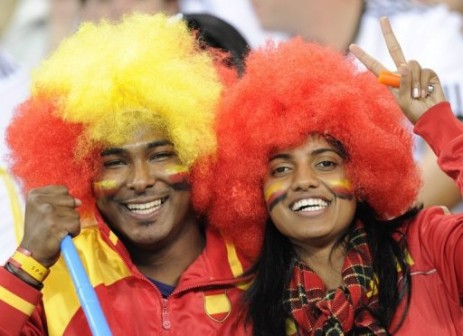 DURBAN, South Africa (AFP) – THAT WAS A TRULY CLINICAL DEMOLITION job by Germany on a hapless Australian side, who were admittedly not helped by the questionable dismissal of the Socceroos' Tim Cahill soon after the break.

Germany have now set the pace in Group D, leapfrogging Ghana into top spot on goal difference and after that display must be strong favourites to win the group and progress to the last 16.
Ghana's Black Stars earlier scraped past Serbia thanks to Asamoah Gyan's 84th minute penalty, but it was Germany's steamrolling of Australia that will send shockwaves around the other top sides in South Africa.
If you're just joining us, read on for a blow-by-blow account of how Germany's smooth attacking machine spread panic through Australia's defence and racked up the goals in Durban, lighting the blue touch paper for World Cup 2010.
2027 GMT: "I think the referee was perfect," says former France midfielder and ITV Sport pundit Patrick Vieira.
A seemingly generous interpretation from the veteran Manchester City midfielder there of the rather inconsistent performance of Mexican official Marco Rodriguez, who dished out five yellow cards and sent off Tim Cahill with a straight red after 55 minutes.
90+3 mins: FULL-TIME – Germany 4 Australia 0
90+2 mins: YELLOW CARD! Germany goalscorer Cacau is booked for an exagerrated dive after minimal contact.
90 mins: There will be a minimum of three minutes added time.
89 mins: My AFP colleague Marc Lavine in Sydney again:
"Disgusted Australian fans began streaming out of the official Fan Fest World Cup viewing venue at Sydney's Darling harbour after Germany scored their third and fourth goals in quick succession.
'I am sorry for the red card, it was a bit harsh,' said Germany fan Suzanna who stayed on amongst the dwindling numbers of dejected Australia supporters to watch the rest of the game."
84 mins: Good run down the left from Scott Chipperfield who crosses low for Nikita Rukavytsya in the centre but he can only shoot straight at Manuel Neuer. Australia a gunning for a consolation here.
Marko Marin replaces Lukas Podolski, who scored the sweetly-struck first-half opener for the Germans.
80 mins: The pace of the game has dropped a bit as Germany throttle back. It's been an awesome display from Joachim Loew's side so far.
74 mins: Australia make another change as Mile Jedinak replaces Brett Emerton.
Germany's Mario Gomez comes on for the outstanding Mesut Ozil, surely the man-of the-match.
70 mins: GOAL! Germany 4 Australia 0
And Cacau immediately gets on the scoresheet, Mesut Ozil crossing low from the left for the Brazilian-born striker to tap home. Too easy. Cacau was on the field for precisely 1 min 52 secs before scoring.
68 mins: Germany make a change as Cacau is brought on for Miroslav Klose.
67 mins: GOAL! Germany 3 Australia 0.
Thomas Mueller turns away from Scott Chipperfield and fires a third goal to effectively seal this win for the Germans. This could be a rout…
64 mins: Australia make another change as Nikita Rukavytsya comes on for Richard Garcia.
62 mins: My AFP colleague Marc Lavine in Sydney says the crowd at the city's Darling Harbour are totally deflated by Cahill's dismissal.
"Now that Cahill is off we have a chance," said one supporter who had been in the venue for eight hours ahead of the match.
58 mins: YELLOW CARD! Australia's Carl Valeri is booked for what was another foul in the eyes of this rather enthusiastic referee, this time on Sami Khedira.
56 mins: RED CARD! Tim Cahill is sent off for Australia.
53 mins: Lovely move from the Germans as Philipp Lahm is played in on the right byeline, before pulling it back to Miroslav who curls a shot over the bar.
A very open game and there must surely be more goals in this.
50 mins: Good effort from Socceroos' substitute Brett Holman, who skips past a defender and shoots low but wide of Manuel Neuer's goal.
46 mins: YELLOW CARD! And they're off again for the second half in Durban – and the inevitable happens as Australia's most uncompromising of  defenders Lucas Neill goes into the book for a knee in the back of Miroslav Klose.
Australia have made a positive change for this half, bringing on AZ Alkmaar striker Brett Holman for midfield holding player Vince Grella.
Coach Pim Verbeek had to do something.
1930 GMT: A snap poll of Australian broadcaster SBS online users shows that only 34 percent of online fans think the Socceroos stand any chance of saving the match by making a comeback in the second-half, while 66 percent said there was "no chance".
1926 GMT: More from my AFP colleague Marc Lavine in Sydney:
He tells me fans on an online chat site run by Australian broadcaster SBS are understandably critical of Australia's performance and gameplan in the first half and many were pessimistic at half-time about the chances of the Socceroos making a comeback.
"Germany's attack has been so constant," writes one. "Pim better change the game plan next half," said another refrring to team manager Pim Verbeek.
"Everyone knew this would be a tough gig for Aussies."
Another online fan was even more negative: "Australia's attack is looking as impotent as my granddad right now – and my granddad is dead," he writes. Oh dear.
1922 GMT: Contribution from my AFP colleague Marc Lavine in Sydney:
"Thousands of Socceroos' supporters gathered to watch the game at Fan Fest, one of six official FIFA World Cup viewing locations worldwide to watch Australia kick off its World Cup campaign.
"Sydney's iconic Darling Harbour, usually a waterside tourist magnet, was early Monday (local time) transformed into sea of green and gold as thousands of loyal Socceroos supporters braved wintery weather to watch their team take on Germany at 4:30am (local time).
"Many of the fans, swathed in the Australia national team's strip, scarves and woolly hats, had been gathered for hours in front of giant TV screens, munching hotdogs, swilling beers and others armed with the blow-up kangaroos and sombreros."
There might just be a few loyal Socceroos fans in Sydney wondering whether the early start was really worth it after the drubbing their team's just been handed in the first half…
45+1 mins – HALF-TIME – Germany 2 Australia 0
45 mins: One minute added on at the end of the half. The Aussies must be looking foward to a breather.
41 mins: This is glorious from the Germans. Lukas Podolski slips through a perfectly-weighted through ball for Mesut Ozil to run on to but the little midfielder loses control of it as he jinks past the onrushing Mark Schwarzer.
39 mins: Germany's Philipp Lahm is slipped through by the puppet-master Mesut Ozil again and volleys a cross across from the right but Sami Khedira can't control the powerfully struck ball and heads over.
37 mins: Thomas Mueller beats Scott Chipperfield with ease down the right but his cross is blocked behind for a corner. The Socceroos are a shambles at the back here.
30 mins: Could – and possibly should – have been 3-0 to Germany there and game over as Miroslav Klose plays Mesut Ozil through on goal but his dinked finish is hooked off the line by Lucas Neill.
26 mins: GOAL! Germany 2 Australia 0.
Miroslav Klose scores his 11th goal in World Cup finals as he rises to beat Mark Schwarzer to the ball and head home. Australia are staring down the barrel here.
24 mins: YELLOW CARD! Craig Moore of Australia goes in the book for dishing out some dissent to the assistant referee.
24 mins: The tricky Werder Bremen midfielder Mesut Ozil is running the show for Germany here. He plays in Miroslav Klose but the striker blasts it wide.
18 mins: "Got alarm set for 4am like the rest of the country," Australia's Prime Minister Kevin Rudd tweeted earlier, my AFP colleague Marc Lavine tells me from Down Under. "Tough opponents. Go Socceroos."
12 min: YELLOW CARD! Mesut Ozil goes on a jinking run and decides to fall over despite not being touched. He is rightly booked for simulation. There's no need for that kind of skullduggery…
8 mins: GOAL! Germany 1 Australia 0
Lukas Podolski powers the ball into the net from a pull-back on the right. You've got to fear for the Socceroos with the Germans scoring so early.
7 mins: Germany almost take the lead – Miroslav Klose is in on the Australian goal down the righthand channel but his low, hard shot is straight at the 'keeper.
3 mins: What a chance for Australia early on! Corner is swung in from the right and drops to Richar Garcia five yards out who swivels but sees his shot blocked by a combinaton of Germany 'keeper Manuel Neuer and captain Philip Lahm.
2 mins: A very conservative starting line-up for Australia with striker Joshua Kennedy – who plies his trade with Nagoya Grampus Eight in Japan – left on the bench.
1830 GMT: AND WE'RE OFF in Durban – Mexican referee Marco Rodriguez blows his whistle to get the match under way.
1827 GMT: We've had the German and the Australian anthems now – what an atmosphere at this superb stadium by the Indian Ocean!
1823 GMT: "And the chainsaws — oh sorry I mean the vuvuzelas — are really starting up now in an almost full stadium in cracking conditions for football," my AFP colleague Luke Phillips tells me from pitchside.
1822 GMT: Australia's Prime Minister Kevin Rudd has admitted the Socceroos have a tough draw in taking on Germany in their first World Cup match but said he was confident they would "do the nation proud".
"There will be plenty of bleary eyes as across the country Australians stay up and cheer you on," Rudd said, in reference to Durban match which begins at 4:30am Sydney time.
1818 GMT: My AFP colleague Madeleine Coorey sends me this intriguing snippet from our Sydney bureau Down Under:
Apparently the German-born father of Australian goalkeeper Mark Schwarzer, admits to having a fondness for his son's first World Cup opponent.
But Hans Schwarzer, who emigrated to Australia from Stuttgart in 1968, said he was confident his son could keep the Germans scoreless.
"For me, there are no divided loyalties in this match," he told The Sun-Herald newspaper.
"It's natural to still have a soft spot for Germany, because it will always be a part of me but, when it comes to the two countries, there's only one I'm cheering for."
Schwarzer senior, who will watch the match from his home in Australia, said with Germany having a few star players out due to injury, he had "high hopes" for the Socceroos.
1815 GMT: The news is that Miroslav Klose, the top scorer in the 2006 World Cup, will start for Germany.
There had been much debate over whether Klose or Stuttgart's Brazilian-born Cacau would start as Germany's lone striker, the player – who has spent much of the past season on the bench at Bayern Munich – finally winning coach Joachim Loew's vote of confidence.
Germany will be captained by Philipp Lahm in the absence of regular leader Michael Ballack, who will miss the entire World Cup through injury.
Australia, captained by Lucas Neill, received a boost with key man Tim Cahill and Blackburn Rovers midfielder Brett Emerton, who has not played in any of his team's three warm-up games because of a calf injury, both named in the starting XI.
There was, however, no place in Dutch coach Pim Verbeek's side for either Harry Kewell or Joshua Kennedy.
Germany and Australia have gone head-to-head only twice before, the Germans winning both times, on German soil, 3-0 in the 1974 World Cup and 4-3 in the 2005 Confederations Cup.
The Germans have opened their last five World Cup campaigns with a victory, their last reverse coming in 1982 when they crashed to a shock 2-1 defeat to Algeria.
1812 GMT: The starting line-ups are out:
Germany: Manuel Neuer, Philipp Lahm (capt), Per Mertesacker, Arne Friedrich, Holger Badstuber, Sami Khedira, Bastian Schweinsteiger, Mesut Oezil, Thomas Mueller, Lukas Podolski, Miroslav Klose
Coach: Joachim Loew
Australia: Mark Schwarzer, Luke Wilkshire, Lucas Neill (capt), Craig Moore, Scott Chipperfield, Vince Grella, Carl Valeri, Brett Emerton, Tim Cahill, Jason Culina, Richard Garcia
Coach: Pim Verbeek (NED)
Referee: Marco Rodriguez (MEX)
WELCOME TO OUR THIRD LIVE WORLD CUP TEXT commentary of the day, this time featuring the mighty Germans taking on dark horses Australia at the Moses Mabhida Stadium in Durban.
This is the second Group D encounter of the day after Ghana earlier pulled off a well-deserved 1-0 win over Serbia in Pretoria to leave them sitting proudly on top of the standings.
Germany are favourites going into this game, boasting plenty of players with World Cup experience such as strikers Miroslav Klose – who has scored 10 goals over the past two World Cup finals – and Lukas Podolski.
Australia will look to their stout-hearted Vince Grella of English Premier League Blackburn Rovers to keep things tight in midfield will Everton's Tim Cahill is always a good bet to pop up with a headed goal from a set-piece.
My AFP colleague Luke Phillips outside the stadium here in Durban: "The beachfront boulevard that winds its way from the Indian Ocean to the stadium was packed with the green and gold of Australian fans and the largely be-wigged German contingent.
"Also lining the route were strange Zulu dance troupes performing what can only be described as an African Morris dance." Great stuff.
Kick-off is fast approaching at 1830 GMT so stay with us for all the action live!
Load more