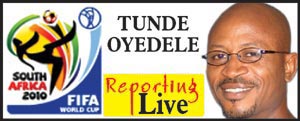 FIFA World Footballer of the Year and Argentina star, Lionel Messi, has hailed Super Eagles' goalkeeper, Vincent Enyeama, as a great goalkeeper.
The Hapoel Tel Aviv of Israel goalie was at his best in Nigeria's match against Argentina at the Ellis Park Stadium on Saturday. Though the Eagles lost the match 0-1, Enyeama has been earning the praises of soccer pundits for his exceptional display of goalkeeping artistry, as he was able to stop Argentina's world class strikers like Messi, Gonzalo Higuain, Carlos Tevez and De Maria from disgracing Nigeria with a basketful of goals.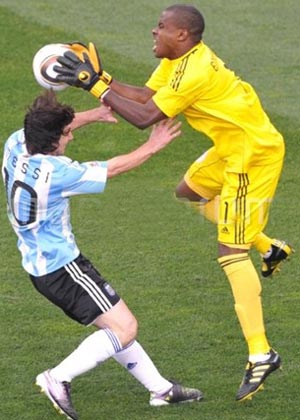 The Barcelona star, however, believes that but for Enyeama's prowess, he  was determined to wreck the Eagles in the first match.
"It was your goalkeeper who stopped me," Messi told P.M. Sports after the match. "He saved Nigeria and I think he is a great goalkeeper. My intention is to score at least five goals against the Nigerian team, but Enyeama stopped me. He is a good and an exceptional goalkeeper and I think he deserved the Man of the Match award given to him at the end of the match," Messi said.
"With what I saw of Nigeria's goalkeeper in the match, it is my belief that he has a great future ahead of him and if he continues like he did against us and Nigeria moves on in the competition, then he should be one of the best goalkeepers in South Africa 2010 World Cup."
Meanwhile, Yakubu Ayegbeni says the Eagles should put the defeat in the match against Argentina behind them and focus on their next game against Greece.
"We need to focus on our next game,"  he said. "Every game is important and we want to win and get to the next round. It is not going to be easy, but we have to get there for the fans."
The team have received praise for their performance on Saturday despite the defeat and the Everton man is convinced that this was the best display the team has put up in recent years.
"We did well and we were unlucky not to win. It was a good game for me, and I think it is one of the best games we have played in recent years.
"It is good because now the confidence is there and we believe that we can get to the second round."
Yakubu gives credit to coach Lars Lagerback for the improvements in the side.
"The new manager has come in and brought his own style. It's been so good and we are enjoying it. We struggled in the first game, but we will get better with every game, and I believe we will improve even more."
Load more