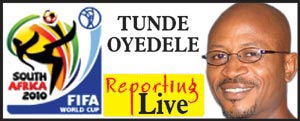 Argentina's Lionel Messi, who spoke though an interpreter, bared his World Cup opening match frustration in this interview with Tunde Oyedele in Johannesburg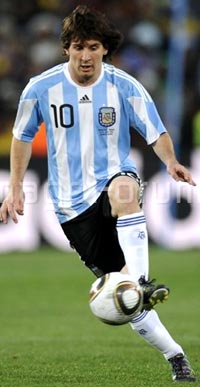 Q: Hello Messi, will you say that was a great match with Nigeria?
A: Hey, hi am am… (Messi paused and beckoned on a FIFA official attached to their team to help us in the translation of this conversation.. I repeated the above question)
O yes, I had a nice game except that none of my efforts hit target.
Q: You are known for goals, what happened against Nigeria's Super Eagles?
A: Yes, I feel happy anytime I score a goal, but I'm sad now, because the Nigerian goalkeeper stopped me from scoring at least five goals against Nigeria, am… Eyim, no no, (another pause, Messi meant Enyeama, so I cut in to help him, but he managed to pronounce the name)
Q: You mean Vincent Enyeama?
A: O yah, Enyiman (sic), he stopped me from scoring, he was very good. He saved the Eagles and I think he is a great goalkeeper. That's why FIFA rewarded him with the Man Of The Match Award. He was the best in that match. If he continues like he did against us and Nigeria moves on in the competition, then he should be one of the best keepers in South Africa 2010 World Cup.
Q: This is your third victory against Nigeria at the three FIFA World Cups, you won the 2005 U-20, scoring and beating Nigeria in the final, Argentina also beat Nigeria at the Beijing Olympics final, and your country also won the opening match against Nigeria in South Africa, these achievements should make you happy?
A: Yes, it's a record for Argentina but we worked hard to beat Nigeria at both the Netherland 2005 and at 2008 Olympics, they always give us a tough time. They are too defensive. We were about to lose the opening match of 2010 World Cup to Nigeria, but we are happy they didn't score. We don't take any match against Nigeria lightly, because they are not predictable.
Q: You have seen the Group B teams play, Nigeria lost  0-1 to Argentina while South Korea beat Greece 2-0, which of them have the potential to advance to the second round?
A: That's difficult to say now, but I think we have a chance and may be South Korea, because they won their first match. The Nigerian and Greece teams can still spring surprises too. They are not out yet.
Load more