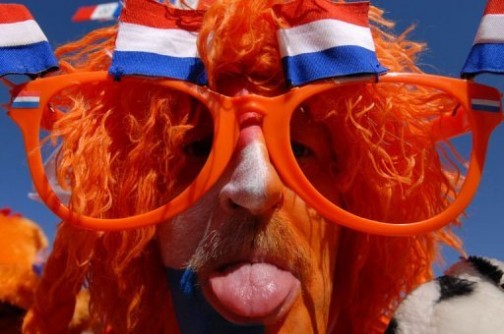 OHANNESBURG, South Africa (AFP) – 1449 GMT: HOLLAND GET THEIR CAMPAIGN off to a winning start with a scrappy 2-0 win over Denmark.
The star-studded Dutch struggled to penetrate a well-drilled Danish defence and had to rely an own-goal and a late tap-in from Liverpool's Dirk Kuyt for the victory.
The win takes Holland top of Group E but Bert van Marwijk's side did nothing to show that they are among the favourites to win the World Cup.
The Dutch next face Japan in Durban on Saturday, the same day Denmark play Cameroon in Tshwane.
If you're just joining us, you can read on to see how the match unfolded.
1329 GMT: "You can see how they (Holland) won the game," says former Dutch midfielder and ITV Sport pundit Edgar Davids. "When you have a little bit of luck and a little bit of brilliance, then it is easy," he adds.
1326 GMT: "That was the perfect result for Holland. The win means they can take it easy in their next two games and give Arjen Robben a little bit more time to recover from his injury," says former England manager and ITV Sport pundit Kevin Keegan.
90 + 3 mins: AND THAT'S IT! The referee blows his whistle for the end of the match.
90 mins: The fourth official signals there will be three minutes of added time.
87 min: Christian Poulsen shows great reflexes as he hooks the ball off the line.
85 mins: GOAL! 2-0 to Holland. Game over! Wesley Sneijder frees Elijero Elia who clips the ball over the incoming Thomas Soresen. The ball bounces off the post and Dirk Kuyt smashes the ball into the net.
83 mins: Amazing! Holland nearly double their lead as Wesley Sneijder's looping shot beats Thomas Sorensen and bounces off the crossbar.
85 mins: GOAL! 2-0 to Holland
83 mins: Fantastic! Holland nearly double their lead as Wesley Sneijder's looping shot beats Thomas Sorensen and bounces off the crossbar.
79 mins: Robin van Persie is clearly struggling with his fitness and is replaced by Ibrahim Afellay.
74 mins: They might be losing the match but nothing is going to stop the Danish fans from enjoying themselves and they reserve the loudest cheer of the match for the introduction of teenage playmaker Christian Eriksen.
The 18-year-old midfielder replaces Thomas Kahlenberg. The young star has been dubbed the new Michael Laudrup, so lets see if he can salvage the match for Denmark!
69 mins: Holland make their first change and Hamburg's Elijero Elia replaces Real Madrid schemer Rafael van der Vaart. Just when everyone thought  Dutch coach Bert van Marwijk would batten down the hatches he throws on the speedy winger.
62 mins: Denmark make their second change and replace Nicklas Bendtner with Mikkel Beckmann.
56 mins: Denmark  make a substitution and bring Thomas Enevoldsen on for Jesper Gronkjaer
55 mins: That goal was a real body blow for Denmark who are starting to displaying a lack of self-belief!
51 min: Robin Van Persie wastes a glorious chance to double the lead! Liverpool's Dirk Kuyt intercepts a pass and frees the Arsenal forward on the edge of the area but Sorensen snuffs out the danger by smothering the ball.
46 mins: GOAL! 1-0 to Holland
The second half gets under way and almost immediately the Dutch take an unexpected lead as Jakob Poulsen mistimes a defensive header and turns the ball into his own net. Disaster for Denmark!
Disaster for Denmark as Holland's Robin Van Persie races after a long ball and sends a high lob into the penalty area which Simon Busk Poulsen completely mistimes and heads the ball into his own net.
1225 GMT: Sorry folks, we have had a few technical problems, but hopefully everything is now resolved. Here is what you missed!
45 mins: The referee blows for half-time and the players trudge off the pitch
44 mins: YELLOW CARD!
Holland's Nigel de Jong earns the first booking for scything down Nicklas Bendtner. The Man City midfielder had that coming!
43 mins: Robin van Persie gains a yard of space on the edge of the area and the Arsenal forward is off-balance and his weak shot doesn't trouble Thomas Sorensen.
37 mins: Denmark's Nicklas Bendtner releases Thomas Kahlenberg, who forces Maarten Stekelenburg to palm the ball out for a corner.
36 mins: Denmark nearly take the lead against the run of play! A long ball releases Dennis Rommedahl and the jet-heeled forward races to the edge of the penalty area before shooting straight at Maarten Stekelenburg. A bit more composure in front of goal by the Ajax winger and Denmark could have taken the lead!
33 mins: Danger as Rafael Van Der Vaart nearly prises open Denmark's defence with a delicious lob into the path of Robin Van Persie, but Simon Kjaer's late interception saves the day!
32 mins: The Dannish fans are up in arms after Holland's Nigel de Jong clatters into Martin Jorgensen but the referee Stephane Lannoy waves away appeals for a foul! De Jong deserved a yellow card for that two-footed challenge!
20 mins: Gasps from the Oranje supporters as Rafael Van Der Vaart goal-bound shot is deflected and bounces just wide of the post.
14 mins: Its been a lively start to the match, with Denmark willing to let Holland keep possession of the ball.
10 mins: First real chance of the match falls to Dirk Kuyt who collects a loose ball on the edge of the penalty area and blasts a fierce shot straight at Thomas Sorensen. The Liverpool forward should have done better with that opportunity!
8 mins: Denmark's Christian Poulsen is forced to make a last-ditch tackle to stop Holland's Gregory Van Der Wiel racing in on goal. That was a perfectly timed tackle!
6 mins: Holland's Wesley Sneijder earns a free-kick after a late challenge by Christian Poulsen. The Inter Milan midfielder dusts himself down and send the 40-yard effort high over the bar. It was an improbable shot but in this World Cup — with all the pre-tournament talk about the Jalabani ball, and after two goalkeeping blunders — there are no speculative shots!
3 mins: Danish defender Daniel Agger has the first shot of the match, which is blocked by Johnny Heitinga.
1130 GMT: THE REFEREE BLOWS HIS WHISTLE and Denmark pass the ball back to goalkeeper Thomas Sorensen who kicks the ball into touch. Who said they were defensive?
1127 GMT: Dutch coach Bert van Marwijk has named Bayern Munich star Arjen Robben on the bench but can still call upon Arsenal's Robin van Persie Inter Milan's Wesley Sneijder, Liverpool's Dirk Kuyt and Real Madrid's Rafael van der Vaart.
Despite doubts over his fitness, Danish coach Morten Olsen gave a start to Arsenal forward Nicklas Bendtner, who has not played since May with a groin injury.
However, forward Jon Dahl Tomasson and midfielder Daniel Jensen failed to make the starting line-up after picking up minor injuries over the weekend
1126 GMT: Holland are in their traditional orange strip, while Denmark are wearing white shirts and red shorts
1125 GMT: The teams line-up for the national anthems and the Oranje supporters give a lung-bursting rendition of their national anthem Het Wilhelmus (The William). The vastly outnumbered Danish fans try to rouse their players with a passionate version of Der er et yndigt land (There is a lovely land).
1123 GMT: The two teams file out onto the pitch to huge cheers with the expectant Dutch fans waving their Orange flags.
1122 GMT: Starting line-ups are out:
Netherlands: Maarten Stekelenburg; Gregory van der Wiel, John Heitinga, Joris Mathijsen, Giovanni van Bronckhorst, Dirk Kuyt, Mark van Bommel, Wesley Sneijder, Nigel de Jong, Rafael van der Vaart, Robin van Persie.
Coach Bert van Marwijk
Denmark: Thomas Sorensen; Daniel Agger, Simon Kjaer, Lars Jacobsen, Simon Poulsen, Martin Jorgensen, Christian Poulsen, Thomas Enevoldsen, Thomas Kahlenberg, Dennis Rommedahl, Nicklas Bendtner.
Coach: Morten Olsen
Referee: Stephane Lannoy (France)
1118 GMT: My colleague Robert Smith tells me the Dutch fans are having a great time ahead of the kickoff at Soccer City.
"Dressed in their traditional orange colours, the fans are dancing and singing in groups outside the ground on the concourse area ensuring a fun atmosphere with their Danish counterparts inside the vast stadium," he says.
WELCOME TO THE THE SOCCER CITY STADIUM where thousands of Dutch fans have gathered to see Holland take on Denmark in the first of today's three World Cup matches.
Holland have never won the World Cup but have reached the finals of both the 1974 and 1978 tournaments with a free-flowing style that won them many admirers.
The Oranje are many people's favourites to win Group E as they enter the tournament on the back of an unbeaten run of 19 matches.
Dutch coach Bert van Marwijk has an embarrassment of riches with the likes of Arsenal's Robin van Persie, Real Madrid's Rafael van der Vaart and Inter Milan's Wesley Sneijder.
The challenge for this Dutch side is to secure a comfortable victory over Denmark and win the group which also includes Cameroon and Japan, then carry that early form into the knock-out stages, where they have disappointed in recent tournaments.
Kick-off is fast approaching at 1130 GMT so stay with us for all the action live!
Load more