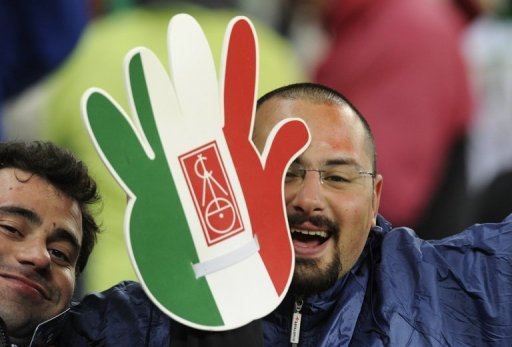 CAPE TOWN (AFP) – PARAGUAY MUST SURELY BE THE HAPPIER side after holding the much-vaunted Italians to a 1-1 draw here in Cape Town.
Defender Antolín Alcaraz gave the South Americans a surprise lead shortly before half-time, outjumping veteran Italy defender Fabio Cannavaro to head home a free-kick, but the Azzurri drew level largely thanks to another World Cup 2010 goalkeeping error, this time from Justo Villar.
Paraguay's 'keeper came flying out to punch away a corner just past he hour-mark but made no contact whatsoever, leaving Italy midfielder Daniele De Rossi the easy task of knocking the ball in at the back post.
Despite the draw, both sides will still feel confident of progressing out of Group F and into the last 16 with relative minnows New Zealand and Slovakia still to come.
Those two sides play each other in Rustenberg tomorrow (kick-off 1130 GMT) — join us at 1100 GMT for more live coverage.
Read on for our live commentary of Italy against Paraguay as it happened from Green Point stadium.
2028 GMT: My AFP colleague Hugo Olaza writes to me from the Paraguayan capital Asunción: "Carlos Gamarra, captain of Paraguay at the last World Cup in Germany in 2006, says Paraguay's draw was down to a tried and trusted formula which has worked well in the last three World Cups and led to Antolín Alcaraz's headed goal from a free-kick.
"He says Italy's goal from Daniele De Rossi resulted from an unfortunate mistake from the defence.
"We've won a golden point", adds the former Inter Milan defender, speaking to Radio 9.70 AM in Asunción.
But Hugo tells me that 'What a shame' is the phrase being uttered by the thousands of Paraguay fans in Asunción who watched the 1-1 draw, after the 'Guaraníes' allowed them to start dreaming of victory with Antolín Alcaraz's first-half goal."
2022 GMT: "We said at half-time they had to improve and they did to be fair. But they didn't test the goalkeeper a lot and the goal came from a mistake. I thought a draw was a fair result," says former Liverpool defender and BBC Sport pundit Alan Hansen.
90+3 mins: FULL-TIME – Italy 1 Paraguay 1
90 mins: There will be a minimum of three minutes of added time played here in Cape Town.
87 mins: Time is running out for one of these two teams to fashion a winner — and Italy look the more likely with a cross just evading striker Vincenzo Iaquinta.
84 mins: Attendance for the game here at Green Point stadium is just under 63,000, around a thousand less than capacity.
79 mins: Italy are pressing for a winner here. The dynamic Simone Pepe cuts in from the left and unleashes a low drive but it's straight at the 'keeper.
76 mins: Benfica's Oscar Cardozo replaces Lucas Barrios for Paraguay.
72 mins: Italy make a change now — Antonio Di Natale comes on for Alberto Gilardino
70 mins: YELLOW CARD! Italy's Mauro Camoranesi is booked for a late challenge on Enrique Vera.
69 mins: Paraguay bring on Roque Santa Cruz for Nelson Valdez after that setback.
67 mins: More from our man Barnaby Chesterman at Italy's media base south of Pretoria: "Casa Azzurri has finally woken up!
"The sponsors and media rose as one to salute De Rossi, the DJ is banging out some beats (or rather some typical Italian easy listening really) and someone is trying very hard to blow his vuvuzela — I no longer feel that I'm at a wake."
65 mins: Immediate chance for Paraguay to regain their lead — the ball comes in from the right but substitute Jonathan Santana hooks it badly over the crossbar.
63 mins: GOAL! Italy 1 Paraguay 1
And World Cup 2010 is graced with yet another awful goalkeeping blooper! Justo Villar flies out an tries to punch away Simone Pepe's corner from the left but totally misses it and Daniele De Rossi bundles it in at the back post.
60 mins: Change for Paraguay — midfielder Jonathan Santana on for defender Aureliano Torres.
57 mins: Vincenzo Iaquinta has a jinking run into the area from the right, beats the right-back but the ball just runs away from him and out for a goal kick. More frustration for the Azzurri.
51 mins: Spectacular attempt at an overhead kick at goal by Juventus midfielder Simone Pepe from Gianluca Zambrotta's cross from the right but he just fails to make contact.
1931 GMT: Change for Italy: Cagliari's Federico Marchetti has replaced Gianluigi Buffon in goal.
And they're under way again in the second half.
1929 GMT: "I'm pleased they've scored as it's the best thing that could have happened to the game," says former England striker and BBC Sport pundit Alan Shearer.
"It was a fantastic header — one I'd have been proud of myself! I'm pleased they've scored as it might open the game up a bit in the second half."
1924 GMT: "We'd have taken anything after half an hour because we hadn't had much to go on until then," says former Liverpool defender and BBC Sport pundit Alan Hansen.
"But when it's so difficult to create chances set-plays become more important and Paraguay's from the start have been excellent."
45 mins: HALF-TIME – Italy 0 Paraguay 1
1824 GMT: It's been a wet and miserable day in Cape Town — let's hope both sides can put the damp conditions to their advantage and get their passing games going to produce an entertaining contest.
1822 GMT: Italy would be the first country for 48 years to retain the World Cup title should they triumph in the final in Johannesburg on July 11.
1815 GMT: The shooting of Paraguay star Salvador Cabanas still weighs heavily on the team and they plan to dedicate any World Cup victories they can manage to their teammate.
Cabanas, the 2007 South American footballer of the year, was shot in the head in the toilet of a trendy Mexico City bar in January. He survived but is on a long road to recovery.
He would certainly have been part of the team due to kick off against Italy here having played a vital part in their qualifying campaign.
Argentine-born Lucas Barrios, who only received his Paraguay passport a few weeks ago and will make his debut here, has been drafted in as Cabanas' replacement.
He said Sunday the player was on everyone's minds.
"We have three group games and we are going to play for Salvador and have decided to dedicate our victories to him because he is such an important player for us," he said.
1811 GMT: Paraguay go into this game in good form, having beaten Brazil and Argentina in qualifying for the tournament.
They can no longer be considered minnows having reached their fourth straight finals, with much of the credit given to Argentine coach Gerardo Martino who has managed to negotiate a delicate transition phase for his team.
1807 GMT: The starting line-ups are in:
Italy: Buffon, Zambrotta, Cannavaro, Chiellini, Criscito, De Rossi, Marchisio, Montolivo, Pepe, Gilardino, Iaquinta.
Subs: Marchetti, Maggio, Gattuso, Di Natale, Bocchetti, Camoranesi, Palombo, Quagliarella, Pazzini, Pirlo, Bonucci, De Sanctis.
Paraguay: Villar, Bonet, Alcaraz, Da Silva, Morel Rodriguez, Vera, Victor Caceres, Riveros, Torres, Haedo Valdez, Barrios.
Subs: Diego Barreto, Veron, Caniza, Julio Caceres, Cardozo, Edgar Barreto, Santa Cruz, Benitez, Santana, Ortigoza, Gamarra, Bobadilla.
Referee: Benito Archundia Tellez (Mexico)
WELCOME TO OUR LIVE REPORT on the third World Cup group game of the day, with defending world champions Italy and Paraguay coming head-to-head in Cape Town for both sides' opening match of the tournament.
Marcello's Lippi's Azzurri are strong favourites to top Group F with Slovakia and minnows New Zealand their other opponents, but the Italians will be aware that their sternest test is likely come against a well-organised Paraguay side coached by Gerardo Martino.
Full teams line-ups coming shortly but the main news for tonight's game is that Italy are without AC Milan playmaker Andrea Pirlo, who injured his calf before the team left for South Africa, and Riccardo Montolivo takes his place in midfield.
Mauro Camoranesi has been left on the bench while Paraguay striker Roque Santa Cruz — formerly of Blackburn Rovers and now Manchester City — also misses out on a starting spot.
Kick-off is less than half an hour away at 1830 GMT so stay with us for all the action as it happens.
1824 GMT: It's been a wet and miserable day in Cape Town — let's hope both sides can put the damp conditions to their advantage and get their passing games going to produce an entertaining contest.
1822 GMT: Italy would be the first country for 48 years to retain the World Cup title should they triumph in the final in Johannesburg on July 11.
1815 GMT: The shooting of Paraguay star Salvador Cabanas still weighs heavily on the team and they plan to dedicate any World Cup victories they can manage to their teammate.
Cabanas, the 2007 South American footballer of the year, was shot in the head in the toilet of a trendy Mexico City bar in January. He survived but is on a long road to recovery.
He would certainly have been part of the team due to kick off against Italy here having played a vital part in their qualifying campaign.
Argentine-born Lucas Barrios, who only received his Paraguay passport a few weeks ago and will
Load more