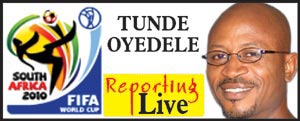 The Federal Government of Nigeria better act fast otherwise the infighting between some officials of the national team may scuttle the progress of the Super Eagles at the ongoing World Cup in South Africa.
P.M.Sports watched in awe, how two prominent officials, ASP Gideon Akinsola, the Camp Commandant and Eagles' Coordinator, Emmanuel Attah exchanged hot words right in front of the players this afternoon.
The show of shame, which lasted for about ten minutes around 1.30 p.m at the entrance of Eagles' Waterfront Hotel camp in Richards Bay, was almost getting into physical blows when Skipper Nwankwo Kanu and Dickson waded into the fracas.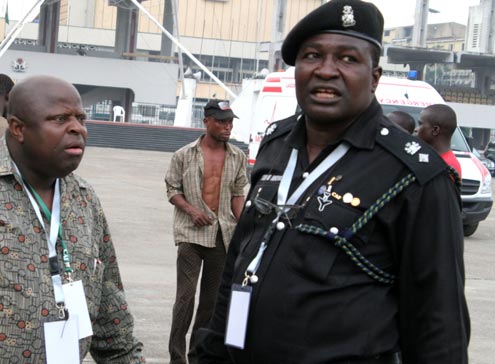 Kanu, who did not feature in Eagles' opening match in Johannesburg on Saturday, almost received head blows as the feuding Akinsola and Attah tried to hit each other in the face.
''Hey brothers, stop this now, what's up now? This is not good for us at this crucial time. Please Etuhu hold Akinsola'', Kanu said as he separated the officials. As Kanu was pushing Attah away from the scene, Etuhu, who plays for English Premier League Club, Fulham urged Akinsola to go to his duty post. Both players, who were on their ways out to the Mall, spent extra minutes to stop the ranting officials, who threatened to continue with the personality clash later.
P.M.Sports investigations revealed that Akinsola and Attah have personality clash and have been fighting over who should be in charge of the squad' daily routine.
Bola Omilabu, The Nation Newspapers Sports Photographer, who witnessed the clash expressed disappointment over the unending crisis between Akinsola and Attah, saying: ''This is too bad for our nation. The officials would have gone into the Hotel to settle the issue quietly instead of disgracing themselves in the presence of the players''.
The FIFA officials and South African security personnel attached to the Eagles also expressed shock at the open crisis.
It would be recalled that Akinsola and Attah had a similar quarrel during the African Cup Of Nations in Angola in January this year.
The officials of Nigeria Football Federation, NFF are yet to react to the crisis, but Kanu promised to take the case to the body before their next training tomorrow.
Meanwhile, Kanu and his teammates spent today, their rest day to visit Shoprite and The Mall in Richards Bay, to do some shopping as the coach wants the squad to get down to serious business from tomorrow ahead of Thursday's second Group B match against Greece.
Load more