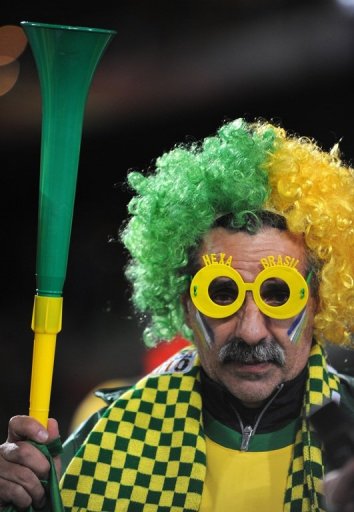 JOHANNESBURG (AFP) – BRAZIL TOP THE "GROUP OF DEATH" after a 2-1 win over North Korea, but failed to impress after the rank outsiders pushed them all the way.
Yun-Nam Ji's late goal puts him in the pantheon of North Korea greats alongside Pak Do-Ik, who scored their winner against Italy in 1966.
The goal could yet damage Brazil, who will need two good performances against Ivory Coast and Portugal if they want to finish top of Group G and avoid a possible last 16 showdown with Spain.
In-truth, Brazil deserved the victory but they might even hope that North Korea could steal some points off their group rivals.
2030 GMT: Patrick Vieira in the ITV studio reckons that North Korea could cause some damage in their upcoming games. "If they manage to play the same way they will give as lot of trouble to Portugal and Portugal," the Manchester City man says.
Fellow pundit Edgar Davids was unimpressed by the Brazilians and believes they were lucky to get the first goal.
"There was little movement without the ball, Robinho was the most alive Brazilian but he wasnt exceptional. At first I though the goal was brilliant but now I'm confused, he was looking in the middle," he admits.
90 mins + 2: FULL TIME! Brazil 2- 1 North Korea.
89 mins: GOAL! Yes, it's happened! 2-1 Brazil.
Yun-Nam Ji writes himself into history as he latches onto Jong-Tae Se's pass and finishes emphatically past Julio Cesar.
86 mins: Oh, nearly a fairytale end. Jong-Tae Se runs onto a long ball over the top but Juan plays the role of party-pooper with a superbly executed tackle.
85 mins: Substitute Nilmar finds himself in space but his shot is too close to the centre of the goal
83 mins: Lucio threatens on a rare visit forward but his shot is blocked when he could maybe have squared the ball.
81 mins: Felipo Melo hits the umpteenth shot from distance which is saved easily.
77 mins: Kaka is off and Nilmar is on. Disappointing night for the Real Madrid man, but there will be bigger games for him to shine in later.
75 mins: The only question now is how many? That might not be a frivolous question though as goal difference could well have a bearing on who goes through and who wins the "Group of Death." The second placed team in this group will take on the winners of Spain's group in the second round.
72 mins: GOAL! Game over, it's 2-0 Brazil.
71 mins: Kaka is still not looking great but Brazil look extremely comfortable.
68 mins: A replay of the goal fails to clear up if Maicon meant to hit the ball towards the net or whether he was crossing. His eyes tend to betray his true intentions, but as he's Brazilian he'll probably get the benefit of the doubt.
65 mins: A rare attack ends in a long-range shot from Yun-Nam Ji buts it whistles a couple of yards wide.
62 mins: The North Koreans are known as the Chollimas, after a winged horse which is supposed to inspire the spirit. They will need all of this inspiration to stay close now. Luis Fabiano gets behind the defence after good play from Robinho but blasts it horribly over the bar.
60 mins: Michel Bastos hits another vicious swerver which Myong-Guk Ri keeps out unconvincingly.
55 mins GOAL! The dream is fading as Maicon puts Brazil 1-0 up.
The full-back got free down the right channel and hit a vicious shot which somehow swerved in-between the post and the goalkeeper, who may have been too far off his line.
Not that they care in Brazil according to AFP's man in Sao Paulo Mar Burleigh who is enjoying the fireworks and explosion of joy which greeted the goal.
52 mins: Robinho has space on the edge of the area and hits a shot a yard wide.  AFP's Mauricio Rabuffetti In Brazil says that roads are as deserted as if it were a public holiday with cars driving with Brazilian flags fluttering from them.
51 mins: Danger. The closest Brazil have come as Michel Bastos hits a free-kick from the edge of the area just wide after Kaka was fouled.
47 mins: This is borne out by a neat passing move which almost puts in Luis Fabiano.
46 mins: The game restarts without a break in the flow as Elano has a shot from distance blocked. Especially with this infamous ball, the distance shot doesn't seem the best tactic.
1928 GMT: The experts think that Brazil look a little ponderous in the build-up, but would Pato and Ronaldinho have been able to unlock the defence? Unlikely considering how deep and resolutely the Koreans have defended but there could be more chances for Brazil as their opponents must tire at some point.
1925 GMT: France midfield maestro Patrick Vieira is full of praise for the North Koreans. "Defensively they were brilliantly," he said. "They really deserve the 0-0 draw but Brazil have players who can create something form nothing"
His ITV co-pundit Edgar Davids is a fan of maverick striker Jong-Tae Se, apparently more for his love of Tupac and extensive garage. "You've got to love him for his taste of music and his fast cars. I was looking forward to him getting the ball because something happens," the Dutchman said of the forward, who is the only player in the team who owns a mobile phone.
1915 GMT: Not many people forsaw this, and that's not surprising considering how little is known of this North Korea team, but maybe this group of players has already shut up a few of the more patronising pundits with a comfortable half of football.
Of course this could all change in the second half, and there could still be a thrashing in the pipeline. A lot depends on the team's belief and whether Brazil begin to feel the weight of history on their shoulder, because make no mistake that's what a draw would be.
45 mins: HALF TIME. Michel Bastos slices a cross wide as the half ends 0-0. Dunga will be stripping paint off the walls in the dressing room right about now.
42 mins: Robinho wins another corner which is easily cleared. My colleague Marc Burleigh is with some unhappy fans in a Sao Paulo bar. "We're very disappointed with the Selecao," says one female Brazilian drinker. "It's like the World Cup of '74, which was very bad for Brazil."
41 mins: Kaka gets around the back but his pull back is hoofed clear.
39 mins: Robinho looks like the man to unlock a resolute defence but it looks clear that they won't get anything for fee. Perhaps North Korea were underestimated coming into the tournament as their qualification record was not dissimilar to South Korea who eased past Greece at the weekend.
36 mins: Kwang Chon-Ri sums up the performance so far with fantasticly brave defending to repel a cross as danger loomed.
35 mins: The tricks are coming out from Robinho who sets up Michel Bastos for a long range shot which is deflected over the top by a superb block. Inexplicably the referee gives a goal-kick.
32 mins: Dunga does himsel no favours with his questionable choice of coat. Perhaps he's trying to send a message that he does have some flair. I don't think he has succeeded.
31 mins: Jong-Tae Se again gives Champions League winner Lucio the run-around, but the Inter Milan player recovers well to concede a corner.
30 mins: In truth, the first five days have been a bit of a let down with tactical stalemates and teams seemingly too afraid of failure to attack, but a 0-0 draw here would be anything but mundane.
27 mins: Maicon hits a long range shot from the corner of the area but the 'keeper palms wide. Maybe he could have caught it but the kick comes to nothing.
26 mins: Jong-Tae Se flashes past his man down the flank but is a bit eager with his overhit cross. He does look like he could be one of the tournament's great characters if he gets going.
24 mins: The Brazilians are passing around the ball patiently and are far too streetwise to panic just yet, but they would dearly love to get their campaign going with a goal.
20 mins: Nearly relief for Dunga as Robinho makes space for a shot but it is straight down Myong-Guk Ri's throat.
18 mins: The North Koreans have the advantage of ten months training together and they are not overawed, despite the histrionics at the anthem. One can hear the Brazilian reporters sharpening their swords.
17 mins: Full-back Jong-Hyok Cha steams forward and hits a vicious shot but it is well off target.
15 mins: The warm-up games, although of limited bearing on the tournament, suggest that North Korea know how to play and they're showing it tonight so far.
13 mins: Maicon cuts in from the right wing and has a cross-shot blocked. The ball rebounds to Elano who chips a soft effort straight to Myung-Guk Ri.
11 mins: The North Koreans have settled a bit more now and Jong-Tae Se charges forward but hits a weak shot which Julio Cesar saves.
8 mins: Robinho immediately collects the ball and evades a tackle before slicing his shot wide. It could get boring talking about the ball so much but  the long-range shooting has been woeful so far this tournament.
7 mins: Very unusually, and much to the deligh tof the old-timers, Brazil are in one-to-eleven tonight, and it is their number 7, Elano who has the next effort, a 25-yeard effort which flies over the top.
4 mins: The Brazilians are looking ominous, but the defence, which was pretty solid during qualifying stands firm.
1 min: The game is underway and straight away Robinho is pulling the defence everywhere, a well executed block tackle preventing a clear opening.
1829 GMT: Well, I've never seen that before, and one would suggest it's not that wise to be so emotional before a game, but we'll see. Jong-Tae Se was the man who was in floods of tears all through the anthem. He is known as the "people's Rooney" and plays for Kawasaki Frontale in Japan although I have to say you wouldn't expect to see the real Rooney in such a state.
1828 GMT: The teams are out and singing their anthems. Some of the Brazilians have their hands on their hearts, revealing a few gloves. The North Koreans are stern in song, except one player who has broken down in tears.
And here are the starting elevens:
Brazil: Julio Cesar, Maicon, Lucio, Juan, Michel Bastos, Felipe Melo, Silva, Elano, Kaka, Robinho, Luis Fabiano.
Coach: Dunga
North Korea: Myong-Guk Ri, Jong-Hyok Cha, Chol-Jin Pak, Nam-Chol Pak, Kwang-Chon Ri, In-Guk Mun, Jun-Il Ri, Yun-Nam Ji, Yong-Jo Hong, Yong-HakAhn, Tae-Se Jong.
Coach: Kim-Jong Hun
Referee: Viktor Kassai (Hungary)
1807 GMT: World Cup record scorer and Brazil legend Ronaldo has been beavering away on his keyboard, predicting on Twitter that his countrymen will run out 3-0 winners with goals from Kaka, Robinho and Luis Fabiano.
1802 GMT: AFP man at Ellis Park, Robert Smith, says the thermometer is reading just three degrees in the stadium with most fans wrapped up in heavy coats, gloves and hats.
This maybe clutching at straws for the North Koreans, and other teams in the competition who rely on perspiration over inspiration, but the cool climate should help them maintain their energy levels and make life less comfortable for the passing teams.
WELCOME TO ELLIS PARK, JOHANNESBURG for our live World Cup text commentary of an intriguing Group G match between Brazil and North Korea.
Brazil are odds-on favourites to capitalise on this afternoon's uninspiring 0-0 draw between Ivory Coast and Portugal, their group rivals, and open up some daylight at the top of the table.
There can surely be no greater clash of styles than between this evening's opponents as the flamboyant five-time winners come up against the enigmatic virtual unknowns from North Korea, whose only previous foray into the finals was a resounding success in 1966.
Little more is known about this team than was known about the team that visited England, but on that occasion they ended up shocking the world by beating Italy in the group stages before being knocked out 5-3 by Eusebio's Portugal, despite taking a 3-0 lead.
Although Brazil should run out winners, all is not well in the Brazilian camp. Despite an enviable run of one defeat in two years and 12 goals scored in their last four games, Brazilian journalists are out for coach Dunga, who they believe is too negative in his tactics.
So will the boys from Brazil put the sparkle back into their samba or will the North Koreans pull off one of the great World Cup shocks? Find out in half-an-hour at 1830 GMT when we will bring you all the action.
Load more