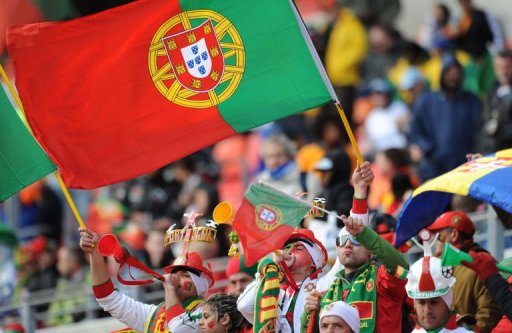 PORT ELIZABETH, South Africa (AFP) – A BIT OF A DAMP SQUIB in rainy Port Elizabeth as Ivory Coast and Portugal play out a cagey 0-0 draw in the opening game of the "Group of Death."
Both teams clearly realised that defeat in the opening game of the Group G would create a mountain to climb with Brazil to come.
However, there were three points to gain and one to lose so the defensive showing was a little surprising and now both teams are dependent on each other's performances as they target second spot the group.
The odd flashes of brilliance from Ronaldo were the only highlights for Portugal while Ivory Coast looked more purposeful but lacked a cutting edge.
They will be hoping Didier Drogba, who missed the best chance of the game, soon gets up to speed as it now looks like they will have to get something from their next game against Brazil.
Read on for an as-it-happened account of The Elephants game with Portugal and join us in a couple of hours for Brazil against North Korea, where the South Americans will be looking to send a message to this afternoon's rivals.
1604 GMT: ITV pundits Andy Townsend and Gareth Southgate are unhappy about the defensive nature of a game which many thought could be a highlight of the group stages. "One of these teams is going to regret that," Southgate said. "They'll say in a couple of weeks that we wish we'd had more of a go. African football is all about explosive play and it looks like they've lost something."
"It's really disappointing," says Townsend. "Ivory Coast might really regret that come the last game. Danny was really disappointing for Portugal, but who else other than Ronaldo is going to create for them?"
Unsurprisingly Portugal boss Sven-Goran Eriksson was less scathing of the entertainment on show.
"Portugal is a good team, and I'm not completely happy but it was a good game tactically," Eriksson said. "We had some half chances, but it's OK."
90 mins + 3: FULL TIME! The referee blows just as Ivory Coast take a corner, it ends 0-0.
90 mins + 2: Ivory Coast looking potent, Abdulkader Keita is free in the area but his cross is hacked clear. Siaka Tiene is down.
90 mins: We've been waiting for 25 minutes for Didier Drogba to get the ball and when he does he fluffs his lines. Great ball from Abdulkader Keita slips him in the left channel but he shanks his shot across the six-yard box. Three minutes injury time to play.
89 mins: Argh! Another horrible corner, this time from substitute Simao. Is the ball really that bad?
87 mins: Sticking my neck out here, but this is going to end goalless. In-fact they could play all night without troubling the scoreboard operator.
83 mins: Emmanuel Eboue gets in the way of Siaka Tiene's intended pass to Aruna Dindane. By the time the ball is moved on Dindane is offside, which is a shame as was in a good position.
80 mins: A dangerous ball into the Portugal area by Siaka Tiene is cleared under pressure. The lively Gervinho is taken off and is Abdulkader Keita brought on. He faded but still looked the best hope of an Ivorian breakthrough.
79 mins: Ronaldo line up another 40-yard free-kick. Better than his last effort but dips just too late to trouble Boubacar Barry.
78 mins: Kolo Toure is bundled off the pitch with cramp and while he is off Raul Meireles takes a pop-shot from 25-yards. It was always going wide, but was more impressive than his dreadful dead-ball delivery.
75 mins: Both teams seem happy not to lose and are going through the motions to a certain extent. Hopefully that prediction will be proved wrong, but it's really not looking likely.
73 mins: Awful set-piece delivery again from Portugal. Sven-Goran Eriksson will be tearing his hair out, what's left of it.
72 mins: Portugal put the ball in the net but the whistle had blown long before for a foul, not that most of the crowd heard it over the vuvuzelas.
71 mins: A couple of corners in quick succession for Portugal but both are weak and easily cleared.
69 mins: Fabio Coentrao takes no chances and puts behind for a corner, but the first chance to get Didier Drogba into the game is scuppered by poor set-piece delivery.
65 mins: The rain starts to fall in South Africa but nothing can quell the spirits of the supporters as Didier Drogba gets stripped off to replace Salomon Kalou. Game on!
62 mins: Salomon Kalou's chance was probably the best for the west African's and it seemed like he was looking to replicate his finish for Chelsea against Inter Milan in the Champions League tie at the San Siro, but lacked the placement.
60 mins: Gervinho again. This time he rises in the area and gets a solid head on the ball but it flies over the top.
59 mins: Hotting up a bit now as Gervinho goes down the other end but his effort is deflected over the bar.
58 mins: Deco starting to have a bit more impact as his cross is headed goalwards by Leidson. The effort is weak though and Boubacar Barry catches, rather dramatically.
54 mins: A real opening for Ivory Coast's Salomon Kalou. Barcelona powerhouse Yaya Toure cuts in from the right wing before rolling the ball across the edge of the area for Kalou who sidefoots straight into Eduardo's arms.
52 mins: I am reliably informed by AFP's man in Port Elisabeth, Nick Reeves, that it is very cold at the Nelson Mandeal Bay stadium. An American colleague goes as far to say it is chillier than when he covers ice hockey matches back in the States.
49: Didier Drogba has a warm-up, much to the delight of the African fans. On the field Deco puts in a dangerous free-kick which skims off Ricardo Carvalho's head and out for a corner.
48 mins: Salomon Kalou dives full length to try and connect with a right wing cross but is inches away from getting his head to the ball. Bright start by the Ivorians.
47 mins: Gervinho twists and turns into the area but the angle is narrow and Eduardo palms his powerfull shot away for a corner. Emmanuel Eboue gets free in the area but heads the ball straight up into the air.
46 mins: Here we go again,  hopefully there'll be some more attacking intent in this half, but first game with Brazil to come, I wouldn't bank on any less caution.
455 GMT: The two wise men Andy Townsend and Gareth Southgate, who are analysing the game on British television, are slating both teams for their negative attitude, particularly Ivory Coast. Seems a little harsh to me considering the lack of World Cup success the nation has achieved and the burden which that puts on the team and manager.
Southgate, no fan of Sven-Goran Eriksson during his England days, is particularly critical of the Ivorians allowing the Portuguese space in their own half. However, most of their chances have arrived via their ability to compact space in their own half and the counter-attack.
1450 GMT: Portugal manger Carlos Quieroz seems to have got a few problems, especially if something should happen to his number 7. They don't look the force they were last time around, but are still in the game and didn't concede any chances despite the Ivorians looking the more dynamic side.
This could all change if Didier Drogba is risked for some of the second half, which is surely worth the punt considering how much is riding on this game, assuming they won't get any change out of Brazil and both beat North Korea.
45 mins +1: HALF TIME: The referee blows his whistle to herald the end of a half devoid of much goal-mouth action save for one sensational effort by that man Ronaldo.
45 mins: A Mexican wave. No more to add on that!
43 mins: You feel if the African crowd favourites could throw Drogba into the mix in the second half that it could really shake the Portuguese as it is around the area where their good play is going to waste at the moment.
41 mins: Dindane has a run down the wing but his cross fails to beat the first man. He has another go but this time it's too deep and the ball is eventually cleared for a corner.
38 mins: Portugal are missing the flair of winger Nani, but Ivory Coast's strong spine looks like it will make life difficult for any team, including Brazil in their next match.
35 mins: Action replay as Barry is again quickly of his line to thwart Liedson, with the aid of a clever shoulder barge from Tiene.
35 mins: Action replay as Barry is again quickly of his line to thwart Liedson, with the aid of a clever shoulder barge from Tiene.
33 mins: Boubacar Barry gets his first action, rushing out smartly to claim Deco's through ball.
29 mins: Portugal midfielder Pedro Mendes is a very lucky man. Emamanuel Eboue steamed passed him as he raked his studs down the Arsenal man's leg. Not even a booking, what must Tim Cahill be saying?
28 mins: Gervinho, he of the mathematically impossible haircut,  is really looking sharp on the left wing and wins a corner which is wasted.
26 mins: Perhaps the referee was regretting booking Zokora, hence the Ronaldo yellow card, but it is a blow for Portugal as he looks like their only real threat at the moment.
26 mins: Perhaps the referee was regretting booking Zokora, hence the Ronaldo yellow card, but it is a blow for Portugal as he looks like their only real threat at the moment.
23 mins: Paulo Ferreira comes to the rescue for Portugal, tackling the lively Gervinho after he had bundled himself into the area.
20 mins: YELLOW CARDS! Ronaldo for Portugal and Guy Demel for the Ivory Coast are booked.
Well, it's been 5 minutes since he was the centre of attention, but one can have a little sympathy for him on this occassion. He skinned Demel who took him down on the edge of the box but the referee booked him and Demel after they got up and squared up to each other.
19 mins: The pattern of the game looks to be set with Portugal being allowed free reign to pass until the centre-circle, when the Ivorians suddenly  squeeze the space and look to hit on the break.
17 mins: The Elephants are extremely strong in the middle of the pitch and rob the ball before releasing Ismael Tiote who hits a dipping shot over the crossbar from 25 yards out.
14 mins: Ivory Coast get a free-kick of their own which Siaka Tiene curls harmlessly wide of the post.
13 mins: I was on the verge of saying maybe Ronaldo was one of the players struggling with the new ball and then he produced a shot reminiscent of the classic he scored for Manchester United against Porto. Still 16 months without an international goal though.
11 mins: Goodness me, Ronaldo nearly shows why he is the world' most coveted player. He slipped past a man 40 yards out and then struck a ferocious drive which crashed against the post.
7 mins: YELLOW CARD! Ronaldo is brought down, which is being a little generous. Didier Zokora made minimal contact but was perhaps paying for Toure's earlier foul. Ronaldo dusts himself down and hits his 40 yard free-kick into the wall.
6 mins: Collective intake of breath as Ronaldo gets his first touch but Toure seems less enthusiastic, unapologetically bringing down the world's most expensive player
4 mins: A technical start by both teams with lots of short passing to settle the nerves. Aruna Dindane makes a burst down the right flank but Danny is tenacious in the tackle.
1 min: Portugal get us under way, looking to extend their run of no defeats in 20 months, although this masks some unconvincing performaces.
1352 GMT: The teams are out onto the pitch to shake hands and get ready for the national anthems. Not much singing from the Ivorians, only a slightly tone-deaf Kolo Toure making any noise. Sven is typically restrained on the bench.
A much better effort from the Portuguese, although Ronaldo looks like the sprinkler incident is still playing on his mind as he appears to be quietly sulking. On second glance, he looks like he's asleep standing up. No doubt another one of his idiosyncratic preparation techniques.
1346 GMT: Thomas Morfin, our AFP man in the Ivory Coast, says that workers are leaving their Abidjan offices in their droves as they go home or to bars to watch the game draped in the orange, white and green of their national flag.
1343 GMT: My AFP colleague at the ground, Nick Reeves, says that the ground is filling up nicely, helped by the sizeable Portuguese community in South Africa.
Despite the carnival atmosphere, there's one man who is not happy. "Ronaldo is upset when Portugal's pre match warm-up is prematurely stopped when the pitch water sprinklers are turned on  – no chance of the sprinklers dampening the spirits of the fans at a chilly Port Elizabeth though," Nick says.
1337 GMT: The starting line-ups are in:
Ivory Coast: Barry, Demel, Toure, Zokora, Tiene, Eboue, Toure Yaya, Tiote, Gervinho, Dindane, Kalou.
Coach: Sven-Goran Eriksson
Portugal: Eduardo, Ferreira, Bruno Alves, Carvalho, Fabio Coentrao, Deco, Mendes, Raul Meireles, Ronaldo, Liedson, Danny.
Coach: Carlos Queiroz
Referee: Jorge Larrionda (Uruguay)
WELCOME TO THE NELSON MANDELA BAY stadium for our live World Cup text commentary of the Group G game between Ivory Coast and Portugal.
The first game in the so-called "Group of Death" promises to be a close encounter between 2006 semi-finalists Portugal and Ivory Coast, who have been boosted by FIFA's decision to allow talismanic striker Didier Drogba to play with a light cast on his broken arm.
The Elephants' forward is due to start on the bench, which represents a miraculous recovery after he sustained a fractured elbow during a pre-tournament friendly with Japan just 11 days ago.
Both teams will be need to hit the ground running if they harbour serious hopes of qualification as it will be a huge task to claw back points with Brazil on the horizon.
On a personal level, Ivory Coast manager Sven-Goran Eriksson faces the country who knocked his England team out of the 2004 European Championships and the 2006 World Cup, both on penalties.
Kick-off is only half and hour away at 1400 GMT so stay online to catch all the action as it happens.
Load more