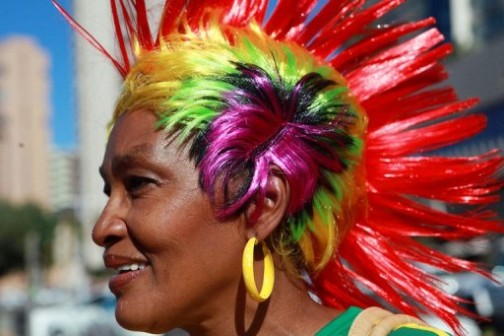 DURBAN, South Africa (AFP) – 1557 GMT: Alan Shearer is blaming Iker Casillas for the winning goal claiming that the 'keeper should have come out with his hands and not his feet.
90 + 6 mins: FULL TIME! Spain 0 Switzerland 1
INCREDIBLE! The Swiss have done it, the greatest result in their history surely. Absolutely superb defensive performance from Switzerland and over-elaboration from Spain and now the tournament has been blown wide open.
A second-half goal from Gelson Fernandes exposed Spain's vulnerability to the long-ball and now there is a very real possibility of a Spain versus Brazil second-round game.
90 + 5 mins: Spain corner. Time up but we've had a substitution. Corner is poor and Xavi puts the shot from the rebound over the bar.
90 + 4 mins: Another nervy free-kick. Horrible delivery from Xabi Alonso, Spain keep the ball alive though.
– 90 + 3 mins: Xavi's dangerous free-kick is punched clear. Free-kick given anyway.
90 + 2 mins: Tranquillo Barnetta is replaced as the Swiss look to kill the game. What seems like the thousandth cross into the Swiss area is cleared.
90 mins: Normal time is up, five minutes stoppage time. It will seem like five hours to Switzerland.
– 88 mins: Fernando Torres through from David Villa's chested through-ball but the ball bobbles away from him.
87 mins: That man Jesus Navas again down the right. His cross finds Fernando Torres but he skies his volley.
84 mins: Mick McCarthy, the BBC co-commentator thinks Spain have given up believing they can score. I wouldn't be so sure. Fernando Torres is muscled out as a dangerous cross comes in. Moments later Diego Benaglio snaffles a right-wing cross
– 81 mins: The ironically named Tranquillo Barnetta pushes forward and hits a strange shot which floats just over the bar. Seconds later he releases Gokhan Inler and his cross is deflected wide. This is just what the Swiss need.
– 78 mins: Yup, it's desperate stuff here. A rasping drive from Jesus Navas is "that far" away from restoring parity. My fingers are shaking and I don't support either of these teams!
76 mins: It was a great bit of play, a sharp one-two between Eren Derdiyok and Blaise Nkufo, which created the opening. Is that THE chance which the whole of Switzerland will live to regret.
74 mins: So close, Switzerland nearly finish it! Eren Derdiyok gets through, cuts inside two tackles and pokes a shot past Iker Casillas which agonisingly
– 72 mins: Jesus Navas, who has caused all-sorts of problems since he came on, bustles his way past a couple of defenders and hits a shot straight at the 'keeper. A yard either side……….
– 70 mins. This is really opening up. Fernando Torres clear again, this time forces a save. From the corner the ball is pulled back and Xabi Alonso nails shot which smashes against the crossbar.
69 mins: Up the other end Blaise Nkufo gets in-front of his man but his header goes wide.
68 mins: I nearly spoke too soon. Fernando Torres gets free through the middle but gets the ball caught under his feet and ends up hitting the ball high and wide.
67 mins: It just goes to show what hard work and organisation can do, especially in cooler climates. It has echoes of Inter Milan's performance against Barcelona in the Champions League.- 64mins: It was a double substitution for Spain with Jesus Navas also coming on. David Silva and Sergio Busquets are the men to make way.
63 mins: Oh, I though that was the equaliser. Fernando Torres comes off the bench and immediately sets up Andres Iniesta who curls a shot inches wide of the far post.
– 61 mins: Great 'keeping from Diego Benaglio. He's off his line in a shot to prevent David Villa capitalising on Xavi's slide-rule pass.
60 mins: Sergio Ramos hits a powerful header over the bar.
59 mins: Not sure what the Swiss celebration ritual consists of. This from AFP man in Durban, Luke Phillips. "As the Swiss take the lead against a team they've never beaten in 85 years of competition, an overwhelming smell of curry wafts through the stadium. Durban is renowned for its 'bunny chow', a loaf of bread filled with curry, but this is ridiculous."
57 mins: David Villa hits a shot from the edge of the area which is easily saved.
– 52 mins: GOAL! Spain 0 Switzerland 1
51 mins: More pressure as Xavi's deflected cross is palmed behind for a corner.
50 mins: Xabi Alonso hits a curler after and Andres Iniesta burst but it is deflected over.
49 mins: Spain are getting more bodies in the box but are still getting crowded out by the Swiss.
48 mins: You really do have to think the players may have a point with the ball as it seems to be the same problems of poor shooting and over-running whilst dribbling which are afflicting even the best teams.
46 mins: Spain get us restarted and begin knocking the ball about immediately. David Silva gets free on the right but again knocks the ball too far in-front of himself. Xabi Alonso smahes a shot from the resulting corner over the bar.
1454 GMT: "Good, but can do better," is the conclusion of the BBC experts on Spain's performance. It's a statement which could be levelled at the tournament as a whole so far, although Chile lifted the spirits earlier today with a vibrant performance
England legend and BBC pundit Alan Shearer is still backing Spain. "I'm not sure how long the Swiss can play like that, it's like a training ground exercise," the former striker said. "And if one comes three or four could come."
Co-pundit Clarence Seedorf thinks that Philippe Senderos was lucky not to concede a penalty, but the defender was hoisted by his own pitard somewhat when his aggressive approach ended up with him getting injured, slide-tackling his own man.
– 45 + 1 mins: HALF TIME! Spain 0-0 Switzerland.
45 mins: Another chance for Spain. David Villa is free in the left channel, cuts back inside but surprisingly tries to execute an ambitious chip with the goal begging. Maybe a little too intricate on that occassion.
43 mins: Not dissimilar to last night's match between Brazil and North Korea, and you feel that Spain will break through if they keep their heads. David Villa holds up the ball for Andres Iniesta but he blasts it miles over the bar. Ball anyone?
41 mins: Spain, with 68 percent possession, continue to knock at the door, but the Swiss aren't letting them in as yet. It still looks like they are just one smart pass from opening up the defence.
39 mins: A rare corner for Switzerland comes to nothing. Iker Casillas is desperate to counter but hits a bad ball, though the attacking intent is clear to see.
36 mins: Heartbreak for Philippe Senderos who is forced off after tackling his own player, strangely. He looks to have damaged his foot/ankle and is replaced by Steve von Bergen.
35 mins: Danger again for the Swiss as David Villa pulls of the last defender but cannot direct his header towards goal.
34 mins: Gritching can count himself simultaneously unlucky and lucky. The award of a foul was harsh, but once the free-kick had been given and Andres Iniesta was through, he could have easily been given a red.
31 mins: Xavi takes the dead-ball it but it hits the wall and goes wide.
30 mins: YELLOW CARD! Stephane Gritching for Switzerland goes in the book.
The defender puts his arm across Andres Iniesta as he was surging into the box. Dangerous free-kick.
26 mins: Switzerland reply with an effort of their own. Xavi is pulled up for a high boot and Reto Ziegler smashes a 30-yard shot which Iker Casillas fumbles before recovering.
24 mins: First real chance for Spain and it falls to defender Gerard Pique. Andres Iniesta puts a perfect ball through to the Barcelona man and he cuts inside his defender but hits his shot straight at the 'keeper Diego Benaglio.
23 mins: Spain have only not won one game since Euro 2008 so Switzerland's back-to-the-walls attitude is understandable, but they really needsomeone who can hold the ball up as an outlet.
22 mins: Andres Iniesta shoots from distance but doesn't really get hold of it.
20 mins: Philippe Senderos was a little lucky to get away with his clumsy tackle in the area, and seems to be on a mission to impose his physical presence on the smaller Spaniards.
17 mins: Sergio Ramos, who is sticking to the wing and making the pitch wide, cuts in from his right wing position but pulls his shot wide.
15 mins: There always seems to be a lot of options for Spain, through
Load more