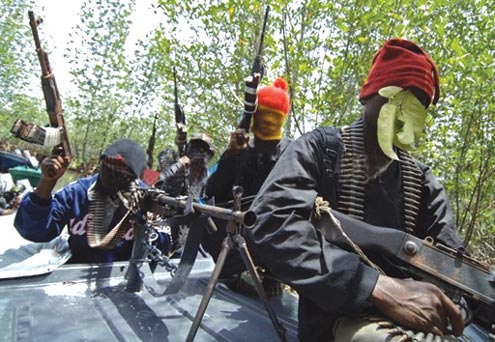 A faction of Nigeria's main militant group in the Niger Delta on Tuesday complained of poor reward after its surrender, warning the President Goodluck Jonathan-led Federal Government that  it might return to the creeks to fight if the situation continued.
The militants believe the Federal Government's amnesty programme has failed following the death of President Umaru  Yar'Adua who initiated it.
"We are now poor people on the streets. If government does not look into our grievances, we are ready to go back to the creeks to fight," a spokesman of the faction of the Movement for the Emancipation of the Niger Delta (MEND), Mark Anthony, told AFP.
Some 20,000 former armed rebels who were fighting for a fairer share of oil revenues to go to local communities, laid down their arms under an amnesty deal in the restive oil-rich region between August and October last year.
Under the deal, the government promised to provide amenities in the region, jobs and re-train the ex-militants.
"The said amnesty has failed as the initiator of the amnesty died," said a statement issued by ex-militant "general" John Togo, leader of the group, and emailed to AFP.
He was referring to former president Umaru Yar'Adua, who died on May 5 after a protracted heart ailment.
Togo said he was speaking for himself, and nine other ex-militant "generals." Togo complained that since he and other "generals" embraced amnesty they were being paid 65,000 naira (430 dollars, 348 euros) monthly, the same as their soldiers, describing the situation as "an insult and direct slap on the faces of ex-generals".
"How can a general in Nigerian army barracks be made to receive the same salary with infantry?" he asked in the statement.He alleged that government had withdrawn the "empowerment contracts" it gave to the ex-militants last year while only a few ex-militant "generals" enjoy government and oil companies' patronage.
If this situation is not redressed "I want to say that is going to be the dawn of fresh oil war in Niger Delta," he warned.
There is yet no official reaction to the group's allegations.
Violence in the region from 2006 to last year played havoc with oil production which dropped to around a million barrels per day as against 2.6 million barrels at peak production level.
Load more