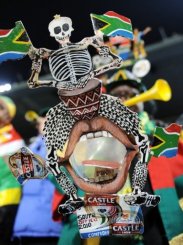 – 2028 GMT: Emmanuel Adebayor in the BBC studio is downhearted. "I was very disappointed, they never looked dangerous," he says. "If they play like this against France they are out."
Ex-German striker Jurgen Klinsmann is equally as pessimistic. "They don't have enough power to put a team under pressure. Not even from a free-kick because the delivery was so poor. It was sad to see."
– 90+6 mins: FULL TIME! South Africa 0 Uruguay 3
90+5 mins: GOAL! South Africa 0 Uruguay 3
90+4 mins: The South Americans are toying with the Bafana Bafana but Diego Forlan is denied a hat-trick by Bongani Khumalo's last-ditch tackle.
– 90 mins: There will be five minutes more torture for the home fans. Most of that was accrued while waiting for the penalty to be taking.
– 89 mins: Sebastian Fernandez gets a World Cup game, replacing Edinson Cavani.
88 mins: A couple of long range shots on target fail to lift the home spirits.
86 mins: Uruguay are picking the home team off now, but Edinson Cavani hits his shot straight at the 'keeper when in acres of space.
85 mins: Disillusion in the stands according to AFP's Barnaby Chesterman. "Well that goal has really deflated the home fans," he relays. "People are streaming for the exits and you can actually hear your neighbour speak now."
– 80 mins: PENALTY SCORED! South Africa 0 Uruguay 2
Perfect penalty from Forlan, high to the 'keepers right. The South Africa players complain, possibly thinking Suarez was offside, but  he wasn't. He had a shot saved moments earlier but got lucky second time around. Pienaar made space for the 'keeper. Forlan for the golden boot?
– 76 mins: PENALTY! to Uruguay.
RED CARD! South Africa goalkeeper Itumeleng Khune is off for a professional foul.
Luis Suarez got lucky with a rebound and rounded Khune, who just made contact with the Uruguayan's toe. Replacement 'keeper Moeneeb Josephs could be a hero if he saves Diego Forlan's spot kick. He's certainly making the Atletico Madrid player wait.
73 mins: A bit of pressure for the hosts, a couple of corners and free-kicks but nothing too worrying for the visitors. They don't want to endure a bombardment in the final 15 minutes though..
– 68 mins: So easy for Uruguay as Diego Forlan in acres of space cross to Edinson Cavani's feet. The Palmero striker fluffs his shot and the ball goes safely by the goal.
67 mins: Positive play for the hosts as Katlego Mphela gets in-front of his marker but can't glance his header goalwards.
66 mins: Harking back to the penalty shout, there was a foul, but it was outside the area. Luis Suarez waited until inside the box to fall.
64 mins: Kagisho Dikgacoi is skating on thin ice after a a robust tackle on Diego Godin, which seemed to be a touch studs up. He's already been booked., having received a yellow in the first game.
– 62 mins: Maxi Pereira slaloms in from the Uruguay right and hits a shot from the edge of the box but it was always going high and wide.
61 mins: Corner to Uruguay afer an important headed clearance. It comes to nothing, but the defending wasn't convincing.
– 59 mins: According to AFP's Barnaby Chesterman, who is at the game, the home fans are getting restless.
"A South Africa fan over to my left who is quite possibly one of the angriest men I've ever seen," he says. "He keeps standing up, face contorted with rage, screaming at his fellow fans to make more noise. Ironically, with all the vuvuzelas, it's only his immediate neighbours who can hear him!"
56 mins: Here comes the change. The delightfully named attacking midfielder Surprise Moriri replaces holding midfielder Reneilwe Lethsolonyane. Steven PIenaar hits a tame effort goalwards, but at least he was in position.
– 54 mins: Diego Forlan delivers a superb free-kick into the area which finds captain Diego Lugano all alone but he can only shoulder it up in the air.
– 54 mins: Diego Forlan delivers a superb free-kick into the area which finds captain Diego Lugano all alone but he can only shoulder it up in the air.
– 51 mins: Not a good couple of minutes for Luis Suarez. Running into the box with cotton wool spilling out of his mouth he goes down under Bongani Khumalo's tackle. The referee tells him to get up, but tellingly doesn't book him and the Uruguay bench are up in arms.
48 mins: In their next tussle Aaron Makoena bops Luis Suarez in the mouth. A free-kick is awarded on the touchline and Suarez has to go off with a bleeding mouth. The set-piece goes past everyone to safety, but the 'keeper didn't look on top of the situation.
47 mins: Luis Suarez takes on Aaron Makoena and puts a ball across the six-yard box but last ditch defending denies Edinson Cavani.
– 46 mins: Uruguay get proceedings back underway, no changes of personnel have been made as yet
1932 GMT: South Africa coach Alberto Perreira must be thinking of making a change to annul the constant threat of Diego Forlan, even if his goal had a touch of fortune about it.
A draw might not be enough for the Bafana Bafana with France facing them in the final game, so they have to go for it and Steven Pienaar needs to get more of the ball.
The teams are back out
– 1923 GMT: If the party has gone flat in South Africa, it's just getting into full swing in the Uruguay capital Montevideo, according to AFP colleague Ana Ines Cibils Macedo.
"Youngsters leap into the air and swing their scarves, screaming 'Soy celeste' ('I'm a blue', the nickname for the national team,)" she says of the reaction to the goal.
– 1920 GMT: Alan Hansen on the BBC panel thinks he's pinpointed the problem for the Bafana Bafana. "The quality was one one side, and that was Forlan," the Former Liverpool defender says.
Co-pundit Jurgen Klinsmann is not overly optimistic about the host"s chances. "They don't have the vision to play through and they may have to rely on a set-piece to score," he predicts.
– 45 mins: HALF TIME! South Africa 0 Uruguay 1

No injury time and the players troop off.
43 mins: YELLOW CARD! South Africa's Kagisho Dikgacoi goes into the book. It's a disaster for the midfielder who'll miss the last group game with France. In his home state too. Ouch!
41 mins: Siboniso Gaxa curls in a cross which is met well by Katlego Mphela but it goes wide.
39 mins: The introduction of Palermo's Edinson Cavani into the team has allowed Diego Forlan to drop deep more often, safe in the knowledge they still have a forward target. This is hurting South Africa as he is seeing so much of the ball.
– 37 mins: Uruguay are keeping two up top at all times, which is something we've not really seen much of so far. They are reaping the rewards at the moment.
36 mins: AFP man in the stadium Barnaby Chesterman has a different take on the crowd's goal response. "That Uruguay goal was met with a strange silence that bordered on indifference," he says. "For all those who dislike the vuvuzelas, there was even a few seconds of peace.
– 33 mins: Dangerman Luis Suarez is causing havoc again, but his finishing touch deserts him and he fires into the side netting. The hosts really need to get tighter to the two frontmen.
– 30 mins: A superb thrust down the wing by Katlego Mphela but his tired cross is too low.
– 27 mins: The crowd seemed to applaud the strike, which is very sporting, but get right behind their team again as the Bafana Bafana try to take stock.
24 mins: GOAL! South Africa 0 Uruguay 1. Diego Forlan scores for the visitors.
Forlan had too much space 25-yards from goal and hit a vicious shot which took a deflection and dipped into the goal off the crossbar. There was no chance for Itumeleng Khune in the home goal.
23 mins: Luis Suarez serves notice of his ability with a ferocious hit from the corner of the area which the keeper saves.
22 mins: A really high-paced game and for the first time in this group the heart is beginning to race a little. Hopefully a sign of things to come.
19 mins: Free-kick for South Africa on the right wing. A South African head wins the ball but it loops over to safety at the back post.
18 mins: A bit more even now but Ajax goal-machine Luis Suarez and Diego Forlan do look potent when the Uruguayan's attack.
14 mins: Siphiwe Tshabalala, inspired by his goal against Mexico, tries his luck from distance. Like so many before him, he puts it horribly high of the target. A minute later he does a similar thing with Steven Pienaar screaming for the ball on the outside.
11 mins: Trying to be positive for the hosts, they started like this on Friday before settling into their stride.
9 mins: Definitely a feeling that Uruguay are playing to win today after securing a point on Friday. Diego Forlan hits a free-kick to the back post but it's over everyone's head. Just.
7 mins: Diego Forlan plays Luis Suarez into space but he slices his shot. Uruguay have settled the quicker.
5 mins: Free-kick for Uruguay on the edge of the box after a dodgy decision by the referee. He gave high feet but both players' feet were up. Diego Forlan fires into the charging Steven Pienaar, who is booked for breaking too early. Another try is hit weekly straight into the wall.
3 mins: Free kick to South Africa which is whipped in and headed over by Uruguay's Diego Lugano for a corner. The corner bounces around dangerously in the six-yard area but it is smashed clear.
1 min: And off we go to a crescendo of cheers.
1827 GMT: The anthems. The vuvuzelas respectfully stop for the Uruguayans who must be feeling the world is against them, my colleague in the stadium, Barnaby Chesterman, reports that there were some meek attempts to boo the Uruguayans when their names were read out.
Nice lusty rendition by the players though. The whole stadium is predictably up and singing passionately for the South Africa anthem, but there are no North Korean style waterworks.
1825 GMT: The teams line up in the tunnel with the South Africans singing in unison, as they were when they came off the coach and into the stadium, where the national team have never lost.
The vuvuzelas are turned up to 11 as the players come out to a magnificent noise.
1820 GMT: So one change for the South Africans as first choice left-back Tsepo Masilela comes in for Lucas Thwala.
Uruguay spring a bit of a surprise by naming attacker Edinson Cavani in place of midfielder Ignacio Gonzalez. It is a statement of intent from the South Americans who feel that if their last game was drawable, then this one is very much winable. The Bafana Bafana will hope to have a say in that.
1816 GMT: The teams are in, and here they are:
South Africa: Itumeleng Khune, Siboniso Gaxa, Tsepo Masilela, Aaron Mokoena, Bongani Khumalo, Siphiwe Tshabalala, Steven Pienaar, Teko Modise, Reneilwe Letsholonyane, Kagisho Dikgacoi, Katlego Mphela
Coach: Alberto Parreira
Uruguay: Fernando Muslera, Diego Lugano, Diego Godin, Jorge Fucile, Maximiliano Pereira, Alvaro Pereira, Diego Perez, Egidio Arevalo, Edinson Cavani, Luis Suarez, Diego Forlan
Coach: Oscar Tabarez
Referee: Massimo Busacca (Switzerland)
1806 GMT: Today's game holds even more significance for the home team, falling as it does on a public holiday commemorating the 34th anniversary of the Soweto uprising.
AFP's man in Pretoria, Jim Slater, explains the significance of the date. "This is the Youth Day holiday in South Africa. It marks the anniversary of the Soweto uprising by black youth that ended in fatalities and galvanized the long fight against apartheid.
"If Bafana Bafana beats Uruguay there will be a brighter memory to associate with June 16," he adds.
WELCOME TO THE LOFTUS VERSFELD STADIUM in Pretoria for our live World Cup text commentary as South Africa take on Uruguay.
The second round of group fixtures kick-off with the hosts desperate to notch a win following the disappointment of conceding a late equaliser in their opening match with Mexico.
One hopes that it can live up to the amazing result earlier where Switzerland beat favourites Spain 1- 0 in the shock of the tournament so far.
Whatever, it will be a huge atmosphere, but the Bafana Bafana will find it extremely tough against the competition's first ever winners who drew 0-0 in an uninspiring first match with France.
The race for qualification from Group A promises to be extremely tight with defences prevailing thus far. The qualifiers will meet the top two of Argentina's group so a juicy reward waits in store.
Can the local boys do their country proud or will the Uruguayans make corned beef of the South Africa defence? All will be revealed come kick-off at 1830 GMT, so stay with us.
Load more