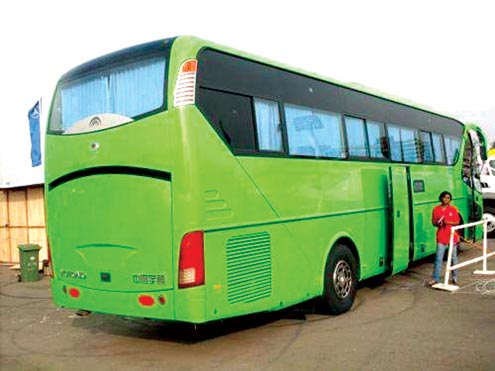 Nigeria's mass transit industry, including intra-city buses, inter-city (luxury) coaches, midi models and the long models designed for BRT (bus rapid transport) currently being operated by the Lagos State Government will soon heave a sigh of relief as a wide range of mass transit vehicles of Chinese origin is storming the Nigerian market on a mission to provide top quality services.
Citing the successful use of the Yutong vehicles as the official buses of the 2008 Beijing Olympics in China, the team behind the introduction of Yutong into the Nigerian market says the products have a track record of satisfactory performance – taking advantage of an interplay of strong points, like durability, fuel efficiency, favourable price-benefit analysis and a policy of solid after-sales support.
Speaking exclusively to P.M.News Motoring, the sales representative of Yutong in the West African sub-region, Mr Vincent Woo-Yu, and the brand's officially accredited distributor in Nigeria, Alhaji S. O. Shittu, Chief Executive Officer of Lanre Shittu Nigeria Limited, assured that the vehicles' would be at home on Nigeria's rural and urban roads, because of their reputation for toughness.
Confirming Lanre Shittu as the Yutong marketer in Nigeria, Woo-Yu pledged that the manufacturers have not come to Nigeria to dump buses on the buying public. Rather, according to him, the bus maker is in conjunction with the distributor establishing a network of service/maintenance centres with regular stocks of replacement parts to ensure smooth motoring by customers.
Shittu confirmed that a variety of Yutong buses are being  introduced into the Nigerian market by his company, a leader in the sales and service of commercial vehicles in the country, including heavy duty trucks. He was particularly excited by the bright prospects of ZK 6118 HGA model, which is Yutong's offering for city mass transit schemes or Bus Rapid Transit (BRT) as presently operated by the Gov Raji Fashola-led Lagos State Government.
Other models in the Yutong line-up coming to Nigeria include ZK6129H luxury coach; ZK6100 HB, which is not as big as the long coach; ZK 6831 HE, a medium-size luxury coach; and ZK 6608 D, a light-duty bus, among many others. The luxury coach features on-board provisions like toilet and video entertainment.
Load more